The Canadian regulatory landscape continues to allow for CBD product sales strictly within formal cannabis channels - dispensaries or online - though the public may be interested in broader and easier access to this and other cannabinoid-based health products. A recent public consultation by Health Canada drew nearly 1,200 responses in reviewing the potential market for cannabis health products outside formal cannabis channels, indicating - at the very least - that this is a popular issue among consumers.
Today's rules fully prohibit the use of cannabis in natural health products (NHPs) and veterinary health products (VHPs), meaning all cannabis (including CBD-only) goods must either be strictly for prescription medical or adult-use among humans, and supplementary ingredients are highly limited in any circumstances.


Investigating CBD Opportunities in Canada
At this juncture, Health Canada is looking to the public consultation results to better understand the market's potential and how to tackle regulating cannabis products in the gray area between the mainstream consumer market and the rigid Cannabis Act and ACMPR (medical cannabis). What has been proposed previously for this new cannabis health product (CHP) market remains quite conservative - CHPs might potentially be sold sans prescription at "pharmacies, veterinary clinics, pet stores" or online in limited quantities "under strict conditions that respect federal requirements" - but this approach may be reconsidered over the coming months based on the results of the public consultation.
Even if what is outlined in Health Canada's graphic below is what ultimately takes shape, it would be an important step toward mainstream cannabis health product access in Canada. The model would permit for authorized health claims with regard to minor ailments (e.g. pain, insomnia, inflammation) as well as the addition of medicinal and non-medicinal ingredients supported by evidence (e.g. Melatonin, ginger) – though it would be more restrictive than the medical cannabis model in that packaging could not be appealing to youth.
As the regulatory environment continues to shift around Canadian CBD, we could ultimately see a market emerge that is a pared-down version of that seen in the United States today; One focused on consumer wellness (rather than serious medical issues and recreational use) and accessible by more mainstream consumers rather than strictly through cannabis channels - though in Canada, CBD products would not likely be available at a local grocer or smoke shop, as has been seen in the U.S.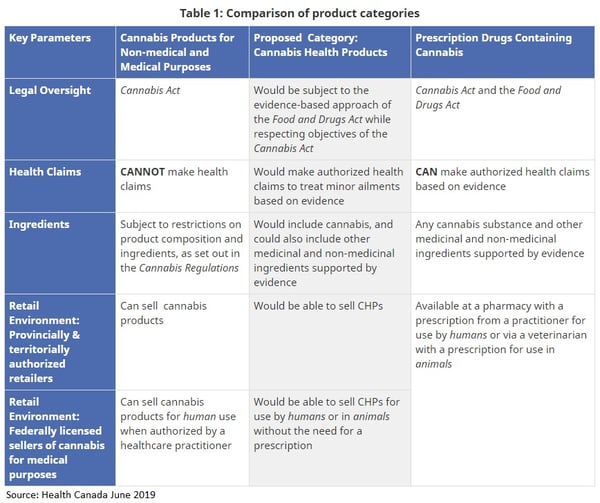 Last Updated: 2/18/2020