To understand how the COVID-19 pandemic has shifted social media conversations around CBD and cannabis, we created the COVID-19 Social Listening Dashboard; one of the ways it can filter data is by cannabis and CBD-specific topics.
February 1 - March 15: Conversations by Topic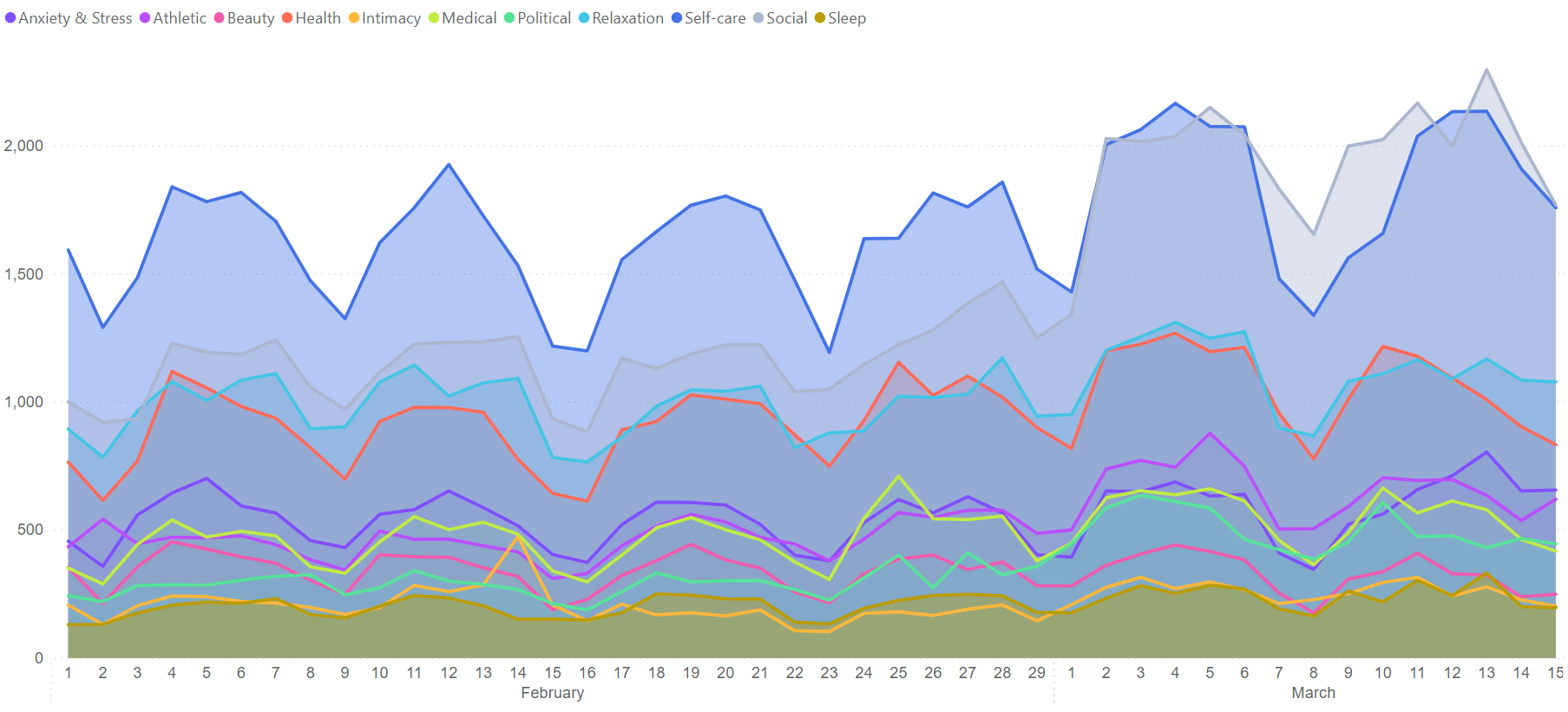 First, we explore what conversations around CBD and cannabis looked like before the pandemic arrived in the US. Every Sunday in February, there was a dip in online conversations about CBD and cannabis. In the middle of the week (usually Wednesday and Thursday) there was a spike in conversations about CBD and cannabis.
February 14 - March 9: Conversations by Topic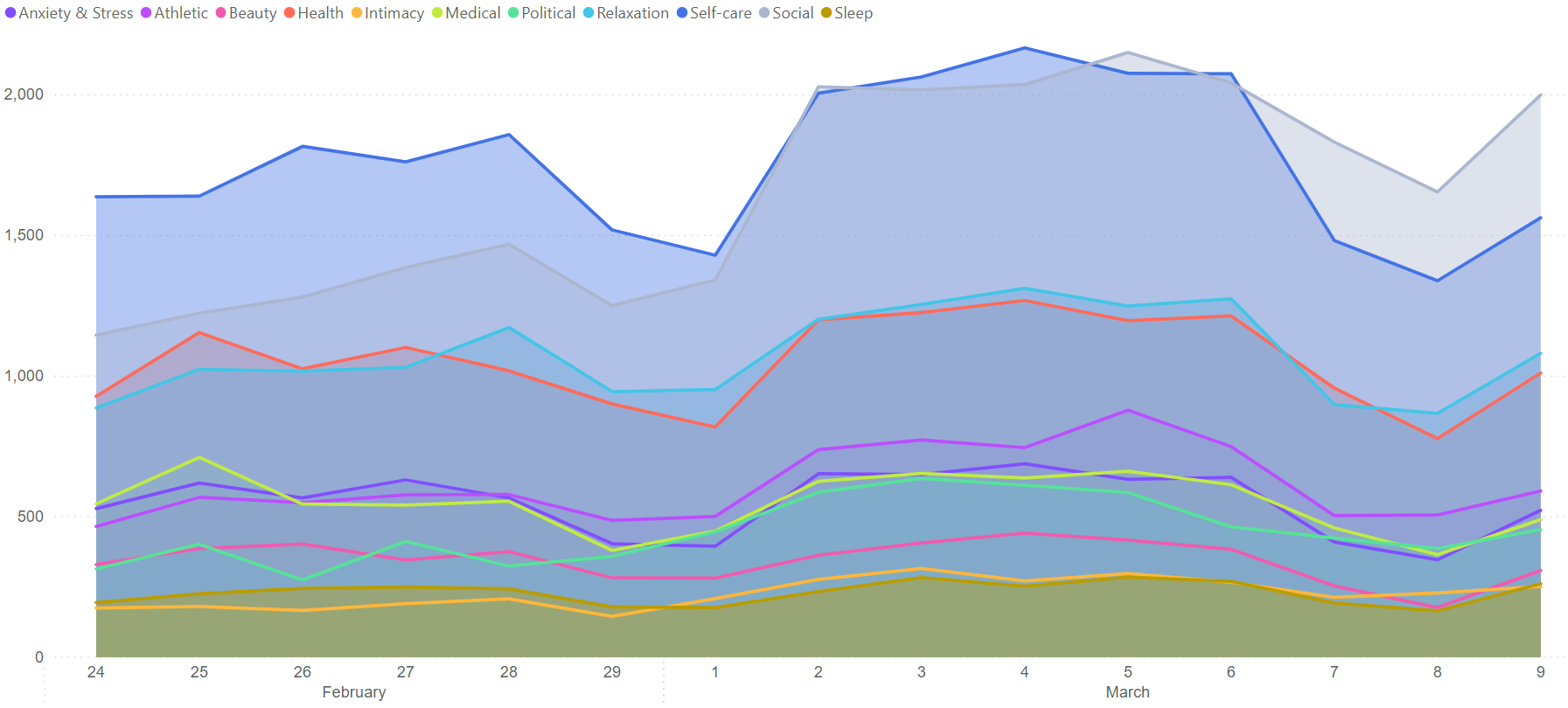 This trend continued in March; however, the week of March 2 through March 8 saw extreme highs and lows. For example, the topic "social" reached its highest point on March 5, and the top "beauty" was at its lowest on March 8, reflecting the massive influx of conversations around social distancing and consumers trying to plan activities to do online.


These extremes display how national news on COVID-19 changed the topics of posts. The conversations around "athletic" topics had their own spike the first week of March, which likely fits into the influx of at-home workouts streamed or posted for people beginning to shelter in place. Political conversations around also rose higher than usual, which coincides with the urgency for regulations on medical patients, final definitions of "essential" businesses, and federal stimulus packages.
March 1 - March 15: Conversations by Topic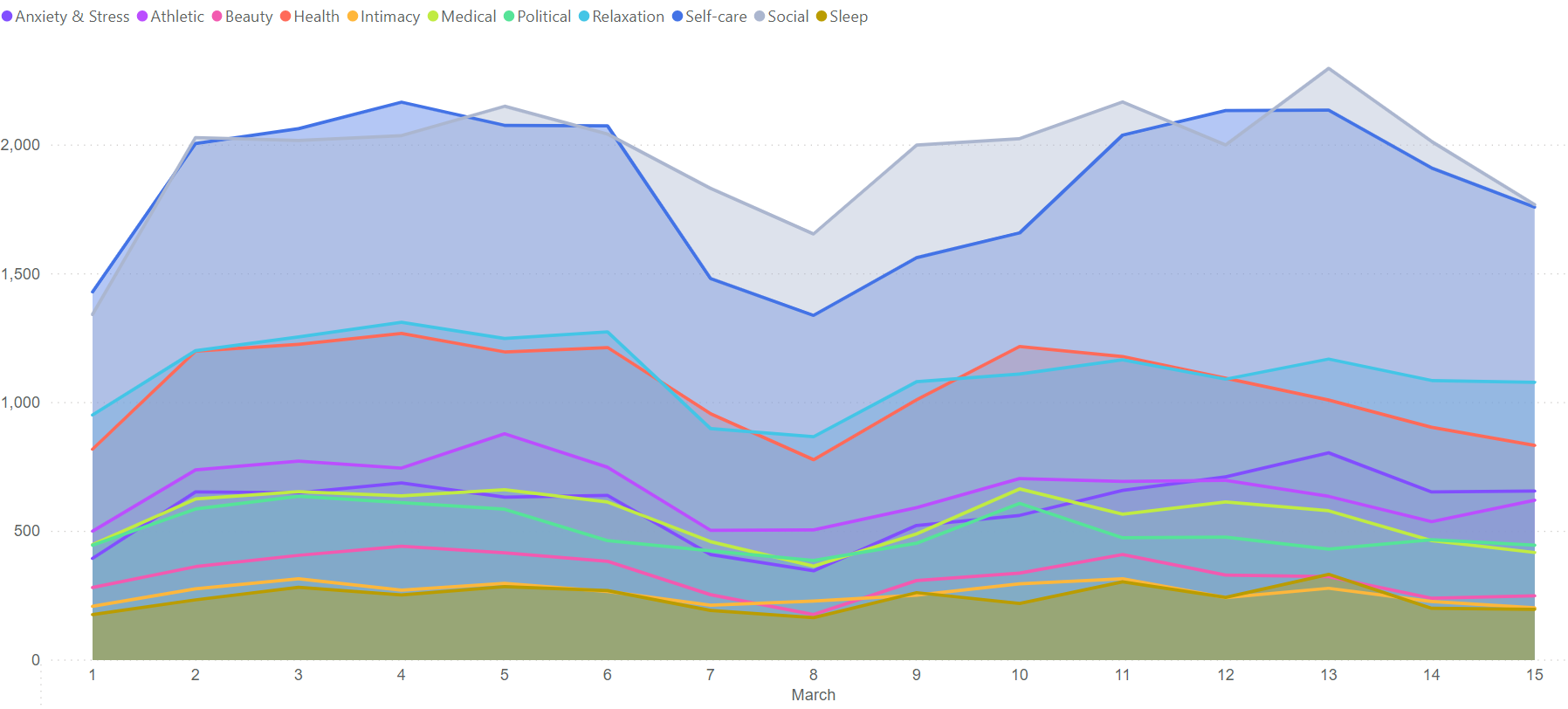 National news on COVID-19 resulted in a spike in the topic of "social;" 21% of conversations around CBD or cannabis were on this topic between March 1 and March 15. This could include posts about social distancing, ways of staying social online, or even people complaining about losing social opportunities.
In the second week of March, we saw a similar peak as the week before, with the "social" topic reaching its highest point thus far on March 13. Interestingly, the dip in conversations from Saturday March 14 to Sunday, March 15 was much smaller than the previous weekend dip, as you can see in the chart above. At this point, cities had cancelled their St. Patrick's Day weekend plans and citizens were starting to socially distance. With more time at home to be on screens, this may be why Sunday, March 15 saw a smaller dip than usual.
February 1 - March 15: Conversations by Self-care and Social

For the entire month of February, "self-care" was the most popular topic of conversation for CBD and cannabis-related posts on social; 23% of all conversations related to self-care. In March, conversations about CBD and cannabis changed to more posts on social topics. From March 5 to March 11, "social" was the most poplar topic of conversation for cannabis and CBD-related posts on Twitter.
While cannabis and CBD posts about socializing, politics, and athleticism have reached new peaks, self-care has continued to take up a major share of conversations. So, despite national news guiding conversations, users online still post about self-care as it relates to their products, even more so in time of crisis.
Last Updated: March 25, 2020