In the beginning of March, the COVID-19 crisis wasn't nearly as pervasive in daily life as it was in late March. Considering the timeline of the pandemic, we explore the shifts in social media conversations around CBD and cannabis.


In the end of March, the trends we saw in February and early March nearly disappeared. As discussed in our previous analysis, every Sunday saw a dip in online conversations about CBD and cannabis, while the middle of the week (usually Wednesday and Thursday) saw a spike. These dips and spikes continued in the beginning of March, although with more extreme highs and lows. However, notice how at the end of March, those distinct curves in the line are nearly gone.


Cannabis & CBD Social Media Topics: February 14 - March 31


The week of March 16 is where we see this trend disappearing. On March 17, shelter-in-place orders went into effect for 7 million Californians while the country wondered how to celebrate such an odd St. Patrick's Day; topics around CBD and cannabis spiked Tuesday the 17th, but then all conversations fell through Sunday. The exception was the topic of self-care, which fell through Saturday, March 21, and then started to rise on Sunday the 22nd. Topics for the rest of the month fluctuated, with no distinct peak in the middle of the week and sight dip over the weekend.


As shelter-in-place orders and physical distancing continued to rev up, people were losing their daily schedules. Whether due to lack of work or working from home, the change in daily life is apparent by these social media trends.
Social Media Conversations Around Cannabis: March 15-31

From March 15 to 31, the top 3 topics around cannabis on social media were social, self-care, and health. However in the first half of March, relaxation was in the top 3 instead of health, showing a possible growing concern among cannabis users about their health and how they may be coping with quarantine. Where in the first half of March cannabis users may have been focused on staying relaxed, the skyrocketing number of COVID-19 cases in the end of March seemed to spark health-related conversations.
Social Media Conversations Around CBD: March 15-31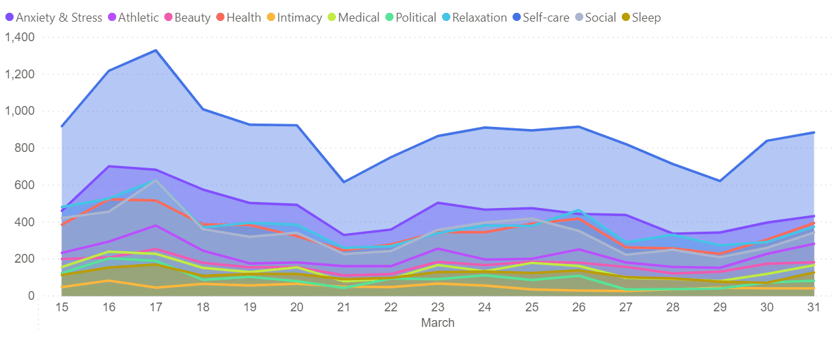 From March 15 to 31, the top 3 topics around CBD on social media were self-care, anxiety & stress, and relaxation. Compare this to March 1 to 14; the top 3 topics were self-care, health, and social. We see that although self-care remains the most talked about topic, conversations around CBD became more consumed with stress caused by the pandemic. CBD is claimed to help with anxiety and promote relaxation, and so as the crisis worsened, it makes sense that more users online were posting about these topics.
Last Updated: 4/6/2020