As we continue to physically distance, many people are finding themselves with newfound free time and less places outside the home to spend it. Without shopping, restaurants, and movie theaters, how are cannabis consumers choosing to use their time? Last year, we conducted a study on the lifestyle of cannabis consumers, examining their various hobbies and the different consumer segments who enjoy them.


Single Yuppies and Liberal Elites are two personas that are very likely working from home throughout this crisis. Free from commutes, these consumers may be finding themselves with more free time than usual. Both consumer segments earn more than $75,000 annually and have achieved higher education, though Liberal Elites typically have kids at home while Single Yuppies are, well, single.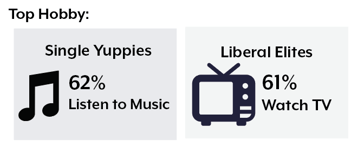 In terms of media hobbies, many Liberal Elites, who may well have their kids at home due to school closures, will be spending their time watching TV; 61% of these users engage in this activity – the most common hobby of this consumer group. With children at home, watching TV can be a family activity and easy way to stay entertained. If they get tired of watching Disney Channel and Cartoon Network with the kids, Liberal Elites are also also likely to spend their time listening to music or watching movies, with 53.7% of consumers engaging in these activities.


Though Single Yuppies certainly do love their television as well (56.8% love to boot up Netflix), 62.8% reported that they prefer to listen to music in their spare time. These users also tend to watch movies at roughly the same rate as their married counterparts, with 53.8% of these users engaging in this activity. Single Yuppies may also be using their newfound free time to brush off their old World of Warcraft account or by trying to catch as many fish as possible in the newly-released Animal Crossing: New Horizons – 36.2% of these users report playing Video Games, greater than Liberal Elite's 33.4%


When it comes to physical hobbies, Liberal Elites are more likely to be making their own meals while some Singly Yuppies may be utilizing the curbside pickup service which many restaurants are now offering – 43% of Liberal Elites enjoy cooking while 39.2% of Single Yuppies list this as a hobby. The same goes for baking as well. Liberal elites are more likely to be practicing their skills as a pastry chef (20.7%), while many Single Yuppies may instead choose to spend more of their time working on art projects (25.9%).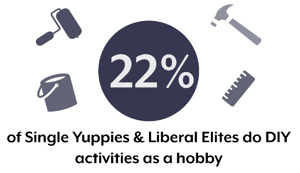 Though they may enjoy spending their time in different ways, there are some activities Liberal Elites and Single Yuppies enjoy at the same rate – virtually the same proportion enjoy working on DIY projects and playing board games. That said, Liberal Elites will have family to play with, while Single Yuppies may need to use their video game skills in order to set-up a round of Monopoly on Tabletop Simulator to get a bit of social interaction while maintaining distancing protocols.
Last Updated: 4/1/2020