Coffee is more than just a beverage; it's a way of life for many Americans. With over 2 billion cups consumed daily, coffee is one of the most popular beverages in the world.
Consumers of coffee drink up billions of dollars of coffee annually in the United States alone. After an explosion of innovation in the coffee category, there are many different types of coffee for one to enjoy, from nitro brew to nutrient-infused blends and everything in between.
With such a huge coffee market, you may wonder what consumers want from their cup of Joe. Whether you're trying to figure out how to reach coffee buyers or looking for marketing ideas for your brand, this article will provide insights into American coffee consumer preferences.
Who's Sipping on Coffee? A Closer Look at American Coffee Drinkers
While coffee consumption in the United States has been on the decline in recent years, there are still many people who enjoy coffee on a regular basis. In fact, according to a recent report by Evergi more than half of American adults have purchased coffee in the last year.
So, who are these coffee lovers?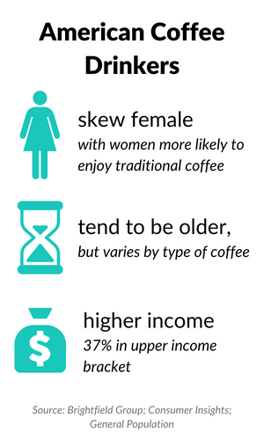 Well, they skew female, and older and they tend to have higher incomes, with 37% of coffee buyers earning in the upper income category.
The types of coffee that people drink also vary depending on the buyer's age, gender, and location. For example, younger adults are more likely to drink cold brew coffee, while older adults prefer traditional brewed coffee.
Our research also shows that Whole Bean or Ground Coffee drinkers skew a bit older and more towards female consumers. These traditional coffee drinkers also tend to lean more suburban and married than the general population. When it comes to gender, male consumers are more likely to go for strong variants like Coffee Concentrate, Coffee Shots or Bulletproof Coffee while female consumers tend to stick with traditional coffee.
And when it comes to age, the most common generation to drink Whole Bean or Ground Coffee are Baby Boomers, with 39% of that demographic reporting they have purchased it in the last year.
On the other hand, younger consumers are more likely to be trying Nitro/Cold Brew Coffee. While Gen Z makes up a mere 3.6% of traditional coffee buyers, over a third of this age group reported purchasing Nitro/Cold Brew coffee in the last year.
Emerging Coffee Trends
While traditional coffee remains a popular choice for many, emerging trends are shaking up the industry. Our research shows that most coffee drinkers still choose traditional drip coffee as their go-to. Still, younger generations are more likely to opt for specialty coffee drinks like lattes and cappuccinos.
Oat Milk lattes are gaining popularity among younger consumers who are looking for plant-based alternatives to dairy but still need their energy fix. Our research shows that 11% of Millennials purchased an Oat Milk latte last year. Cold brew is also on the rise among young consumers, with 17% of Millennials trying a cold brew coffee in the past year.
Another emerging coffee trend in the wellness market is nutrient and adaptogen-infused coffees for consumers seeking functional ingredients to add to their morning routine. Consumer data shows 16% of coffee drinkers reported buying nutrient-infused coffee, and that number is even higher among Gen Z and millennial consumers.
Beyond the Brew: Ready-to-Drink Coffee Products Taking the Market by Storm
The popularity of ready-to-drink products within the coffee and tea category has grown in recent years. This is partly due to the convenience of these products and the increasing availability of different flavors and types of coffee.
Today, consumers can purchase ready-to-drink coffee in many different forms. They can choose from cold brews, iced coffees, and iced lattes. In addition to these products already being available at local grocers and convenience stores, some companies are now making their products available through subscription services that deliver a fresh supply each month.
The market for RTD coffee is expected to continue growing as the industry matures. The industry will also see an increase in innovation, with new products hitting the shelves every month. One recent example of this is the introduction of ready-to-drink oat milk lattes which capitalize on the growing consumer interest in nondairy coffee drinks.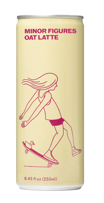 Brightfield consumer insights show oat milk at large is becoming increasingly purchased among the general population. Newcomers to the space are appealing to younger consumers' sensibilities with interesting branding and innovative products. One such brand is Minor Figures who's Oat Milk-based products target a younger, more hip consumer base.
Another brand taking advantage of the emerging coffee trends is DaySmith Coffee, a brand that builds upon growing wellness trends by infusing ready-to-drink coffees with nutrients and adaptogens.
The brand's products are marketed as a healthy alternative to mainstream coffee drinks and have been featured in several publications. These brands clearly understand the needs of today's consumers who are looking for healthy options that don't sacrifice taste or convenience.
Opportunities in Coffee
The coffee industry constantly evolves, with new products and trends always emerging. Coffee consumption trends are changing, with younger adults and women being the most likely to drink coffee. Ready-to-drink coffee products are becoming more popular, and several new brands are taking advantage of these opportunities.
Looking to the future, there are still endless opportunities for innovation in the coffee industry. Whether it's experimenting with unique flavor combinations or incorporating functional ingredients like CBD or adaptogens, the possibilities are endless. By keeping a pulse on consumer preferences and trends, brands can stay ahead of the game and tap into the ever-growing coffee craze.

Published: 4/4/2023