With "social distancing" being encouraged by health officials, major events are being postponed, large civic gatherings are discouraged, and office workers are being asked to work from home. But on a positive note, adults may find themselves with extra free time due to telecommuting and event cancellations. Through our research on cannabis consumer hobbies and free time, we take a look at how they may spend their self-isolation time.
Managing Free Time
This extra free time may be a shock to nearly 40% of cannabis users that report having less than 10 hours of free time per week, but the 1 in 4 that have over 20 hours per week may start to get bored.
Luckily, the majority of cannabis consumers watch TV (61%), listen to music (60%), and watch movies (56%) as hobbies. With the plethora of streaming media available, it is unlikely anyone will run out of shows to catch up on or albums to listen to. Netflix is the most popular video streaming platform, as almost 80% of cannabis users have a subscription.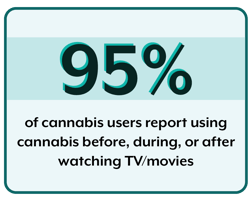 YouTube is the second most popular, which makes sense considering it can be accessed for free; Hulu and Cable TV also make the list of top streaming services. Additionally, these consumers are very likely using cannabis while watching; only 5% said they don't use cannabis before/during/after watching TV or movies.


Cannabis Consumers + Exercise
For the 29% of cannabis users that work out as a hobby, they may spend more time working out at home or outside. This could already be routine for the yogi cannabis users, as almost half of them do yoga at home, and over one-third of cannabis consumers who run already do so outside. Half of these exercisers prefer to work out alone, so social distancing won't have much of an impact on their workouts.


For the 32% of cannabis users that enjoy outdoor activities, self-distancing may have less an effect on their plans, as long as they are done in somewhat secluded areas. The most popular outdoor activity is hiking, which can be safely continued assuming it is in small groups or by themselves.


This is just a small sampling of the kinds of activities that cannabis users engage in outside of their cannabis consumption. For more information on cannabis consumers, visit our Cannabis Consumer Insights page.