Mother's Day is this weekend in the US, and you can bet there will be millions of video and phone calls to mothers, grandmothers, step-mothers, aunts, and other special women on Sunday. Mother figures have shaped all of us through literal ways (their DNA, clothing and feeding us) and more abstract ways (through their examples, punishments, and love). I took a look at cannabis consumer data to look at mothers that use cannabis.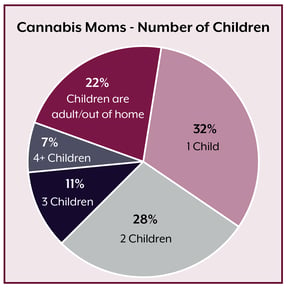 About 60% of women with children surveyed have one or two children and over a fifth are empty nesters (though due to COVID-19, their children may have temporarily returned to them to quarantine in childhood bedrooms). Only 18% of cannabis-using moms have three or more children. Women with multiple children also over index for being heavy cannabis users. This could be a coincidence or it could be due to stress.


When asked about their top three sources of stress, almost one third of cannabis moms cited their children, the most common response in this group, followed by lack of sleep, which can also often be attributed to one's children. If you're the child of a mom with multiple kids, don't feel too guilty yet; these moms rated their average stress level at a 4.8 out of 10, so while their kids may be causing them stress, it isn't at catastrophic levels.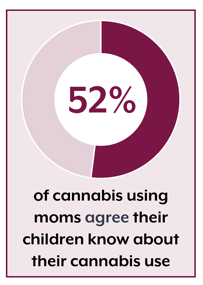 While cannabis mothers seem to agree on parenting styles, one thing they diverge on is if their children are aware of their cannabis usage. About half agree that their kids are aware, but 1/3 disagree. While this smaller group may have younger children who wouldn't understand cannabis usage, they may also be concerned about how their children would react to the knowledge that their mom uses cannabis. As stigma declines, I'd expect more mothers to be open and honest with their children about their cannabis consumption.


If you are lucky enough to celebrate Mother's Day with your mom in person this weekend, consider starting a conversation about cannabis to learn more about her feelings on the subject. She could be looking for a new stress reliever to better help deal with you and the lack of sleep you've caused her over the years.
Last Updated: May 7, 2020