Cannabis has long been associated with a certain type of famous person—rock stars, reggae pioneers, rappers, goofy "dudes"—but as the industry enters the mainstream, a wider array of celebrities are throwing their hats into the cannabis ring. Being a spokesperson or investor isn't just attractive to these influencers, but also provides an opportunity for cannabis brands to increase their brand awareness and gain capital.
Cannabis Companies Using Influencers



Lowell Farms has one of the more impressive celebrity lineups of American cannabis companies, including, Miley Cyrus, Sarah Silverman, Chris Rock, and Mark Ronson. These celebs invested in Lowell's most recent round of funding, but also plug the brand on their social media platforms.
Canopy Growth, of Canada, is a step ahead of the Lowell model; they have partnered with several celebrities to create brands. Marketing regulations for cannabis in Canada are very strict, so the brands cannot have celebrity names or images associated with them, but the PR surrounding each launch has made it clear of the celebrity's involvement, as well as each star's social media. They've recently announced More Life, a partnership with Drake, and a pet CBD brand with Martha Stewart (name has yet to be announced). Houseplant, their brand with Seth Rogen, and LBS, the Canadian version of Leafs by Snoop, are already for sale in Canada.
A few celebrities have started their own cannabis companies; Jim Belushi and Melissa Etheridge have both started cannabis farms. Etheridge was inspired to start her company after seeing how helpful cannabis was while she was suffering breast cancer; Etheridge Farms does not have a consumer facing brand as of yet. Belushi's Farm's products can be found at dispensaries in Oregon.


Celebrity Influence on Cannabis Consumers
But how do consumers feel about celebrity endorsements or sponsorships in the cannabis market? According to our consumer insights, we found less than half of consumers agreed that celebrities make a brand seem more fashionable or desirable, and only 1 in 3 agreed that companies seem more trustworthy if endorsed by a celebrity. This may explain why celebrity endorsements came in last in their influence on consumers when considering new cannabis products. Perhaps unsurprisingly, reco­­­mmendations from friends and family came in first, followed by consumer reviews, budtenders or sales consultants, and then social media influencers or bloggers.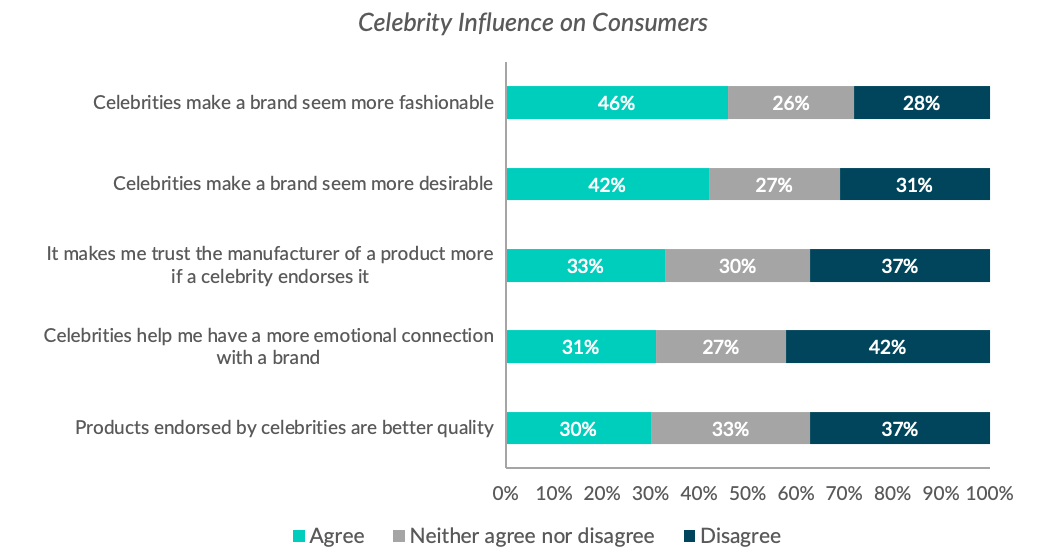 Brands considering partnering with celebrities should make sure they are doing so in an authentic way and that the celebrity resonates with the target consumer. And celebrities considering cannabis endorsements or partnerships should ensure that the product is of high quality.
Last updated: January 16, 2020