Our social listening dashboard provides insight into what CBD and cannabis products consumers are talking about online. While looking at the first half of April, we noticed a considerable spike in conversations around cannabis concentrates.


Social Media Posts by Product Type: April 1 - 15, 2020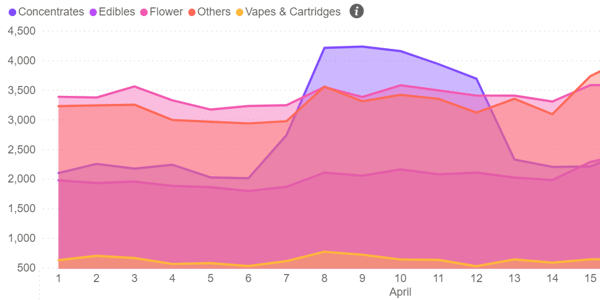 During the week of April 6 through April 12, 28% of social media posts about a cannabis product were about concentrates. Compared to the week before, conversations around concentrates nearly doubled! Although it is unclear what got so many cannabis users talking about concentrates, we decided to take a look at our cannabis consumer data and cannabis market data to explore the concentrate user.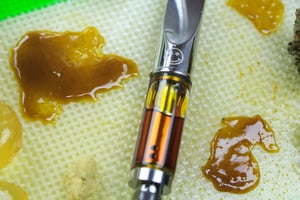 For those unfamiliar with cannabis concentrates, they include any form of cannabis that is, well, concentrated. This can be as simple as kief, which can be slowly collected in a flower grinder, or as complicated as wax, which requires a chemical solvent and precise technique. Most notably, cannabis concentrates provide a potent dose of THC; while cannabis flower contains 10% to 25% THC, concentrates can be 60% to 90% THC.


Though the average consumer may not know much about concentrates, they make up a significant portion of the cannabis market. Concentrates made up 23% of the total cannabis market in 2019, and in 2020, the concentrates category is forecasted to grow 29% to reach $3.4 billion.


Who are the consumers growing this market? Looking at our cannabis consumer data, we can see the personas who've increased concentrate use; from 2018 to 2019, Boomerangs, Single Yuppies, and Old Stoners all became more likely to use concentrates. Still, the Typical Stoner persona reported the most concentrate use in 2019, with 60% of concentrate users falling into this persona. Those who report concentrate use are also very likely to use cannabis 5+ days a week; 76% of concentrate users reported this frequency in 2019.


It makes sense why heavy cannabis users are most likely to adopt concentrates into their repertoire of cannabis products; concentrates aren't as easy to use as flower or edibles once you go beyond standard vapes. Consuming concentrates, or dabbing, requires a rig (usually called a dab rig or oil rig), which entails heating a glass piece with a butane torch, or an electric vaping device, which can cost upwards of $300. Logistical barriers aside, a gram of concentrates can cost anywhere from $50 to $100. Unless a consumer already knows someone with a dab rig or has the privilege of living in a state where they can sample on-premise, it would cost a consumer over $100 just to have the supplies to give concentrates a try.


Additionally, due to its high potency, new or infrequent users can easily take too big of a dose. Concentrates are best suited for users with higher tolerances, as it allows them to still inhale their cannabis without having to smoke as much to feel the effects of THC.


With the amount of cannabis users reporting heavy use (5+ times per week) increasing by 26% from 2018 to 2019, we expect users will continue to explore more advanced means of consumption.
Last Updated: 4/23/2020