When Congress removed hemp from the definition of marijuana under the 2018 Farm Bill, it ensured that the US Food and Drug Administration (FDA) had the legal authority to regulate hemp-derived products. While the agency initially stated that it was "committed to advancing hemp products," the extended delay in regulation has hindered CBD market growth. After four years of inaction, the FDA punted the responsibility to Congress in early 2023, citing safety concerns and insufficient regulatory frameworks. So will Congress regulate hemp?
Brightfield Group's CBD market forecast for 2023 includes two scenarios - one with industry-friendly regulations and one with no guidance. The recent move to regulate CBD via Congress could be a good thing for the CBD industry. Let's explore why congressional regulation would likely result in a more industry-friendly regulatory scheme than the FDA may have implemented.

The FDA's Approach to CBD
Without a formal sales framework for CBD products, the FDA had asserted its regulatory authority over the category with warning letters. Historically, companies making unsubstantiated medical claims about their products received warning letters. Brands asserting CBD's ability to relieve pain or combat opioid addiction were often the ones to get letters.
Though much less frequent, other letters were directed towards goods that appealed to children or for use in food-producing animals. While the agency still held that CBD could not be marketed as a food or dietary supplement product, these products were still typically tolerated without other concerns.
In 2022, however, this unofficial policy came to an end. In late 2022, the agency sent warning letters to several companies purely for the fact that they were selling food or beverages that contained CBD. The FDA stated that its concern was that "people may confuse [these products] for traditional foods or beverages which may result in unintentional consumption or overconsumption of CBD" and the agency was especially concerned about infused foods that take "forms that are appealing to children, such as gummies, hard candies, and cookies."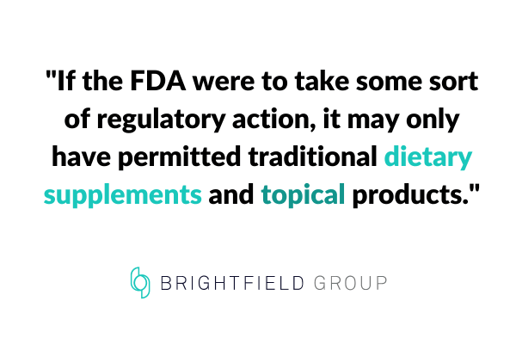 The agency's new stance illustrated in these letters starkly contrasts with its earlier, more tolerant position. It indicates that if the FDA were to take some sort of regulatory action, it may only have permitted traditional dietary supplements and topical products. CBD gummies, one of the fastest-growing categories, would be excluded from the market, among other popular ingestibles. Such regulation would significantly hurt the market's wider growth trajectory.
With the FDA tightening its grip on CBD product formats and its continued safety concerns, even in light of multiple studies showing consumption of low doses is well tolerated, any framework it would have passed likely caused as many challenges and obstacles as it alleviated.
Building Blocks: Congress Regulating CBD
It looks to be more likely the industry will have a framework that preserves consumer choice and is industry-friendly if Congress is regulating CBD. While federal cannabis reform tends to be a partisan issue, backed by Democrats and opposed by Republicans, hemp has found support on both sides of the aisle. The rules for CBD from Congress may be more easily agreed upon.
Looking back at the 2018 Farm Bill, Senate Republican Conference Leader Mitch McConnell was the one who introduced the provision to legalize industrial hemp and remained a champion of it throughout the bill's drafting and passage (with an 86-11 supermajority in the Senate and 386-47 in the House). Many Republican politicians are strongly interested in seeing a vibrant and successful hemp industry because it benefits a large base of constituents - farmers.
The lack of action from the FDA has been a concern for many politicians across the country, including the Kentucky Agriculture Commissioner, bipartisan lawmakers across four states behind the proposed CBD Product Safety and Standardization Act, and both the former Chairwoman and Ranking Member of the House Agriculture Subcommittee. The Republican-led House Oversight and Accountability Committee even announced an investigation into the agency's decision not to regulate CBD, stating that the Agency had "insufficient rationale for inaction."
Without federal guidance for CBD, hemp farmers are hurting and politicians are well aware. The amount of floral hemp harvested in 2022 was down 66% from 2021 and the wholesale price of hemp plummeted in recent years due to severe oversupply issues. Ultimately, one of the primary ways to help these farmers economically is to grow the hemp-derived CBD product market. Implementing a federal rules for CBD that ensure product safety and provide the industry access to mainstream retail channels will help reestablish the demand for hemp in the U.S.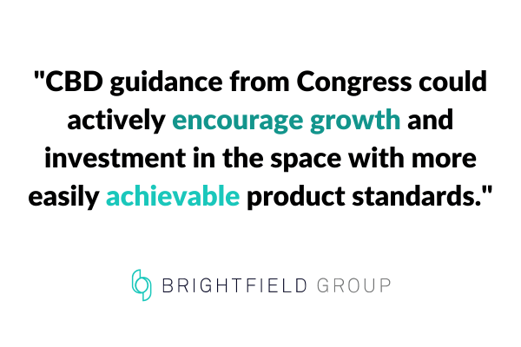 Assisting farmers is a concern of many Congresspersons interested in the space, so they are unlikely to pass CBD regulations that would hamper this growth. CBD guidance from Congress could actively encourage growth and investment in the space with more easily achievable product standards.
CBD market analysis shows a brighter future for CBD with federal guidance. Though CBD firms will almost certainly have to adapt to some regulations, politicians want to help the industry grow. This perspective will likely be reflected in any eventual legislation, and is why Brightfield Group's CBD market sizing forecasts a scenario with industry-friendly regulations.

Published: 5/10/2023