Ah, summer. A time of staying cool, kicking back, and (if you live in a legal cannabis state) lighting up. Being outside in the summertime brings about memories of eating watermelon and drinking lemonade on a beach or open field. Cannabis brands are well aware of these associations and are constantly introducing new flavors of edibles throughout the year in order to make sure there's always fitting seasonal options available on store shelves. Cannabis is not immune to seasonality.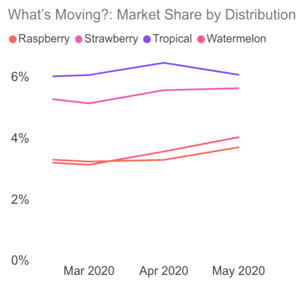 Our cannabis distribution analytics data tracks retailer menu data, allowing us to keep tabs on which edibles flavors have been gaining steam in spring going into summer. Spring and summer are the seasons where fruity flavors reign supreme, with raspberry, watermelon, lemon, and lemonade all gaining traction in recent months. These flavors tend to be more present in cannabis-infused candies and drinks, while chocolates and baked goods tend to adhere less to seasonal trends throughout the year. Let's explore how spring and summer affected which flavors of cannabis edibles are hitting dispensary shelves.


Raspberry Cannabis Candies
Raspberry has been a dominant cannabis candy flavor and saw significant growth in May. It has the greatest overall distribution in this category and is the most popular flavor in Nevada (by an extremely wide margin), Oregon, and Michigan. Blue raspberry, a well-established flavor which many of us will remember for its tongue-dyeing efficacy, has proven to be a very common type of gummy. Both The Canna Company's and Smokiez Edibles' gummy candies have gained distribution as we start to enter the summer.


Watermelon Cannabis Gummies
After surpassing Strawberry's retail presence in January, it has been nothing but growth for watermelon flavored gummies. Even though raspberry is the most carried gummy flavor overall, watermelon just barely edges out for first in California and maintains a dominant presence in Arizona. A lot of companies are getting in on the Watermelon action, with Flav, Verano, and Copia gummies of this variety all becoming increasingly popular with retailers across the nation.


Strawberry Cannabis Candies
Strawberry is not as strong in growth as the previous two fruit flavors. However, it is the fourth most popular flavor overall and still a common entrant in states' top fives. Most notably, strawberry occupies a massive amount of gummy retail space in Colorado. Wana 10:1 Strawberry Gummies and CannaPunch Golden Strawberry Pucks are some of the top items with growing distribution month-over-month. For those who are interested in mixing cannabis with the sweet taste of strawberries this summer, the Centennial State is the place to go.


Lemon (or Lemonade!) Cannabis Drinks
Though lemon is not a particularly popular flavor of gummy, it is an extremely popular flavor in the other product category which sees a lot of seasonal variety – drinks! Lemon holds a huge amount of shelf space in the beverage market, especially in states such as Oklahoma and Washington. Lemon's cousin lemonade is not the top flavor in any state but nonetheless has enough of a retail presence to place second overall in the drink flavor race. Both of these beverage varieties are growing as we approach summer, the season when a cold glass of lemonade is deified as the ultimate refreshing reprieve on a hot day. Elixir Half & Half Tea and Lemonade, Flav THC Lemonade, and Haze & Main 3:1 Happy Hour Lemonade have all been growing in popularity as the temperature rises.
We will likely see these flavors decline on dispensary shelves as summer closes out in August and September. For now, we hope you can enjoy the warm weather with some of these fruity flavors!