The most comprehensive view of what's ahead in the cannabis industry.
Build a data-driven innovation pipeline to understand consumer product needs and expansion opportunities.
Key products in the US Cannabis Distribution Trends subscription:
Product Innovations Directory

–

Stay ahead of product innovations by exploring top brands by key attributes, including, Category, Subcategory, Flavors, Strains, and THC Dosages.

Attribute Product Trends

– Identify and understand emerging trends before they crest based on the types of products and attributes moving on dispensary shelves.

Product Category Overview

– Recognize whitespace with ease by viewing the trends worth jumping in on.

Growth Rate

M

etric

– Identify precise growth trends with Compound Monthly Growth Rate (CMGR) across all views.
Find distinct whitespace opportunities with US Distribution Trends. Compare how brands and attributes move on the shelf in each state to uncover white space for new product launches. The available filters by state, product type, and attribute provide you with the ultimate control as you analyze.
US Cannabis Distribution Trends help you find market whitespace
Analyst Deep Dive
In Washington, one of the most mature cannabis markets in the US, pear and elderberry edibles flavors have seen consistent growth in the past six (6) months.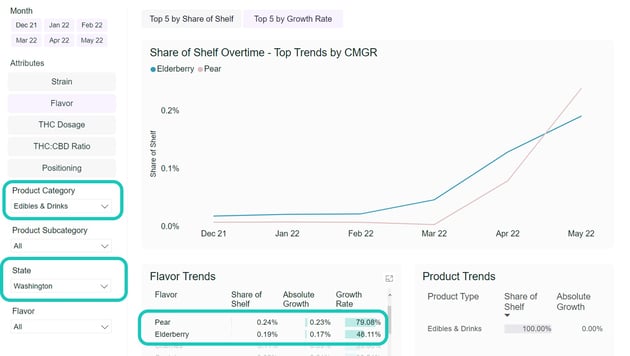 Based on this information, a brand in Illinois looking to launch a new flavor could look to this more mature market to uncover ideas around which flavor innovations would perform well in that market. Looking at Illinois directly, pear edibles have experienced shrinking of share of shelves while elderberry does not yet have a market presence. Given this analysis, elderberry could be a good flavor to bring to dispensary shelves in Illinois as a differentiator. Book a demo and see how you can discover insights like these in your state.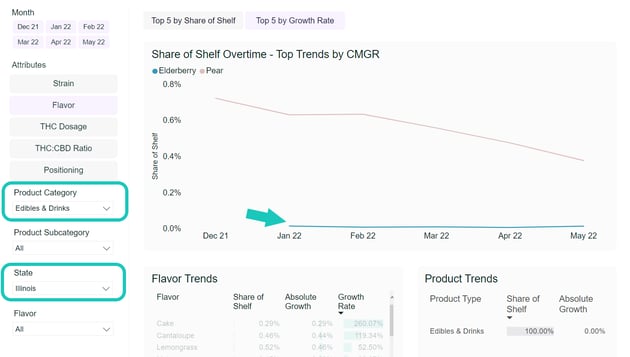 Product Category Overview
The Product Category Overview reveals the share of dispensary shelves for each product category, plus how it's changed over time, state by state. Nationwide, flower , and pre-rolls have significantly more share of shelf than edibles and drinks, but this won't be the case in each state. The Top Brands by State chart provides a quick view of the top brands on shelf by state and allows filtering by the Product Category Overview to zoom into one state's shelves.


Filtering on Colorado – one of the most mature US cannabis markets – shows that flower and edibles are more equally distributed across shelves. Compared to the nation as a whole, Colorado consumers are seeing more edibles & drinks options when they look at dispensary shelves. Edibles brands looking to break into or expand out of the Colorado market need this context to best plan their entry strategies.
Want to learn about other states? Schedule a demo of the Product Category Overview for the states that matter most to you...

Compound Monthly Growth Rate
The Compound Monthly Growth Rate (CMGR) shows us the growth (or decline) in attributes and brands on the shelf based on the last 6 months of data.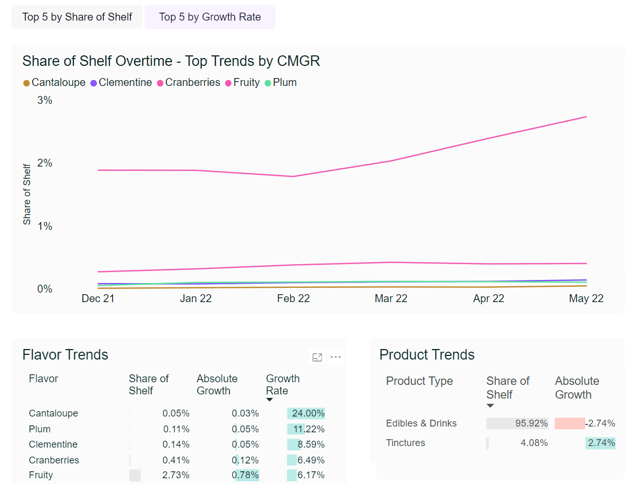 By understanding what's growing over the past 6 months, rather than month to month, the strongest emerging trends bubble to the top. This example shows the top growing flavors nationwide. The steady increase of edibles flavored simply as "fruity" on shelf may indicate a trend toward more generic edibles flavors.
Have fruity flavors grown in your state?!
Product Trends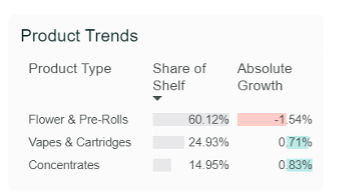 Looking to strains, Sunset Sherbet growing on shelves nationally, rising to 1.58% share of shelf in May 2022. The Product Trends chart allows us to see which types of Sunset Sherbet products are most popular. Although the data shows flower & pre-rolls take the biggest share of Sunset Sherbet products, vapes and concentrates with the strain experienced positive absolute growth. This tells us there are more Sunset Sherbet vapes and concentrates on shelves today than there were 6 months ago.
Wondering how Sunset Sherbet – and thousands of other strains – are distributed
Product Innovation Directory
Going one step deeper, the new Product Innovations Directory tool shows examples of Sunset Sherbet products on shelf. Filtering By the strain, we can see High Garden's Sunset Sherbet flower with a category, subcategory, and strain data plus the brand's product description and image.

Other Sunset Sherbet products in the directory include:
| | | |
| --- | --- | --- |
| STIIIZY - Sunset Sherbert Live Resin Pod | Jungle Boys - Sunset Sherbert x Mike Larry Flower | Dogwalkers - Sunset Sherbert Mini Dog Sit Pre-Rolls |
Schedule a demo today to see how US Distribution Trends can help your business make data-driven decisions in cannabis.
The US Cannabis Distribution Trends offering is the ultimate aid when looking to innovate and find the highly sought-after whitespace. Book a demo with our highly informed team and see how we can help you move the needle.

Last Updated: 5/11/2022