Cannabis consumers who have an aversion to smoking are certainly not starved for choice. Infused cannabis products have made a huge splash, and one of the most exciting categories is drinks. Cannabis beverages provide consumers with a lower onset time than edibles, are easily portable, and come in dosages as low as 2.5 mg and as high as hundreds. Let's explore some of the fastest-growing subcategories of cannabis beverage and the products behind the rapid growth.
Inspiration from Alcoholic Drinks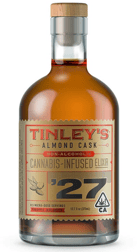 Taking notes from another intoxicating industry, many cannabis companies have sought to emulate alcoholic drinks both in taste and branding. One prime example of this is Tinley Beverage Co's Cask Barrel-Aged Elixirs, available in coconut, almond, and cinnamon varieties. The company coopts language from the alcohol industry, as evidenced by the use of the term "barrel-aged" and the fact that the descriptions reads that each bottle contains "8.5 shots," with each dose containing 5 mg of THC. Passing by this bottle on a dispensary shelf may give the indication that you've accidentally stumbled into a liquor store until you read the label. Other companies are choosing to emulate cocktails instead of hard alcohol, with Keef releasing its Mocktail Lemonade, and Haze & Main producing a Happy Hour Cranberry Bubbly. Regardless of the variety, products in this category typically contain some of the lowest THC concentrations of all beverage products, with the intent that consumers will ingest multiple items over the course of an evening like many do with beer, wine, or cider.
THC Drinks that Look Like Soda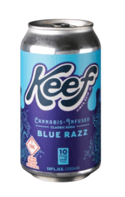 Keef has been a major player in infused soda, with multiple Keef Classic flavors appearing on Brightfield's list of top product launches in 2020. Though the company has six separate flavors available, the Orange Kush, Blue Razz, and Purple Passion have resonated the most with consumers. These products emulate the branding of a soda can by utilizing a primarily monocular design and a prominent circular branding element. If purchased in bottled form, each product contains 100 mg instead of the 10mg that are available in each can – providing options for both newer and veteran cannabis consumer.


Medicinal Cannabis Drinks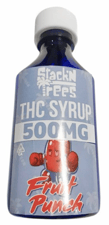 While the prior two categories resemble popular consumer drinks, this last category takes a different approach. 'Medicinal' drinks are packaged similarly to cough syrup, with products by brands like Stack'N Trees reminding us of facing down a spoonful of medicine as a child. These sorts of products typically feature high dosages of THC (over 100 mg) and may be consumed on their own or mixed in with something like soda water to create a sort of mixed-drink analogue. Cannapunch is currently the top player in this category, with three of its flavor varieties making the list of top disruptors for June.
Other Opportunities for Innovation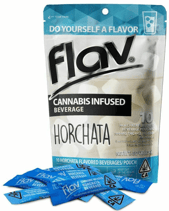 Of course, there is the occasional disruptive product which does not clearly fall into one of these categories. For instance, many companies such as Subtle Tea are offering infused bottled teas and tea bags, though these products have not seen significant growth recently. Unique products such as Flav's THC Horchata packets, which can can be mixed into any drink to add a cinnamon twist, demonstrate that there is continued room for innovation and cross-over with established beverage types.
Last Updated: 8/11/20