You've heard it by now - the best way to stop the spread of COVID-19 is to stay home and socially distance. But in 2020, we have the infrastructure to continue to socialize over screens. Conferencing apps like Zoom, Google Hangouts, and Microsoft Teams are already widely used for work meetings; live video streaming platforms like Twitch, Instagram Live, and Facebook Live allow us to connect with large audiences in real time.


People are scheduling all sorts of virtual events; there are yoga classes where instructors call out adjustments, choir practice where members sing along at home, and even cannabis smoke sessions where people take turns taking a hit while pretending to pass pieces.


Virtual hangouts are a great way to maintain normal events while we shelter in place.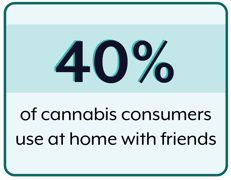 According to our cannabis consumer data, 40% of all cannabis users enjoy their plant with friends at home; when you look at the "typical stoner" persona, that goes up to 49%. Without being able to meet up with friends in-person, apps like Zoom are perfect for group gatherings, and even simple Facetime calls can become virtual smoke sessions.


Additionally, cannabis users are no strangers to online communities. Reddit has r/trees with over 1.5 million subscribers; disgruntled ex-Youtuber's have their own streaming platform, the Weed Tube; and Instagram has a plethora of tags and influencers that make up "weedstagram." These communities are flourishing with all the extra time on people's hands. "Weedstagrammers" are regularly going live with each other to broadcast their smoke sessions, and daily "quarantine" vlogs with smoking challenges are keeping consumers entertained.


So, with the cannabis holiday "420" on the horizon, will celebrations go on as usual – just online? You can already find a number of virtual 420 events on Eventbrite- including a "Tokes and Brushstrokes" painting class that will even send you art supplies.


As citizens around the globe continue to shelter in place, online communities – including the cannabis community – will grow and adapt to meet our social needs, even mirroring occasions of use in the digital world.
Last Updated: March 26, 2020