Anyone who has worked in consumer packaged goods can tell you consumer preferences are naturally shaped by holidays and seasons, predictably shifting throughout the year — a phenomenon known as seasonality.
Seasonal trends continue to emerge as the US cannabis market evolves. On-trend products allow companies to capitalize on temporary purchasing behavior shifts and develop product portfolios to best match consumer preferences.
As cannabis markets mature, consumers are starting to expect their dispensary shelves to change with the seasons. Newly legalized cannabis markets don't have to start from scratch either. Well-funded multi-state operators (MSOs) and experienced cannabis innovators can begin offering seasonal options within their first year of sales.
One of the easiest seasonal trends cannabis brands are capitalizing on is the annual pumpkin spice craze. There's no "pumpkin spiced" cannabis flower yet, but there are edibles on shelves nationwide — for both medical and adult use – designed for pumpkin spice fans.
Pumpkin Spiced Products on the Market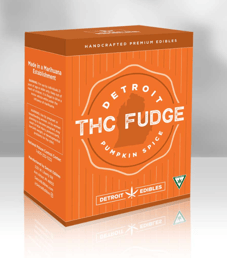 Pumpkin Spice Fudge by Detroit Edibles in Michigan
Michigan's Detroit Edibles Company released a special THC-infused Pumpkin Spice Fudge this year. The Great Lake State has seen more seasonal items than others, a fact which makes sense considering the state experiences some of the most drastic seasonal changes in the country. As the fall colors illuminate Michigan skies, consumers now have the option to head to their local dispensary and pick up pumpkin-spiced fudge that is sure to help them celebrate the changing season.
Pumpkin Spice Caramel by CLOVR x Christopher Elbow in Missouri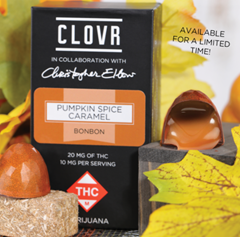 Missouri is a medical-only cannabis state, and CLOVR was the first edibles producer approved in its program. In 2021, the brand has started offering infused pumpkin spice caramels to medical cannabis patients. Missouri's medical sales began in late 2020, and with 3% of its population already enrolled in the program, the state is poised to outperform other medical markets. Seasonal cannabis products indicate the market is already making an effort to delight patients rather than simply administering generic medical cannabis products.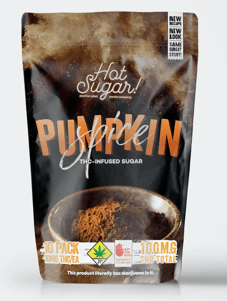 Pumpkin Spice THC-Infused Sugar by Hot Sugar! in Washington
It's only fitting that the most mature market on this list has the most innovative seasonal product. Hot Sugar! (a Phat Panda brand) is now offering its THC-infused sugar in pumpkin spice flavor. As the cannabis drinks space works out its kinks, Hot Sugar! invites you to make any beverage a cannabis drink – just add THC sugar. While perfect for sweetening up coffee and tea, this infused sugar can also be used to replace its standard counterpart in any situation. 420-friendly fall baking, anyone?
What's next?
With diverse product types to offer, cannabis companies will have to decide which seasonal trends make sense for their brands. Edibles are one of the easiest product types to introduce seasonal variety because they're analogous to the mainstream candy industry.
For products without flavors, more creativity is required. Think about how cannabis can be integrated into the time of year. In the same way that a beer's grains vary with the seasons, so too could seasonal strains for pre-rolls, flower, and concentrates. Brands have taken a shot at engaging with this idea for the winter season – with products such as Caliva's Blitzen OG, a strain with pine notes that was released in winter 2020 – but we have yet to see widespread seasonality take hold of flower strains.
As expansion and innovation continue in the US cannabis space, maybe we'll see even more pumpkin-spiced cannabis products beyond the confines of edibles in 2022!
Keep up with the latest in cannabis trends: