Social listening has been around since the early days of social media.
At any given moment, conversations are happening on all corners of the web. Digital forums and social networks provide a global platform for discussions of any industry which offers a rich source of real-time data.
Social listening tools monitor these social media conversations and allows the user to capture what people are saying around their chosen keyword(s)—whether that's a brand, industry, product, or anything relevant to their business. The right social listening data allows brands to assess their reputations, brand sentiment, and glean valuable insights on consumers.
But social listening goes beyond serving as a social monitoring tool. It's comparable to the practice of listening before you speak—on a macro level. No matter what size your business is, the relationships you cultivate with clients or audience is a two-way street.
In the past, social listening was used in social media marketing as a way to track brand mentions, sentiment, and marketing campaign success. While that's still relevant today, marketers are incorporating social listening as a market research tool that gives them insights to inform both marketing and product strategies. They are adding to their arsenal of research tools which should already include consumer surveys, brand health data, and more.
"Social listening can be a very effective tool. As with any data source, however, social listening has its flaws; you'll only get insight on the loudest people—those who actually post online. "
Connor Skelly, Brightfield Group
Social listening is effective in helping companies develop their content, improve their product offering, and improve customer service and experience. This guide offers the basics on how to approach social listening, how it applies to market research and some useful examples for further inspiration.
---
What is social listening?
Yes, it can seem like a buzzword. But in reality, social listening is a powerful tool that is used to create and guide the best marketing and business strategies in the world.
Social listening is the practice of collecting and analyzing data from social media to discover insights about a given consumer group or topic. These insights can be used to influence business practices like advertising, operations, and new product development to name a few.
The difference between social listening and social monitoring
Social listening should not be confused with social monitoring. Though related, social monitoring looks at simple metrics like brand mentions, hashtags, and industry topics. According to Hootsuite:
"Where social media monitoring looks at metrics like engagement rate and number of mentions, social listening looks beyond the numbers to consider the mood behind the data."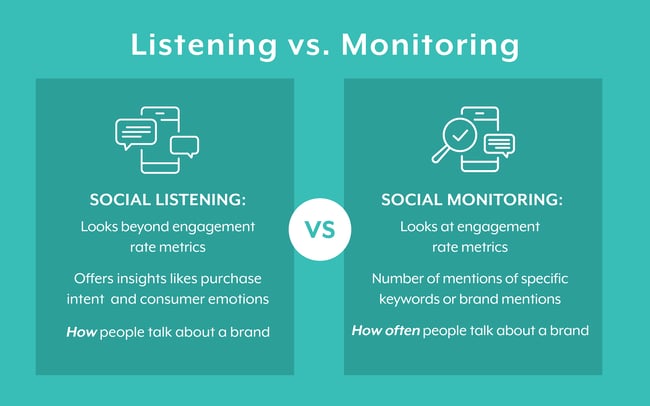 Understanding the mood, or sentiment, around your brand can reveal meaningful insights like purchase intent and consumer emotions like anger, joy, and frustration. A company can grasp how and why people are talking about their brand, their products, or their competitors.
What metrics matter in social listening?
Sentiment is coupled with data on share of voice and growth rates for a given topic. That is the benefit of listening over monitoring. Though it may look good that your brand is increasing its share of voice month to month, the sentiment around those conversations could be negative.
Key Metrics include:
Share of Voice: Of all conversations on a topic, percent of posts on a query within the topic.
Growth Rate: Change in post volume from one moment in time to another, such as month over month or year over year.
Sentiment: The attitude around a topic, often ranked on a scale of 1 (most negative) to 100 (most positive)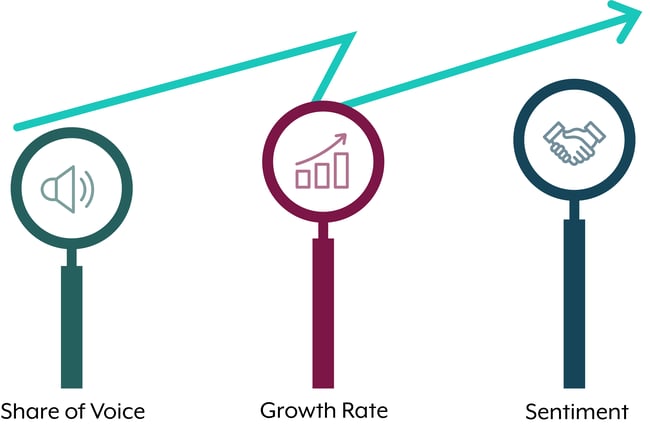 Why is social listening important?
Social media is an incredible source of primary data. For businesses that need modern approaches to complement their market research, social listening's capability to meet real-time needs has become an invaluable digital solution.
To use social listening is to gain knowledge about your audience, industry, and competitors at any given moment. A March 2020 study found that 51% of marketing leaders used social listening to get real-time information about their customers during the pandemic. This was the second most popular method after "following third-party sources of consumer research."
It illustrates how social listening helps communications professionals understand the evolving consumer mindset so they can develop appropriate marketing messages and act quickly in changing circumstances. And when combined with other sources like consumer research, it is even more powerful.
Where social listening can be part of your strategy
One great way brands have been using real-time social listening data is by providing customer support directly through their social media channels. Here's an example of Starbucks using social listening to aid its customer service (and explaining how they use social listening in its strategy).
If you look at its account, you can see how active its social team is at keeping up with customer questions, comments, and concerns. Other mainstream companies like JetBlue, Xbox, and T-Mobile have accounts specifically dedicated to their customer support efforts. It's no wonder that social media accounts for 35% of people's top choice for customer care.
Supporting customer service efforts is just one of the ways in which social listening can benefit businesses. Here are a few more ways that social listening data and insights can be leveraged:
Content Development: By tracking what your audience says, you learn more about what they want to see. This can give you ideas for articles, future campaigns, and even product marketing decisions. Liz Gross, CEO and Founder of Campus Sonar

says

, "Social listening allows you to constantly take the pulse of your community. Real-time data about their interests, questions, trending topics, and demographic characteristics can give you the edge you need to ensure your content is relevant to your target audience."


Improved Product Offerings and Customer Experience: By having a pulse on conversations around your product, you'll know what is working for users, what they like, and what they don't. This can be a feedback loop for improving your customer experience and eliminating pain points.
Keeping a Pulse on Your Brand Health: Having a competitive advantage can help you optimize your brand strategy. Social listening insights can drive marketing, sales, social, and help create more meaningful relationships with your customers.


Replacement for Focus Groups: It can be costly and time-consuming to run traditional focus groups.

Social listening can offer more efficiency

in terms of volume, speed, and honest feedback.


How do I use social listening for market research?
There are dozens and dozens of sources teams can use for their market - or marketing - research. The sources you use should depend on your objectives and goals.
Social media is a treasure trove of unsolicited feedback and opinions. When conducting market research, social listening helps you make sense of the data and gives you insight into consumer behavior, product or brand perception, your competitive set, and more.
As mentioned above, leveraging social media can be a cost-effective solution compared to focus groups or in-depth interviews. You get greater volume, speed, flexibility, and honesty when analyzing social data.
It's important to note, however, social media is just one data source available to marketers. Every data source has its nuances and with social listening, you only get insights on the loudest consumers and brands - those who are actually posting. If people aren't posting, then the data doesn't get captured. Other sources like surveys can be incorporated alongside social listening to give marketers a more complete picture of the market.
Identifying emerging trends in social listening
Social listening is a great place to start when you want to look for what's next. Consumers are often ahead of most businesses in terms of staying ahead of the trends. As these consumers (or brand accounts) post, you can analyze the social data on a given product type, topic, or consumer segment. If there are growing posts around a given product or ingredient, it can be a strong indicator that a trend is emerging.
By tracking mentions of products or ingredients like Reishi Mushrooms, social listening helps you identify the potential opportunity. Once you have found a few trends to look into, you'll need to make a stronger decision by finding other points of validation. Understanding the context and emotion behind these social posts is a good next step.
Sentiment analysis
It's helpful to see how many times a given product or brand is mentioned over time on social media. It's even more helpful to understand the context of that post and the emotions behind it.
Is the person angry? Happy? Sad? Those differences can help you really understand how a given segment is talking about the emerging trend.
So, what is sentiment analysis? In my opinion, it is one of the most interesting subfields of Natural Language Processing, a branch of Artificial Intelligence (AI) that focuses on how machines process human language.
According to a ScienceDirect report,
"Sentiment analysis or opinion mining is the process of computationally identifying and categorizing opinions expressed in a piece of text, in order to determine whether the writer's attitude towards a particular topic, product, etc. is positive, negative, or neutral."
There are many proprietary and publicly available sentiment analysis tools. Some cover basic analyses like identifying the post as positive or negative. Others will be able to identify posts indicating sadness, jealousy, and even purchase intent.
At the most basic level, you are going to want to separate the positive from the negative. Here are a few examples of what that looks like:
Positive: best, love, incredible, wow, thanks
Negative: worst, hate, terrible, gross, ugh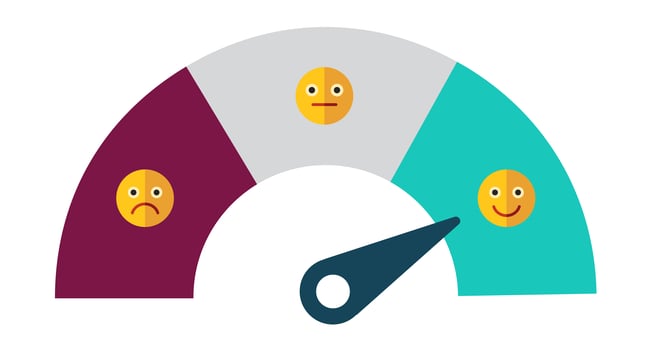 Sentiment analysis will take some manual, human work to be really effective. While machine learning models can get very accurate in measuring the emotions and context within the text, a human is really the best judge at the end of the day.
Social listening for qualitative research
The amount of qualitative data on social media is staggering. People post 500 million posts per day on Twitter alone. While that seems overwhelming, social listening helps you make sense of the data and allows you to look at specific post examples. These examples can provide the quotes and social proof you need to validate (or invalidate) your next decision.
Social listening is a great supplement to your quantitative data and can help answer the 'why' behind the social posts.
Social listening in action
With a good understanding of what social listening is and what it can do, let's walk through an example of how Evergi Conversations is used when developing a new product.
New product development
Let's take a look at three different product development scenarios:
"What product should my brand create?"
For the first example, we are a breakfast brand looking to launch a new product in line with the latest trends. Evergi Conversations data can show us the breakfast products getting the most share of voice online with positive sentiment.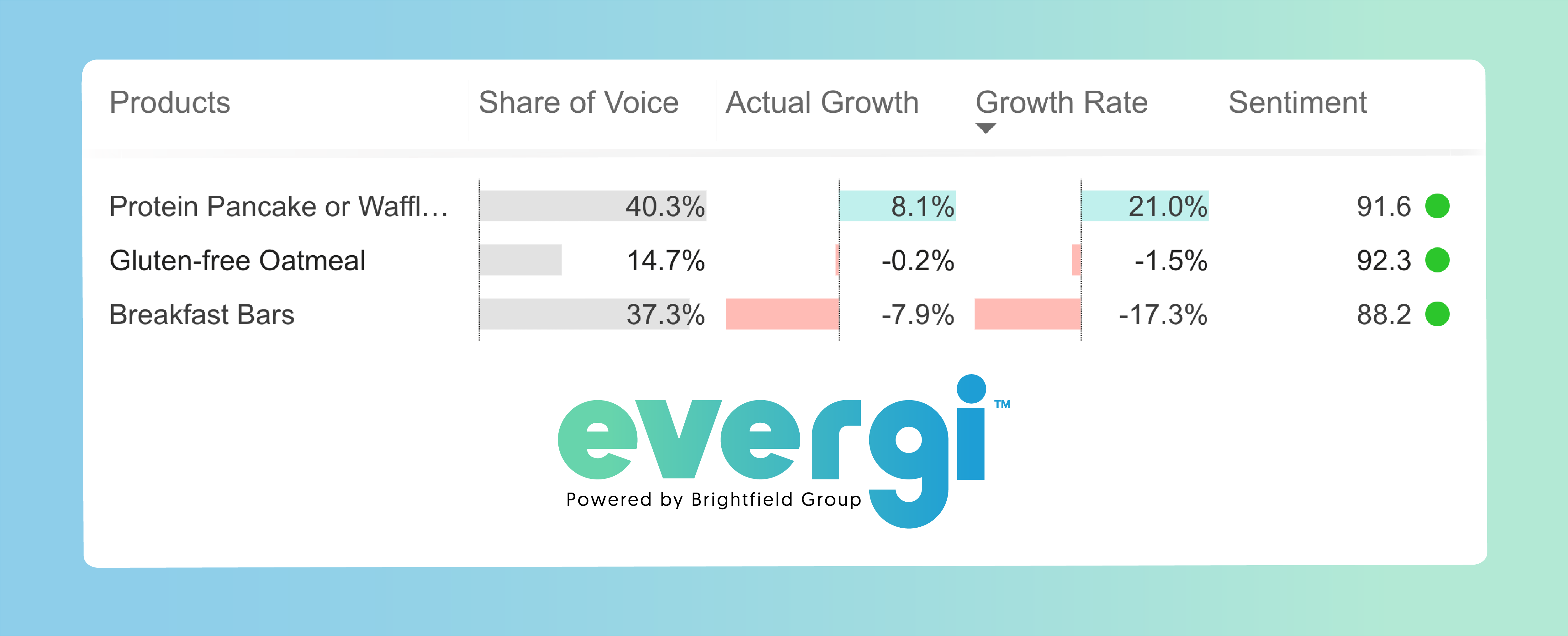 Protein pancakes have a large share of voice, plus the product has seen increased chatter month-over-month when compared to breakfast bars and gluten-free oatmeal. Our brand decides to launch a protein pancake mix line.
"What new flavor should my brand launch?"
The new line of protein pancake mix will come in plain, classic blueberry, and one more unique flavor. Back to Evergi Conversations, we can see the protein pancake flavors growing in share of voice the fastest.

Protein pancakes in cake flavor grew the fastest last month, and it has high sentiment. The flavor makes up only 8% of conversations around the product type, so there is share to be captured in this trending flavor. Informed by social listening data, our breakfast brand will launch a new line of protein pancakes that includes a cake flavored option.
"How should I talk about my product?"
In this second example, we are a wine brand. Wine is the most discussed alcohol product on Twitter and Instagram. With so much chatter, our brand wants to get in tune with what consumers are already talking about when it comes to our product type. Being able to enter conversations already happening about wine is easier than coming up with new topics to talk about.
In Evergi Conversations, we see heart health is the fastest growing topic around wine, but its share of voice is very small. This could be a topic to keep an eye on, but isn't big enough yet. Intimacy/Relationships is also growing, and already has captured 3% share of voice.
In the scope of millions of posts, this topic's growth represents a sizable number of new conversations for our brand to enter. This topic also has high sentiment. Our brand decides to create a campaign around how our wines help keep couples close.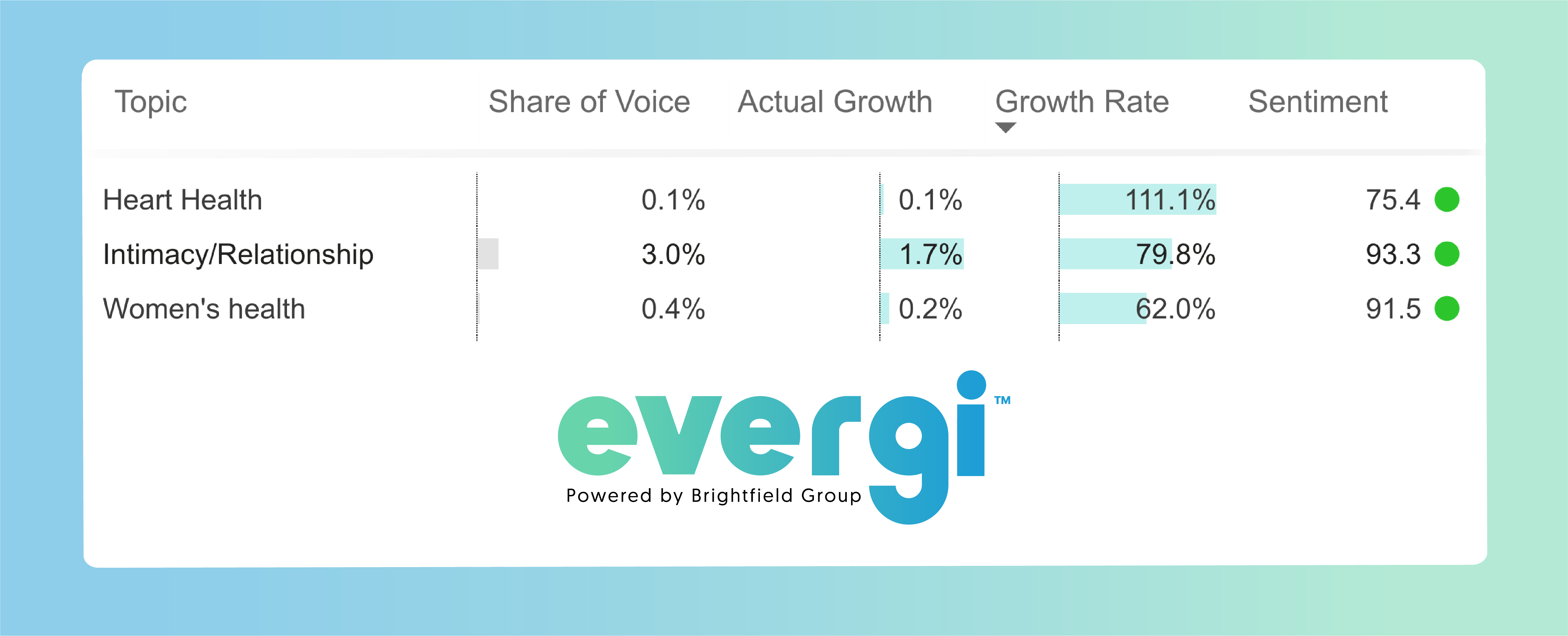 Social listening has made its mark
From marketing strategy to product development to market research, social listening is one of the most useful methods currently available for brands and industries that want to progress. While social listening is just one of the many data sources to leverage, it offers unsolicited feedback that can serve as a launchpad for new ideas.
Social listening tools have developed to support traditional market research methods, help companies develop their marketing strategies, products and services, and even provide competitive analysis. It's a data pool of real-time consumer insights that continues to develop along with the technological landscape around it.