When choosing which CBD product to buy, consumers have to make a few decisions: product format, brand, dosage strength, and the type of CBD (full spectrum, broad spectrum, or isolate). That final choice is easily overlooked— and confusing! According to our CBD consumer insights, over a quarter of respondents aren't sure what type of CBD they prefer. (See the chart at the bottom of this article).
What is CBD Isolate?
CBD isolate is a crystallized form of pure CBD with no other cannabinoids or terpenes. It is tasteless and odorless, making it easy to include in any product format — from CBD gummies to topicals to CBD oil.
Full Spectrum CBD vs. Broad Spectrum CBD
Full spectrum CBD is an extract that contains all other naturally occurring parts of the hemp or cannabis plant — including terpenes, other cannabinoids, and even a very small amount of THC content (with hemp-derived CBD, THC is limited to 0.3% or less). Broad spectrum CBD is almost the same as full spectrum CBD, except that all THC has been removed. Because broad and full spectrum CBD both contain terpenes and other cannabinoids, they will have a stronger "natural" flavor and smell.
Pros and Cons of Full Spectrum and Broad Spectrum CBD
For those concerned with drug testing or consuming even small amounts of THC, isolate or broad spectrum CBD may be best. For those trying to reap all of the benefits of the hemp or cannabis plants, full spectrum or broad spectrum would be better. The entourage effect achieved from the terpenes and cannabinoids can make the extract more beneficial. For those concerned about price, isolate is usually the least expensive option, while broad spectrum CBD can be 20-50% more expensive than full spectrum.
Consumer CBD Type Preferences
According to our CBD consumer insights, full-spectrum is the preferred type of CBD for 54% of CBD consumers, followed by broad spectrum, with 28% of consumers. Only 5% of consumers prefer isolate.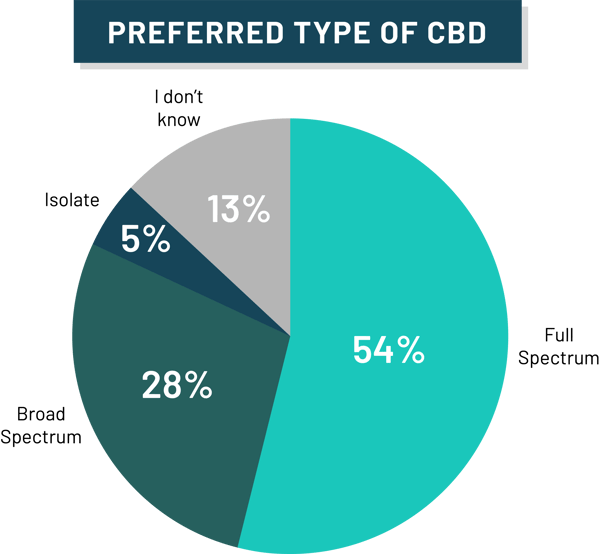 Source: Brightfield Group CBD Consumer Insights, Q2'21, N=5,000
Of those consumers that prefer full spectrum, 67% are loyal to this CBD type. Of those that prefer broad spectrum CBD products, about 30% are loyal, and 3% of isolate purchasers are loyal to isolate products.
Stay on top of consumer preferences like these with the CBD consumer insights portal.