The U.S. cannabis industry had a rocky 2022. Following many years of double-digit, year-over-year growth at the national levels, sales in 2022 were only up by just one percentage point. However, this topline figure does not tell the full story. 2022 was a year of ups and downs, with some states seeing sizable declines while other markets grew by leaps and bounds.

Spending Slows
While only a handful of states saw sales decline, growth across many slowed significantly compared to 2021. Examples include:
Arkansas's year-over-year growth declined to 4% from 46%.

Delaware sales increasing by less than $1 million.

Maryland medical sales dropping by 7%.
First and foremost, 2022 illustrates how significant a positive impact the COVID-19 pandemic and associated governmental measures had on cannabis sales. With stay-at-home orders and many shifting to remote work, consumers had ample opportunity to purchase and use cannabis from "essential" businesses and had the money to do it thanks to stimulus payments and boosted unemployment benefits.
This accelerated growth in many newer markets and in more mature states boosted sales well above pre-pandemic levels. As (some) consumers have started to return to offices and economic conditions have tightened (particularly as inflation and interest rates have risen) the "COVID bump" seen across many markets has waned.
Western Woes
From 2021 to 2022, five states in the West saw adult-use cannabis sales decline - California, Colorado, Nevada, Oregon, and Washington. In aggregate, adult-use sales across these states dropped by 10%. Why the declines, and where are these markets headed?
Beyond their regional similarities, each of these markets is on the older side – the California cannabis market was the latest to begin sales (start of 2018), making the youngest of these five markets- five years old. At this stage in a market's lifecycle, sales typically start to slow. Consumers interested in cannabis have mostly made the jump, prices are usually within the reach of the average customer, and those interested in converting from the legacy market have likely already done so.
However, COVID greatly altered the growth trajectory in these states. Removing the COVID-boosted years of 2020 and 2021 from the equation, sales are still significantly higher in these markets than they were prior to the pandemic. 2019 was the sixth year of sales in Colorado, the fifth in Washington, and the fourth in Oregon, meaning that said markets were already approaching maturity by this point.
Comparing 2022 annual sales to 2019, Colorado cannabis sales are up by 10.7%, Washington cannabis sales up by 16%, and Oregon cannabis sales up by 28.2%. Though this does not mitigate the difficulties that many businesses in these states are navigating as they navigate oversupply issues, lower margins, and overall more difficult economic circumstances, it should illustrate that the COVID sales boost was more of a deviation from the norm than it was a new normal.
Declines in 2022 are also likely exacerbated by macroeconomic pressures such as inflations and rising interest rates, making it likely that these mature markets will return to a pattern of moderate growth as 2023 continues on. It will be necessary for brands to adjust to the drop in demand, leading to more businesses exiting these markets or scaling back operations. Sales in these markets are unlikely to surpass 2021 levels in the near future, but each is set to continue along a steady positive trajectory in the years to come.
See California, Colorado, Nevada, Oregon, and Washington's forecast through 2024
Positive Flows
Not all markets struggled in 2022, however. Though slowed growth and downturns in mature adult-use markets have taken center stage in many 2022 cannabis industry retrospectives, the year is also home to many highlights that bode well for the industry going forward. From a purely economic perspective, several large markets across the nation have continued to experience sizable year-over-year growth. Some of the fastest-growing cannabis markets include Michigan, Massachusetts, and Maine.
Take Massachusetts cannabis sales, for instance. Adult-use sales in the state grew by 11% year-over-year, a strong rate for a market that was entering its fifth full year in operation. While prices saw a large drop in the process, the more affordable goods now on sale should help to draw in new and legacy consumers who were turned off by the high cost of entry. A state's market size divided by its adult population gives us an idea of how mature a market is. The higher spend per resident, the more mature a market is. In 2022, Massachusetts surpassed $250 per adult resident in annual cannabis spending, solidifying its status as a mature cannabis market.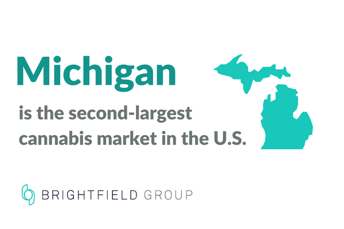 Michigan cannabis sales also amounted to over $200 in spending per adult resident in its third year while maintaining nearly 50% year-over-year growth. This growth has led Michigan to be the second-largest cannabis market in the country overall behind only California. While the state had a slower initial launch than its neighbor Illinois, the Michigan cannabis market tackled its problems more directly. The state has taken a less restrictive approach to licensing, significantly increasing both retail access and cultivation capacity, making the state quickly price competitive with legacy market sources and just as convenient.
Maine cannabis sales are a similar story. The state began adult-use sales mid-pandemic, in late 2020. Even with the increased spending money, first-year sales were below a typical market launch, mostly due to few initial businesses and slow licensing. But as more businesses opened, things changed. By the end of its second year, sales increased by over 130% in spite of worse macroeconomic conditions.
The story of cannabis in 2022 does not end here, though. The year also saw seven new cannabis markets open, some of which were record-breaking in their scale and are set to be among the primary growth drivers in the years to come. Continue reading about 2022's new markets in the Brightfield Blog.
Brightfield Group's suite of cannabis market research goes beyond forecasting the U.S. cannabis market. With market sizing for U.S. CBD, Delta-8 & Emerging Cannabinoids, Canadian Cannabis, and International Cannabis & CBD, we prepare brands for what's next in these emerging industries.
What is the cannabis industry worth in the US?
Download our infographic for US Cannabis Market Forecast Data
Published: 3/7/2023