When it comes to social media, change is the only constant. And while this is true of the platforms themselves, it's also true of how we use them. As technology advances and more people adopt popular social media apps as a tool for communication and connection, what was once considered standard practice quickly becomes outdated or ineffective.

How many Americans use social media? In 2022, 93% of Americans reported using one or more social media platforms. And the number of people using social media platforms rose from 2021 to 2022. For companies that use social media marketing in the consumer packaged goods (CPG) space, staying up-to-date with consumer social media habits is crucial for building and maintaining a loyal audience.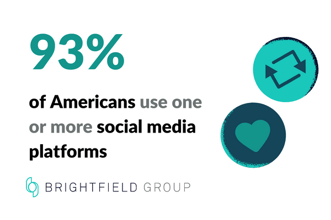 To get a better understanding of how consumers use social media, we dug deep into Brightfield Group's consumer insights to bring you the latest updates on where consumers are spending their time online and how they're interacting with different social media platforms. Understanding where consumers exist online is the first step in planning a successful CPG digital marketing strategy.
What is the Fastest Growing Social Media Platform?
TikTok is the currently the fasting growing social media platforms. It has quickly joined the ranks of the most popular social media platforms, seeing a surge in user growth from 2021 to 2022. It's no secret that younger generations are flocking to TikTok to discover new trends and share their own content. The number of American consumers using TikTok jumped up 19% in the last year. This surge is even more evident amongst Gen Z where TikTok usage has increased 23% since 2021. Sophisticated TikTok marketing strategies are allowing brands to connect with consumers of all ages.
However, there are other social media platforms that are also seeing an increase in usage. The number of consumers visiting Reddit also increased. Reddit user analysis reveals consumers browsing Reddit at least once a week are predominantly male, and the platform's popularity is evenly spread across all generations. Similarly, although daily Pinterest browsers tend to be female, the number of users browsing the app multiple times a week has grown by 10% across all generations.
What is the Most Used Social Media Platform?
When viewing the top 10 social media platforms of 2022, the social media site that American consumers reported using the most was Facebook (72%). Following not far behind was YouTube with 63% of consumers reporting they use the platform. Despite only experiencing modest gains in usage from 2021 to 2022, Facebook and YouTube have maintained their positions as the first and second-most used platforms, respectively.
Both of these platforms are among the most well-established and have proven their longevity. But Tiktok (29% of consumers) is fast gaining ground.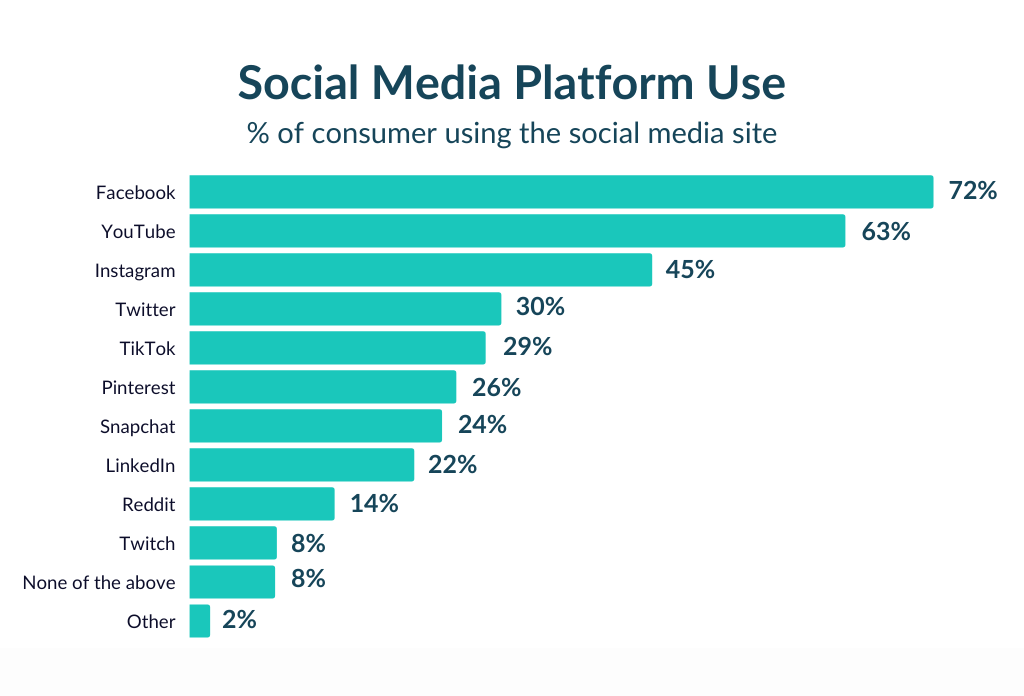 Stagnant Social Media Platforms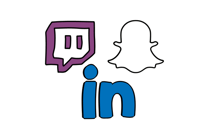 Of the ten social media platforms we track, three of them saw no growth or declining use from 2021 to 2022: Snapchat, LinkedIn, and Twitch.
Snapchat is losing steam among millennials. While millennials were the original users of the app in the mid to late 2010's, many of them now ask - is Snapchat relevant? From 2021 to 2022, the amount of millennials browsing Snapchat daily dropped by 21%. So who is using Snapchat? Gen Z users still saw increased daily browsing. This resulted in a flat overall usage rate of 24% for 2021 and 2022.
LinkedIn also has stagnant usage year over year. Its 2021 usage rate was likely elevated due to ongoing work from home arrangements throughout the year due to the COVID-19 pandemic. Upper income Gen Xers are especially likely to use LinkedIn, and this group even saw a slight decline in use from 2021 to 2022. So despite not growing in consumer-reported usage, it is still impressive to see maintained rates of use as workers return to their offices where scrolling LinkedIn may not be as easy.
Twitch saw a very slight decline in usage - from a 9% to a 8% usage rate. Gen Z men are the most likely group to be using this platform, and their use has risen from 2021 to 2022. However, we see less Gen Z and millennial women using the platform in 2022. Millennials in general are less likely to be on Twitch now than they were in 2021.
Posting Daily to Social Media
Facebook still holds the crown for most consumers posting daily on the platform - 32% of US consumers say they post to Facebook daily or multiple times per day. Facebook's feed has expanded to include stories, video reels, groups, shopping and so much more. With many ways to post and a legacy of sharing your life on the platform, it well outpaces other platforms for daily posting, making marketing on Facebook a relevant social media trend for 2023.
The platforms with the second and third-most daily posting are YouTube and Instagram, with 17% and 16% of Americans posting daily, respectively. However, year over year we saw less daily Facebook posters and more consumers reporting posting less than once a week or never. Most social media platforms saw less daily posting in 2022 compared to 2021, likely due to the increased time at home Americans experienced in 2021 during to the COVID-19 pandemic.
The only generation that is not posting the most on Facebook is Gen Z. Instead, 58% of Gen Z say they post to YouTube daily or multiple times per day. Posting to YouTube includes both original video content and commenting on others' videos. YouTube comment sections serve as online community spaces gathered around a certain topic or creator. When looking at how many people use YouTube - especially younger consumers - we see how magnetic content creators are becoming.
After an intense period of media scrutiny due to Elon Musk's acquisition of Twitter in late 2022 people may wonder - is Twitter declining? So far, it seems not. The number of people posting on Twitter daily very slightly increased from 2021 to 2022 - one of the only platforms to see a positive change year over year. Even from Q1 2022 to Q4 2022, we see slightly more consumers reporting Twitter use.
Gen Z & Millennial Social Trends to Watch
Get the data to accompany the insights in our infographic: How Do Americans Use Social Media?
1. Gen Z and millennials browse Instagram at the same rate
Around half of both Gen Z and millennial consumers say they browse Instagram daily or multiple times a day. Instagram marketing strategies continue to advance at a rapid pace, with reels, stories, and the creator economy at large forcing innovation.
While both generations enjoy browsing Instagram, millennials are more likely to post frequently.
2. Gen Z continues to browse TikTok more frequently year over year
Both millennials and Gen Z consumers reported increased daily TikTok browsing, but Gen Z's increase was twice the size. From 2021 to 2022, 21% more Gen Z consumers said they were browsing TikTok daily or multiple times per day.
While for advertisers in CPG, social media is a place to share marketing activations, Gen Z's increased screen time due to viral video content apps like TikTok has raised mental health concerns. The first digitally native generation, Gen Z is figuring out first hand the balance between connectivity and information overload.
3. Millennials are more likely to post to Facebook daily, but Gen Z's daily posting increased from 2021 to 2022 while millennials' decreased.
While Facebook has gained a reputation as a social media platform for baby boomers, millennials are just as likely to be daily browsers of Facebook. Gen Z is the least likely generation to be using Facebook, but frequent use of the platform increased year over year for these young consumers.
Download the Data on Gen Z and Millennial Social Media Use
Whether its TikTok SEO strategy or a Pinterest influencer marketing campaign, knowing where consumers spend their time online is crucial for CPG brands. Social media is constantly evolving and CPG brands need to keep up with the latest trends.
Understanding how they interact with social media platforms, brands can create more effective marketing campaigns and targeted ads that resonate with their target audience. So, stay informed and get ahead of the competition!
Published: 3/9/2023