While CBD continues to have a steady consumer base, some purchasers ultimately shifted away from the category. With Brightfield Group's 2023 CBD market data showing a weak 2022, understanding the concerns of consumers who exited the market is valuable for uncovering areas for CBD brands to improve. Addressing these concerns could help improve consumer retention and perception of the category.
Simultaneously, understanding what keeps current purchasers coming back can illustrate the strengths that CBD marketing experts may wish to highlight further in their marketing or emphasize in their product formulation. Let's explore both why some people stopped using CBD and what keeps others purchasing in the category.
Why Consumers Stop Buying CBD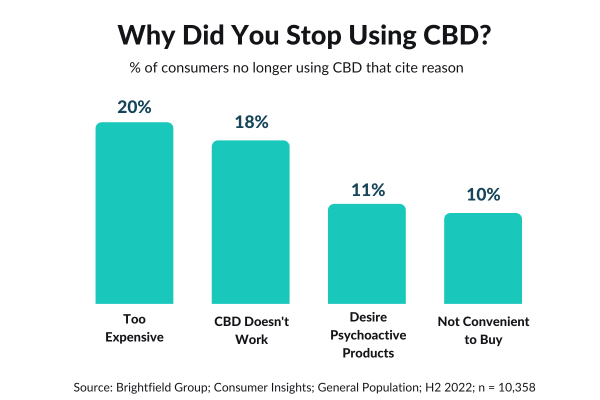 #1 CBD Products are Too Expensive
Despite the price compression the CBD product market has seen in recent years, products being too expensive ranked as the top reason consumers stopped using CBD products in Brightfield's 2022 surveys. While significantly cheaper than they were directly following the 2018 Farm Bill, CBD products continue to cost more than the average comparable supplement or functional food product.
This shift also coincides with a change in the product mix, with more and more consumers gravitating towards CBD-infused gummies over other formats, a category that tends to have a lower barrier to entry.
#2 CBD Doesn't Work
While the cost of CBD products is worth it to many that notice the difference CBD products make in their lives, lots of former consumers cited a lack of noticeable effects as a reason for stopping their use. With so many brands still trying to cash in on the nascent CBD market, many cut corners in product development or ship goods with contents that vary significantly from what is labeled.
For some consumers unfortunate enough to purchase such goods, the experience can turn them off from the category entirely. Many brands are trying to address this complaint by launching products that contain functional ingredients, boosting the efficacy of their products by including other vitamins and adaptogens that support their intended usage cases.
#3 Desire Psychoactive Products
The third most cited reason speaks to a factor that contributed to CBD's decline in 2022, competition from delta-8 and other psychoactive hemp-derived cannabinoids. While the CBD industry spent much of its early years seeking to distance itself from cannabis, there are still some consumers who see CBD as "cannabis lite."
In 2022, the psychoactive hemp product market took off, and with its growth many of those who desired products that would get them high shifted their purchasing habits. In Brightfield's 2022 CBD consumer insights, more than one-fifth of the consumers who reported having purchased CBD also said that they had bought delta-8 products.
#4 Not Convenient to Buy
The last major reason some consumers stopped using CBD is that it wasn't convenient to buy. More than anything, this is due to a lack of a federal regulatory framework for CBD products due to FDA inaction.
While CBD products are available in tens of thousands of outlets nationwide, their prominence in large chain retailers and superstores that are frequented by millions of Americans remains limited. As Congress takes it upon itself to pass and implement a regulatory framework for hemp-derived products, this would no longer be a concern.

What Consumers Desire from CBD
While the reasons people stop using CBD products can shift business strategy, the effects current CBD consumers look for are also extremely valuable. Brightfield Group has the most comprehensive consumer insights into the American CBD consumer, with insights dating back to 2018. We've seen how consumers have changed, what product types they've gravitated towards, and what brands continue to earn consumer dollars. Knowing what today's CBD consumer is desiring now should be at the forefront of product development and marketing.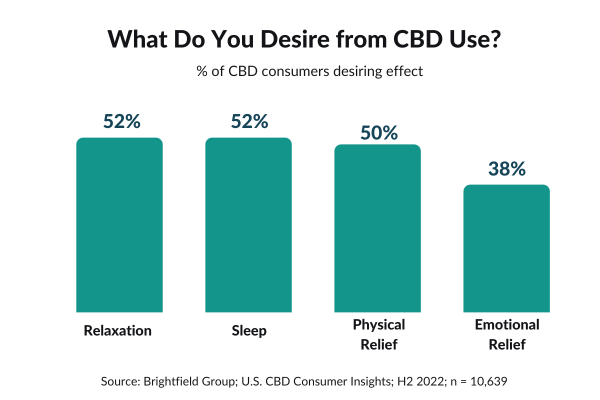 #1 Relaxation
Turning towards the effects that CBD consumers desire from their products, the uses of CBD that they find to bring value to their lives, relaxation ranked at the top in H2 2022 surveys. These consumers report that CBD products help them manage the everyday stresses of life or assist in their unwinding after a long day.
Consumers who use CBD for relaxation tend to purchase gummies far more than other product types, contributing to the growth that the category saw in 2022 while almost all others saw declines.
#2 Sleep
Close behind relaxation is sleep. Consistent with insomnia ranking highly among the top medical conditions consumers treat with CBD, many report that cannabidiol helps consumers ease into a restful night of slumber.
Products positioned towards this desired effect often incorporate CBN into the formulation as well, a cannabinoid that has become popular for its supposed effectiveness as a sleep aid. Like in the case of relaxation, consumers purchasing sleep products also gravitate toward gummies and companies have certainly started to take notice. From Charlotte's Web to Green Roads, virtually every brand in Brightfield's Top 20 that creates ingestible products has launched a line of CBD gummies, often adding other ingredients such as melatonin to further solidify the positioning.
#3 Physical Relief
Physical relief is one of the most well studied uses for CBD products. Many of the stories that brought CBD to the forefront of the public consciousness involved people using the cannabinoid in order to help manage and reduce the frequency of seizures associated with various epileptic conditions. However, usage of CBD for physical relief extends to other ailments as well. Approximately one third of CBD consumers report using products to help manage joint pain or inflammation with migraines and arthritis also ranking high on the list.
#4 Emotional Relief
The fact that emotional relief ranks so highly isn't surprising when looking at the top conditions that consumers treated with CBD. About half of survey respondents reported using CBD to help manage their anxiety while nearly one third said that CBD products help them with their depression. ADHD and post-traumatic stress disorder are also conditions that consumers commonly treat with CBD.
While clinical data on these use cases is certainly limited, it is clear that many consumers rely on CBD products to help them get through the day and cope with difficult moments in their lives.
Consumer insights, social listening data, and detailed research into the market allows Brightfield Group to deliver forward-looking CBD market size data with forecasts through 2028 by product type and distribution channel. Get a look at this data with our latest CBD market update!

Published: 5/4/2023