Brightfield Group's consumer insights get deep into how people enjoy alcoholic beverages. There are numerous trends affecting the way Americans interact with alcohol and other beverages. In this article, we'll look at four big trends shaking up the beverage space in 2023.
1. Alcohol Consumers Say They're Drinking Less
We ask consumers quarterly if they agree or disagree that they're drinking less alcohol than previously. Since we began tracking this metric in 2021, around 57% of alcohol consumers agreed with the statement. However, in Q1 2023, we saw that rise to 60%, driven by increased agreement among the Wellness Seekers personas.
This group represents consumers who are fast followers of the latest well-being trends – especially those on social media – who desire to better themselves and the world while managing their own daily stress. In mid-2021, 67% of Wellness Seekers that use alcohol said they were drinking less - now, in Q1 2023, 72% say so.

As this trend hits its third summer, there have been numerous new beverage innovations to quench these consumers' thirst in lieu of alcoholic drinks. In previous Brightfield reports, we highlighted the growth of these consumers "drinking smarter and drinking less" and the alcoholic and non-alcoholic options that boomed in 2021 and 2022.
2. Gen Z Steps Back from Alcohol
Gen Z drinking trends were forever changed by the pandemic. For the oldest members of Gen Z, COVID-19 abruptly paused their ability to socialize in bars and nightlife environments. Two years of Gen Z consumers aged into the adult beverage market with the COVID-19 pandemic looming over them, disrupting the usual coming of age into bars and clubs. As such, we see 30% of Gen Z reporting alcohol use in the past 6 months.
Gen Z consumers are more likely than others to say they're cutting back on alcohol to work on their mental health and decrease anxiety and depression. Gen Z and mental health and wellness have a different relationship than other generations do. It is the first generation to come of age while mental health is a top-of-mind issue. In fact, Brightfield Group surveys found that a whopping 74% of Gen Z is actively focused on improving their mental health as opposed to 45% of baby boomers.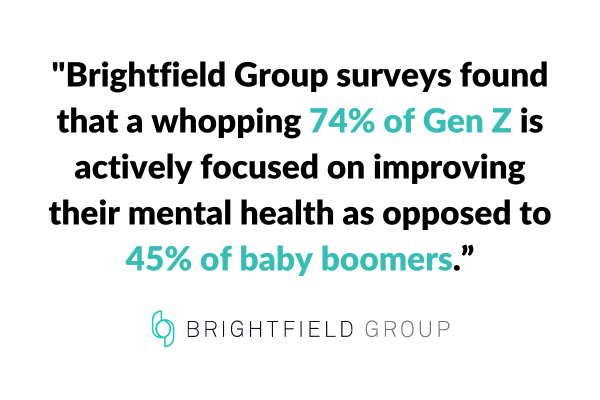 As the first generation of digital natives, Gen Z grew up with social media and technology. They are more connected than any generation before them, shaping their behavior and expectations for everything from shopping to socializing. Gen Z beverage trends have been impacted by this access to online content on the effects of alcohol. The generation was made particularly aware of how drinking can negatively impact their lives.
3. Cannabis Drinks Hit the Liquor Store
Cannabis is becoming accessible to more consumers as legalization happens state by state. Cannabis has become a good option for those looking to maintain a psychoactive buzz without alcohol. Especially in the cannabis drinks space, marketers want consumers to know their THC beverages will not inflict a hangover.
The THC drinks space continues to grow in market size, but consumer adoption has been slow in adult-use cannabis markets. Brightfield Group Cannabis Consumer Insights show usage of drinks peaked in mid-2020 when 22% of cannabis users reported enjoying drinks. Over 2022, the product type stayed under 20% usage, getting as low as 15% in Q4 2022. Part of this is driven by the rollouts of new markets that may not have many cannabis drinks yet. Another part is drinks' difficulty to compete with other edibles on milligrams and price, as well as figuring out truly what consumers want these products.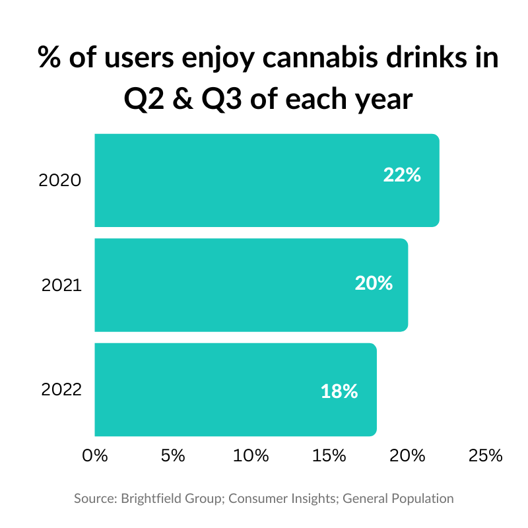 Besides in regulated, adult-use cannabis markets, THC drinks can also come from the delta-9 THC from hemp. Widely considered a loophole in the 2018 Farm Bill, manufacturers can include 0.3% THC by weight in hemp products - and for drinks and edibles, this is enough milligrams to provide a psychoactive experience.
Minnesota made waves in the cannabis world when it legalized low-dose hemp-derived THC products in 2022. The subsequent legalization of adult-use cannabis in May 2023 allowed for the sale of "lower-potency hemp edibles" with 5mg THC and 25mg CBD in liquor stores, opening up a mainstream channel for psychoactive cannabinoid beverages. Liquor stores offer a format and price point more aligned with craft beverages, presenting a unique opportunity for the category to thrive.
The state's business-friendly legalization plan is poised to be a game-changer. While other states grapple with how to handle hemp-derived THC, Minnesota has answered with a strategy centered on providing access, regulating for safety, and implementing taxation. This approach fosters a thriving market and works towards normalizing THC beverages and cannabis use at large.
4. Drinking Less for Savings Rather than Health
In the middle of 2021, Americans were cutting back on alcohol to lose weight. "I am trying to lose weight" was the second-most common answer to why consumers were cutting back on alcohol use - 37% listed it as the reason. After over a year of pandemic lockdowns, the prospect of "getting fit" was motivivating Americans to drink less alcohol.
However now in 2023, we see 29% of alcohol consumers listing weight loss as their motivation to drink less. While still prevalent, the reason "I am trying to save money" is the second-most common response in 2023.(Meanwhile, "I am trying to be healthier" has remained the top reason to drink less, with 55% of alcohol consumers listing that reason in 2021 and 2023).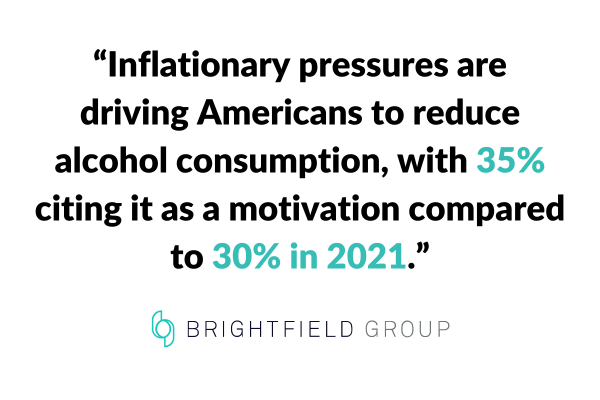 Inflationary pressures are driving Americans to reduce alcohol consumption, with 35% citing it as a motivation compared to 30% in 2021. Rising prices across sectors, including alcoholic beverages, strain budgets, leading individuals to reevaluate spending habits. Inflation also impacts the cost of going out for drinks. Rising prices for transportation, such as Uber or parking fees, coupled with increased expenses for food, contribute to the financial burden of socializing. As a result, consumers may forego indulging in a $12 mojito when they are already faced with $16 nachos.
Published: 6/29/2023