As cannabis flower users have April 20th (4/20), cannabis concentrate enthusiasts have July 10th (7/10). What is 710? It's the day to celebrate concentrates and their use, otherwise known as dabbing. Whether with a dab rig and a blow torch or an electric terp pen, July 10th is the day to "take a fat dab," as those involved in dabbing culture would say.
Why is it called "710"? The number spells "OIL" when turned upside-down and backward, making 7/10 the perfect day to celebrate all things dabs.
Did the pandemic kill the 710 buzz?
However, as the holiday approaches, new Brightfield data reveals that fewer cannabis consumers know about 710 now than before the pandemic. Our pre-pandemic data from Q1 2020 showed that 49% of cannabis consumers said they had never heard of 710. Today, 56% say so.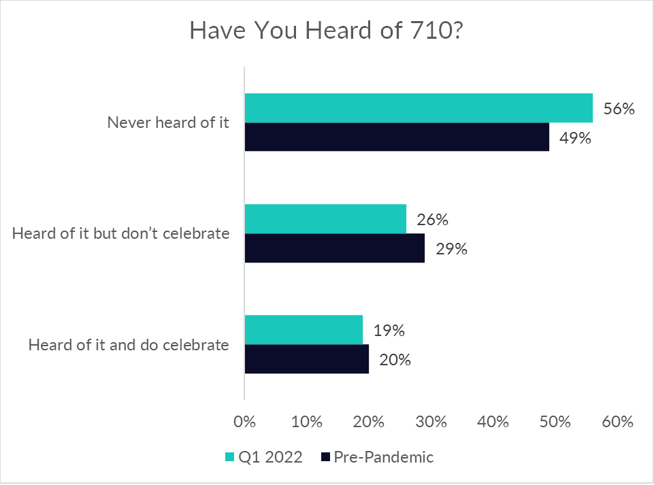 Why the drop in awareness around the day of dabbing? Since 2020, a new crop of cannabis consumers and a growing preference for flower over concentrates have contributed to this decline.
Newbies change the dabbing landscape
The pandemic spawned a new crop of cannabis consumers. Existing cannabis users increased their usage, and new users entered the market. Many of the pandemic-era Newbies (users who self-report being new to cannabis) quickly became daily cannabis users. In Q4 2020, as we faced the first pandemic holiday season, 49% of Newbies were using cannabis daily or multiple times per day. However, this elevated use did not translate to concentrate use.
From the beginning of 2020 to today, there has been a massive increase in the number of consumers using cannabis flower, but the same is not true for concentrates.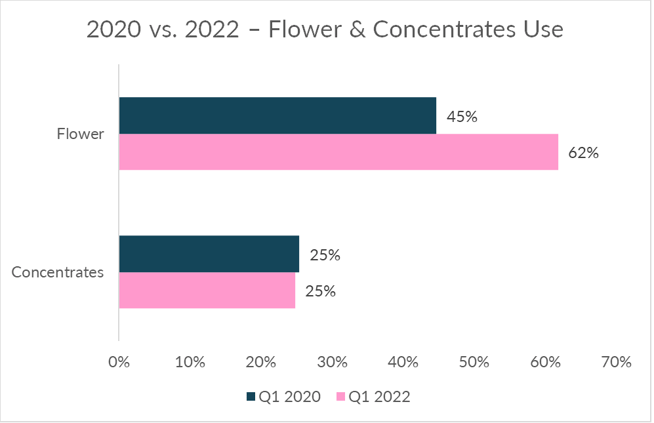 As the chart above shows, consumer-reported flower use increased by 17 percentage points, the largest increase of any cannabis product type over the past two years. Meanwhile, consumer-reported concentrate use did not change.
The same slice of a bigger pie
Even though a quarter of cannabis consumers report concentrate use both in 2020 and 2022, Brightfield's Evergi data of the general population shows cannabis consumption has increased in that timespan. 19% of American consumers reported buying cannabis in the past three months as of Q1 2022, up from 14% in Q3 2021. So, 25% of consumers of 2022 users is a much larger group than the 25% of 2020 users.
This is likely why we still see roughly the same percentage of cannabis consumers celebrating 710 in both 2020 and 2022. Those that get into dabbing learn about the holiday and make time to celebrate. After all, as we explored during 4/20, celebrating a cannabis holiday only takes enjoying cannabis – which many consumers are doing anyway.
Dabbing sees mainstream enjoyment
So, if you're a concentrate brand or dispensary, we know 710 is on your radar. The industry doesn't see dabbing as a fringe consumption method for only the most hardcore users anymore – one in four cannabis users enjoy concentrates.
As such, we'll see celebrations like those of 420: dispensary promotions, deals on dabbing accessories, and (of course) clouds of concentrates shared in person and on social media. July 10th may also be the day someone decides to try a concentrate product for the first time, which is becoming easier with the proliferation of infused pre-rolls and handheld dabbing devices.
As time goes on and 710 celebrations are an annual affair, we expect more cannabis consumers will take the time to celebrate the plant and all the ways to use it. Maybe one day, there will be a day dedicated to edibles!