April 20th, 2022 will be a big day for US cannabis. After two years of social distancing and canceled events due to COVID-19, the industry is itching to celebrate the biggest cannabis holiday of the year.
While sales data show us what people are buying on 420, we wanted to know – what are they doing? How does the modern cannabis consumer celebrate 420 in 2022?
420 Awareness
Today, 89% of cannabis consumers are aware of 420 while 49% of cannabis consumers plan on celebrating the holiday. This is slightly less than we observed in 2019, where 52% said they would be celebrating 420. Given the new wave of consumers that entered the market during the pandemic, some may not have had a chance to celebrate with friends or in a social setting yet.

The Top Ways to Celebrate 420
There's no single way consumers celebrate 420, but there are the most common – using more cannabis than usual and going to the dispensary.

40% of cannabis consumers plan to celebrate 420 by going to the dispensary for 420 sales. Cannabis consumers love a good deal - price has consistently been a top-ranked product attribute, with 73% of cannabis consumers saying "price" is the most important purchase factor to them in Q4 2021. For brands, this could be a good opportunity to get your customers to try something new by offering discounts on specific product types. For retailers, 420 is an opportunity to attract new customers to your store with sales for first time buyers – which is especially important in newly legal markets.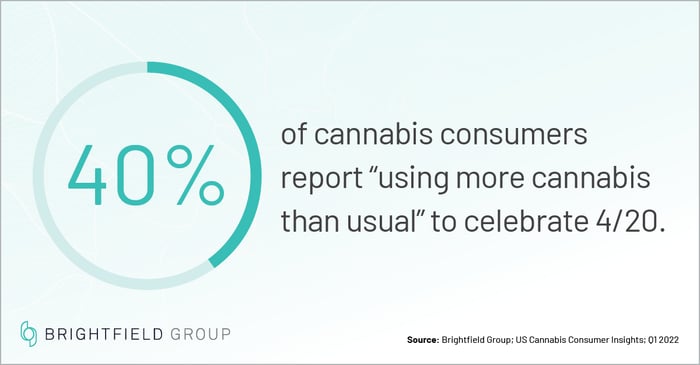 Another 40% of cannabis consumers plan to celebrate 420 by using more cannabis than usual. An analysis of Twitter posts shows there's a certain amount of self-indulgence around 420. It is a day to "treat yourself," eat the entire edible, roll the 2g joint, or rip the dab rig a fourth time. With consumers buying more and using more on 420, brands and retailers should pay careful attention to how they can stand out among the crowd. The best way to do that – know who will be celebrating 420.
Women Celebrate 420 More than Man
If a male stoner decked out in weed leaves and peace signs is who you imagine is celebrating 420 – think again!
Women cannabis consumers are 13% more likely to celebrate 420 than men, and they are even more likely to spend on 420. 47% of female cannabis users plan to partake in dispensary deals on 420, while only 33% of male consumers say so.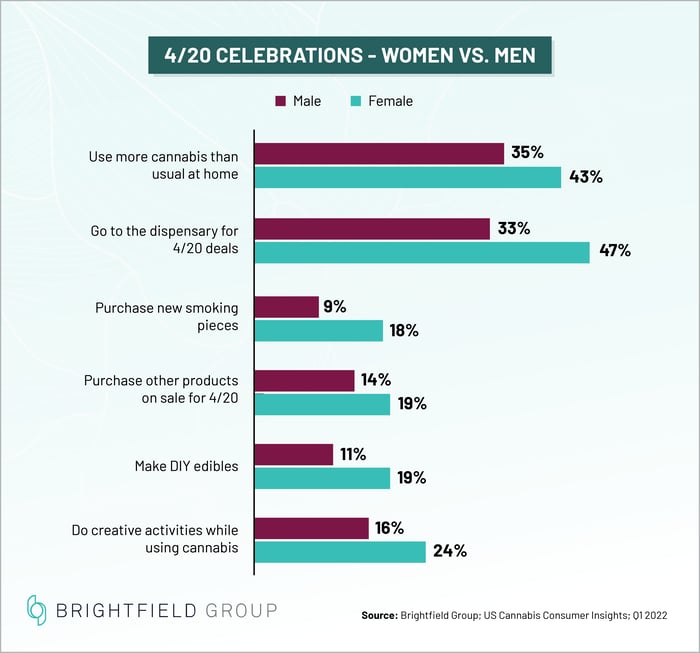 420 is for Treating Yo'Self!
It's no surprise consumers will treat themselves with cannabis deals on 420– but they also plan to indulge in other ways. Consumers plan to spend money on cannabis accessories, apparel, or décor discounted for 420 (17%); on 420 food deals (16%); and on new glassware/smoking devices (13%).
Consumers are ready to treat themselves, making 420 the perfect opportunity for cannabis and non-cannabis brands to offer something fun for the holiday. Fast food restaurants like Del Taco, Jack in the Box, and Insomnia Cookies are a few of the chains that offer special 420 deals – often priced at $4.20. CBD retailers, apparel companies, and cannabis accessory brands know 420 is a day to make a sale, too.
Other 420 Celebrations
Besides buying and using more cannabis, consumers celebrate 420 with friends, fun activities, and on the internet. There are so many ways to celebrate, what someone does depends on their interests and personality. Some of the ways people celebrate include:
Doing creative activities like painting or playing an instrument
Attending an in-person 420 celebration
Posting about 420 on social media
Making DIY edibles
One of the most popular ways to celebrate 420 is by watching a movie. 31% of cannabis consumers will celebrate 420 by watching a "stoner" movie – an activity that easily fits into a consumer's daily media intake.
After a two-year stint without group celebrations, there are twice as many cannabis users planning on celebrating 420 at a friend's home than there are planning to sesh with friends virtually this year. 22% of consumers are looking forward to attending a 420 gathering at a friends home while another 19% plan to host friends to celebrate the high holiday.
When it comes to organized events, 18% of cannabis consumers plan to attend in-person and another 10% plan to attend something virtual. Events that were forced to go digital in 2020 and 2021 are now returning in-person, but many are still offering virtual experiences. One example is the Spliff Film Fest – a festival "made by the stoned for the stoned." It is back in Seattle and Portland for 2022 but is still offering a streaming option for those outside of those cities.
What Does This All Mean for Cannabis Brands?
420 is the ultimate opportunity to reach cannabis consumers. Brands should be aware of who the modern cannabis consumer is, and how she celebrates the holiday. 420 is a chance for brands and dispensaries to show up and show off. Regular users will look to celebrate with the cannabis community and snag a good deal, while occasional users may use the holiday as a reason to make a purchase and toke up. 420/2022 is sure to be full of deals and celebrations – what will you be doing for it?
Want to read more about 4/20 trends? Get the latest free report: