Every cannabis brand wants to be its customer's favorite. But there's only so much love to go around. Brightfield Group's Brand Health report of U.S. cannabis consumers reveals the most popular cannabis brands by consumer awareness, purchasing, and loyalty. Our brand health research also discovers how many consumers in a given category say a brand is their favorite.
In a competitive market where there are hundreds of brands to choose from, being a favorite brand is a big accomplishment. Brand health tracking allows us to identify these competing brands. By analyzing them, we can uncover insight into what brand attributes are resonating with consumers today.
How to Assess Brand Health?

Brand Health research is consumer-focused, seeking to understand how brands exist in the minds of consumers. It can determine how aware consumers are of brands, how many have ever purchased or purchased recently, and how many would repurchase a brand. Brightfield assesses the health of U.S cannabis product and dispensary brands, U.S. CBD brands, and Canadian cannabis brands.
Consistent Branding, Clear Pricing: LivWell

Colorado is one of the most mature cannabis markets in the nation. Prices in the state are affordable, and consumers enjoy a wide variety of products and brands. It's home to many of the best cannabis flower brands in the U.S., and new cannabis trends can be spotted early in Colorado. But one flower brand stands out among the rest in the consumer purchasing funnel – LivWell.
The brand is both a retail brand and a product brand, with the dispensary and flower both sold under the LivWell name. Vertical integration with cannabis dispensary branding the same as product branding has allowed operators to gain name recognition that outpaces their competitors. However, LivWell is not only widely known but is also loved by many. 20% of Colorado flower consumers say LivWell is their favorite flower brand.
Consumers seem to enjoy LivWell's system of platinum shelf, gold shelf, and "loyalty" pricing (its budget tier). It also offers steep discounts for rewards program members that encourage repeat purchases. Brightfield's Cannabis Consumer Insights show time and time again that price is a key consideration in cannabis purchase decisions. But "value for money" is a top purchase influence too.
Colorado's mature cannabis market has developed distinct pricing/quality tiers. LivWell (among other retailers in Colorado) has made the system easy for consumers to understand and navigate. Clear tiers help consumers make decisions that are not solely based on price.
Retailers in less mature markets should consider how they can help educate consumers on the connection between quality and price. Especially in markets experiencing price compression, consumers still need to be convinced of the value of higher-priced eighths and ounces.
Key takeaway: Simplicity is paying off for LivWell. Its consistent branding among retail and product offerings has allowed it to gain high consumer awareness. While still offering unique strains, its 3-tier pricing approach makes it easier for consumers to make purchasing decisions.
Drinks for a Purpose: TONIK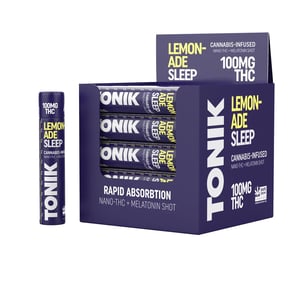 California cannabis brands operate in a crowded market. For the drinks category, no single brand has been able to significantly break ahead as they have in other categories. However, TONIK sees the most awareness and recent purchases of any California drinks brand. This leads 10% of California drink consumers to say it is their favorite drink brand.
TONIK's product offerings are all about specific experiences. It offers 12-ounce beverages in both 10mg and 100mg doses. Different types of its 100mg shots appeal to a wide net of consumers. Its live-resin-infused shots with strain-inspired names appeal to the hardcore terpene aficionado. Many of its shots are use-case specific, making it easy for the average consumer to find a drink for the effect they desire.
Consumers loyal to TONIK are less price-conscious than other brand consumers. They instead say "produces the desired effect" is the attribute of top importance. Mature cannabis markets have consumers who know their way around a variety of product formats. TONIK caters to choosy consumers who want a controlled drink experience that skirts the risk of buying the cheapest 100mg drink on the shelf. TONIK's use-case-driven branding is paying off as it gains a loyal following of consumers willing to pay for consistent cannabis experiences.
Lastly, TONIK's branding is super consistent and uses bright colors against black or white to make its name stand out on the packaging. There's no mistake you're enjoying a TONIK product when you pick it up.
Key Takeaway: Mature consumers need more than the novelty of a cannabis beverage. TONIK has found a winning format to deliver cannabis for specific parts of consumers' lives while still being fun and consistent.
Local THC Goodies: Detriot Edibles
Michigan's approach to licensing cannabis businesses without caps has allowed many players to get involved. With accessible licensing and the price of wholesale cannabis low, the market features a wide mix of local and transplant edibles brands. Out-of-state favorites like Kiva, Wana, and Wyld are available alongside local brands. However, it seems local brands are winning in the minds of consumers. For non-gummy edibles, Detroit Edibles takes the top spot for all funnel metrics and is the favorite brand of 28% of these edibles users.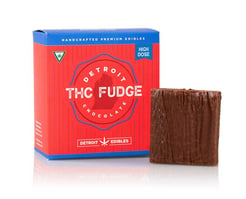 One of the brand's first offerings was fudge. Even without the added cannabis, fudge is a regional favorite. Combined with cannabis it makes for the perfect Michigan THC treat. Detriot Edibles' baked goods options also show an understanding of Michigan cannabis culture. The brand offers brownies and a variety of marshmallow cereal crispies – two homemade-style formats that medical and legacy consumers would be familiar with.
Detroit Edibles also offers high-dose Barracuda Bars at value prices. Shoppers can usually find a 100mg bar on a dispensary menu for the same price as a 200mg Barracuda Bar. Compared to other states in Brightfield's brand health study, Michigan's non-gummy edibles users are the most price-conscious. High doses at low prices would be particularly desirable to this group.
Key Takeaway: Know your consumers! Detroit Edibles' offerings indicate a distinct understanding of the consumers it's serving. Instead of trying to create cannabis culture, the company is appealing to existing cultural markers that Michigan cannabis consumers can connect to.
Conclusion
The brands winning with consumers are doing so for a reason! Brand health tracking is the most useful type of cannabis data for new brands looking to learn from the best cannabis brands in the country. By looking at consumer favorites in mature markets, new operators can find direction in how to become top of mind as their market matures.