Wellness products are some of the most popular consumer goods. From facial cleansers to vitamins, weighted blankets to mushroom coffee, consumers are looking for ways to stay well.
Our wellness framework breaks down into four categories: physical, mental, social, and beyond the self (spiritual). This framework allows us to analyze consumer need states and a product's ability to meet these needs.
You might know Brightfield Group as the CBD and cannabis expert. We are now very excited to expand into the larger wellness industry to address key pain points for many of our clients. Our Evergi solution offers a wider view of how consumers meet their wellness needs—not just through cannabinoids, but with all kinds of diverse products. As we begin covering the wellness space, we note that cannabis and CBD are an important part of that market. Cannabis and CBD consumers report fulfilling their wellness needs with cannabinoids quarter after quarter in our consumer surveys.
CBD vs. Cannabis - What's the Difference?
We differentiate cannabis and CBD due to their varying legal status and effects. CBD includes all legal hemp/cannabis products under 0.3% THC while cannabis includes the THC-dominant products sold in states with legal cannabis. THC is the psychoactive compound in cannabis that produces the signature high of the plant. CBD is non-psychoactive, so it does not produce any distinct mind-altering effects.
Cannabinoids for Physical and Mental Wellness
A major part of staying well physically is keeping your body functioning. As we age, we do our best to maintain our physical bodies; bodily health, nutrition, fitness, and sleep are all part of that. Keeping our bodies pain-free, wanting eight hours of sleep, and getting enough vitamin B may all be top-of-mind.


Coping and flow are our two main mental health concerns. Coping is how people deal with the trials of life – such as the loss of a loved one, a new job, or receiving bad news. Flow entails a mental state beyond coping, where someone is thriving and feeling tuned in to the world. Also described as being "in the zone," flow helps articulate the ease at which someone moves through their life.
According to our latest consumer data, the top desired product effects for CBD consumers are physical relief, relaxation, and sleep.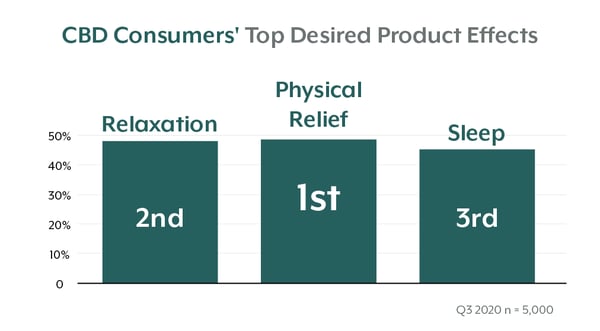 Cannabis consumers top desired product effects are relaxation, sleep, and well-being.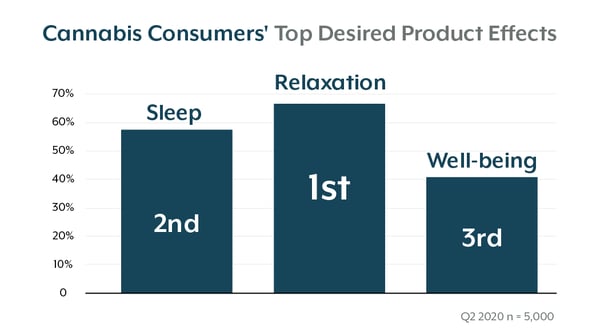 Physical relief and sleep directly address the first category of wellness – physical health. Consumers have many options for products that promise a pain-free body and restful night, and many have found that in cannabinoid products. CBD and THC come in many forms and product type matters. For example, CBD gummies consumers desire sleep more often, while those using tinctures are most likely desiring physical relief.


The second category of wellness – mental health – is addressed in consumers' desire for well-being and relaxation. Whether to help cope with or thrive in the world, products for mental wellness need to effectively help consumers achieve their desired mental state.


Our cannabis consumer insights reveal 47% of consumers desiring relaxation say they treat anxiety with cannabis. Conversely, 64% of cannabis consumers with no medical conditions desire relaxation. The psychoactive high from cannabis is a well-known way to unwind and destress. Though CBD's effects are more subtle, effective products are still winning over consumers.
Cannabinoids for Social Connectivity and Beyond the Self (Spirituality)
The last two categories of wellness are not as represented in CBD as they are in cannabis. The social aspect of wellness deals with our personal relationships and connection to community. Social concerns can stem from societal expectations of how things should be done or social pressures to conform a certain way. In terms of social wellness, only a small percentage of CBD users report desiring intimacy (9%) and fun (12%) from their products. Meanwhile, 35% of cannabis users desire fun, and another 19% desire connectedness.
The last category of wellness goes beyond the facets of wellness that form our sense of self. Our connection with nature, spirituality, and the health of the earth varies by person. We can choose to connect with these parts of life to further understand ourselves through the relationship with something "other." Cannabis use has a stronger connection with wellness outside the self. For example, 46% of cannabis users report using while engaging in outdoor activities, possibly to create a stronger connection to nature. Culturally, the altered state THC provides has tied its use to spirituality. Googling "cannabis use in religion" yields various assertions on historic and modern-day spiritual cannabis use, not CBD use.
Cannabis and CBD are just two options of wellness offerings. The desire for relaxation can be met by a totally different category of wellness products (e.g., an online breathwork course). Consumers believe in the benefits of CBD. By understanding the tangible effects a consumer desires, we can see how cannabis and CBD are competing with the other wide variety of wellness products.
Opportunities for CBD in the Wellness Space
Though typically sold through CBD-specific brands due to its regulatory quirks, CBD is not isolated from the wellness space. Quite the contrary — it's taking an increasing share of shelf.
Using Evergi Conversations, we can look to social media to see that CBD is the most talked-about wellness ingredient. Other items on the list include ingredients that could go with an everyday meal — like garlic and ginger — as well as minerals and supplements (such as magnesium and collagen).
Boosting Immunity
Supporting immune systems has been a consistent consumer concern, and was particularly top of mind during the COVID-19 pandemic. Numerous products exist to support immunity, whether preventing or treating a cold.
These products use an array of functional ingredients to boost immune function—most famously vitamin C. 35% of American consumers say vitamin C is an important ingredient in the products they purchase.
Product opportunity: CBD for immunity
With only 5% of American consumers seeking out "CBD/ Hemp", there is the opportunity for CBD brands to reach the wider immunity seekers.
Many CBD products for immunity include other functional ingredients. With no guidance yet on CBD from the US Food and Drug Administration, CBD brands have added other functional ingredients to their products to support health claims. For example, CBD ImmuniTea has cannabidiol "with natural immune-supporting ingredients including Elderberry & Lemongrass."
Additionally, these ingredients are trendier in online conversations about immunity. Looking at the Evergi Conversation latest data, we can see the top growing ingredients around the topic of "immunity" on Instagram and Twitter. Understanding the trending ingredients around immunity on social can help CPG brands better innovate in the industry and compete with CBD.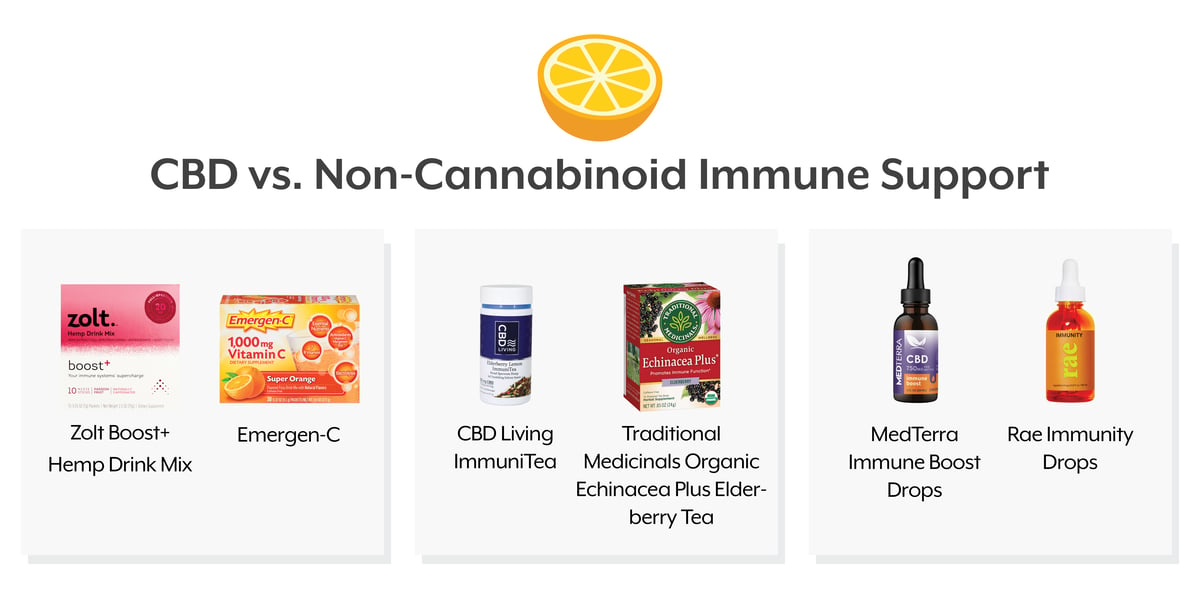 Supporting Sleep
Nearly half of CBD buyers stated that they wanted CBD products that could help them sleep in Q4 2020. For the first time, CBD consumers desire "sleep" more than "relaxation" and "physical relief"—the previous top two desired attributes from Q3 2019 to Q3 2020.
Yet as we've seen in our cannabis consumer data, CBD use for insomnia has declined year over year. (In Q4 2019, 19% of CBD consumers reported using CBD for insomnia. In Q4 2020, that dropped to 14%). CBD consumers don't use it due to a medical necessity; they use it because they can.
With sleep being such a foundational part of physical wellness, it is clear how intertwined CBD is with other sleep aids. This is true for product format too; CBD for sleep comes in capsules, gummies, and liquid doses—just like any other sleep aid product you'd find at the store. When CBD is regulated and large retailers are comfortable stocking ingestible CBD on shelves, the current CBD products on the market will fit right in.
There are many other ingredients consumers use to support sleep. Looking to the Evergi Consumer portal, we see the wellness ingredients consumers buy based on what health claims are important to them. Consumers who look for products that "help with sleep" over-index for nearly all wellness ingredients, especially ginseng, lavender, melatonin, CBD, and magnesium. Products with these ingredients come in diverse product formats, and CBD brands already offer similar product types and functional ingredients.
Product opportunity: CBD for sleep
Sleep products are one way CBD brands can strategically break into traditional channels. Brands can offer a CBD-free sleep product that is similar to their CBD-infused offering in order to get on brick-and-mortar shelves and online. This helps expose consumers to a brand name and a use case.
Offering both CBD and non-cannabinoid options
Irwin Naturals is a brand with both CBD and non-cannabinoid supplements. The brand's online store has a "better sleep" section that includes CBD and non-CBD options. Their products are sold online and at independent and chain retail locations, including GNC and the Vitamin Shoppe. Their non-CBD line is also sold in Whole Foods, which currently only sells CBD topicals.
There's no telling if Irwin Naturals CBD-infused products will hit Whole Foods shelves, but since they already have this relationship, they may find getting on shelves easier than other brands without it. Irwin Naturals doesn't limit itself to being a CBD company but instead incorporates CBD into their existing vitamin and supplements lines to create a robust wellness brand.
Topical Pain Relief
Pain relief balms have existed since the 19th century for pain from injuries, stiffness, and soreness. Generations have relied on topicals such as Bengay and IcyHot to relieve pain. These products use active ingredients like methyl salicylate, menthol, or capsaicin.
There are hundreds of options for topical pain relief today—including those that are CBD-infused. While CBD brands cannot directly claim that their products relieve pain, they've gotten creative with product names and fostered specific associations to get their pain-relief message through. For example, CBDfx has a topical line simply called "Muscle and Joint" that comes in a "cooling formula" as a balm stick or cream.
Product opportunity: CBD topicals
With no need to ingest CBD, topicals are incredibly popular among brands looking to launch a CBD product on brick-and-mortal shelves. CVS Pharmacy carries CBD topicals from dozens of brands like Social CBD, Sagely Naturals, and MedTerra. CBD topicals offer a good entry point into cannabinoids for the wellness and ingredients brands looking to expand their portfolios.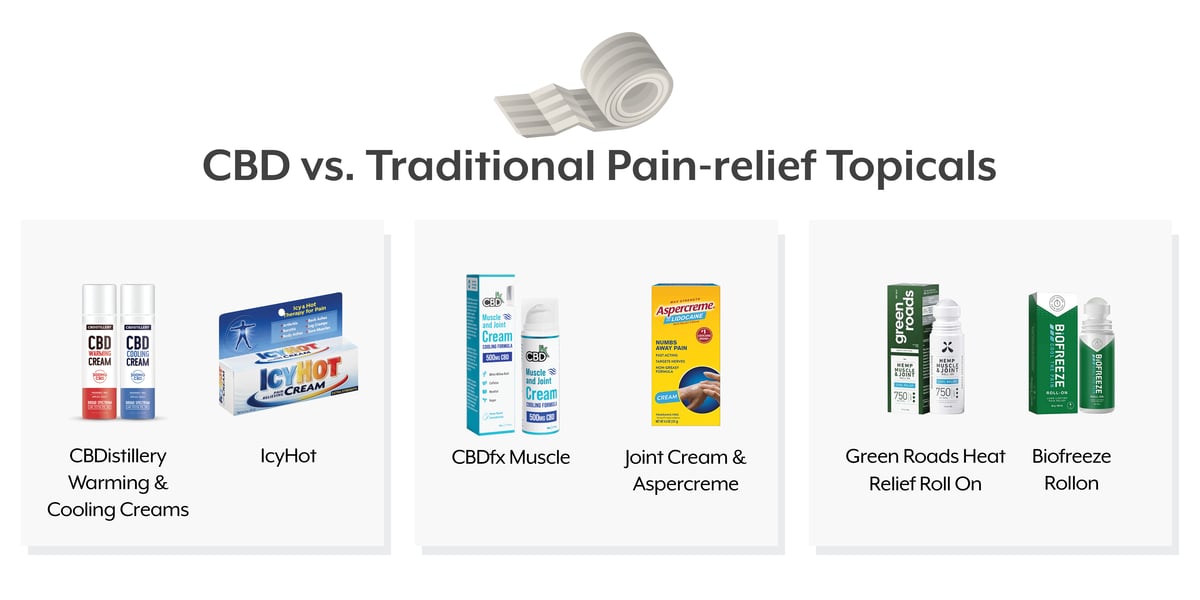 Future Potential in CBD Health and Wellness
The CBD industry continues to grow and impact more of consumers' everyday lives. Brands have the opportunity to expand their portfolios in health and wellness with CBD products. Their existing customers are already seeking pain relief, immunity enhancement, and sleep support, among dozens of other needs.
There may be increased competition among products of similar use cases—no matter if it has CBD or not. Plus, non-CBD offerings provide a foothold in ecommerce spaces that are currently not CBD friendly—like Amazon and mainstream grocery chains.
With diverse product formats and use cases, cannabinoid-based products will continue growing their share of the wellness pie. CPG companies looking to compete should consider if a CBD brand—created or acquired—could fit in their portfolio for the future of CBD wellness.
The full version of the Where CBD Competes in Wellness report is available in PDF format.