In our 2020 Cannabis Innovations report, we looked at the top cannabis products in each of the fastest growing categories. Cannabis candy was highlighted as the fastest growing product type on dispensary shelves this year. Part of the larger edibles category, candy products include mints, gummies, and any other sugary, non-chocolate candy treats.
Since January 2020, cannabis candy has captured 12% of shelf, only third to vape cartridges/pods and bud. From January to September, candy increased total distribution by 4 percentage points- a growth of 41%.
The Top 10 Cannabis Candies of 2020
What THC candy products were growing on shelves? These were the top 10:
In the top 10 cannabis candy products on shelf this year, we see Cheeba Chews, Smokiez Edibles, Kiva Confections, and Wyld. All of these brands sell in at least four legal markets. Excluding Wyld, they also have products in Oklahoma's expansive medical cannabis market. Without restrictive regulations, it's easier to bring products to market in Oklahoma. Edibles brands can release many flavors of their signature candies, which likely contributed to THC candy's growth this year. For example, Cheeba Chews began distributing its cannabis taffy in Oklahoma's medical market after having found success in other West Coast markets.
Cannabis candies also saw growth this year due to expansion into newly legal states. Kiva is the only brand on this list to have reached the new adult-use markets in Michigan and Illinois. With 4 products in the top 10, Kiva has benefitted from expanding beyond the West Coast. Additionally, Florida's medical market legalized THC edibles in 2020, allowing for additional THC candy growth in 2021.
Candy for All Dietary Needs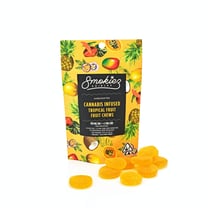 Cannabis candy positioned as "natural" stayed on top this year, and several of the top 10 candies include "natural" features. This positioning appeals to consumers that have come to expect dietary options like vegan, non-GMO, and additive free. The natural positioning grew in share of shelf by 9 percentage points this year, gaining more points than any other positioning.
On its candy packaging, Smokiez Edibles promotes its gummies as "Vegan, Gluten Free." As fun as the rest of its branding is, it still includes these details to serve ingredient-conscious consumers.
Edibles for Stress Relief
Edibles have a strong association with relaxation due to the body high they can produce. Two similar positionings that saw notable growth this year were "stress" and "self-care." With a pandemic on our hands, the positionings grew to a combined year-to-date distribution of 9%.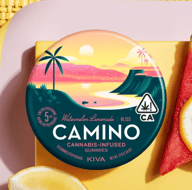 Kiva Confection's top distributed Watermelon Lemonade Camino Gummies also invite consumers to de-stress. The product offers consumers "bliss," and its online product description includes information on the anxiety-relieving terpenes in the gummy.
WYLD's Marionberry Indica Enhanced Gummies are positioned specifically for "unwinding" -
"Whether eaten around a campfire or in the comfort of your own home, these gummies are great for unwinding"
Cannabis brands responded to the pandemic with various product types positioned for relaxation and stress-relief. Together, cannabis products positioned for "relaxation" and "stress-relief" increased in share of shelf by 10 percentage points this year. This growth is well supported by consumer needs, as 81% reported cannabis helps them deal with the stress of the pandemic.
Predictable Edibles Experiences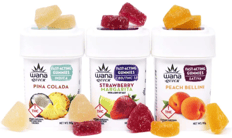 For all edibles brands, predictable experiences are imperative. This year, THC candy and drink brands emphasized improved intake technology. For example, Wana Brands has a line of "fast-acting gummies" that use proprietary TiME (Thermodynamic Individual Molecular Encapsulation) technology. Highlighting unique technology helps brands differentiate in the crowded cannabis gummies space.
As cannabis markets go online and expand, innovation in cannabis candies will continue. Taste and texture has greatly improved over the years, leaving onset and consistency left to master. Brands that can understand what resonates with consumers while delivering a predictable edibles experience will win shelves in 2021.
Updated: 12/21/2020