As the CBD (cannabidiol) industry continues to grow, pet owners are starting to consider CBD as a viable alternative medicine for their furry friends. But what are pet owners trying to treat by giving their animals CBD? We conducted research on pet parents who buy CBD for their animals to better explore the rationale behind their purchasing decisions.
Reasons to Use CBD for Pets
Most pet CBD consumers (aka the pets consuming the product) are dogs. 77% of pet parents who buy CBD purchase it for man's best friend, while only 21% purchase for cats. The reasons why pet owners turn to cannabidiol actually vary depending on what animal they own. Based on our data, anxiety-related issues are the most common reason for purchasing CBD products for pets.
Our beloved animal friends are subject to anxiety in the same way humans are — whether it be from fear, separation from family members, age-related changes, or loud fireworks. Among both dog and cat owners, treating anxiety was the most cited reason for using CBD for pets.
However, there are several other well-being issues reported at higher rates in cats than in dogs. Dog owners, for instance, are more likely to use pet CBD products to improve their pet's mood or treat depression.

Though less commonly cited, CBD is used to treat specific pet health conditions. Pet CBD buyers report treating, alleviating, and improving many different pet conditions with CBD. Between dogs and cats, dog owners report treating more conditions with pet CBD. They are more likely than cat owners to report administering CBD to improve mood (34%), address a skin condition (20%), and reduce overall levels of anxiety (48%). Cat owners are only more likely to use pet CBD after a surgery.
Owners who purchased CBD pet products are generally happy with the effects CBD has on their pets' lives, with 90% agreeing that cannabidiol has improved their pet's life. Among the most cited improvements include the animal seeming calmer (58%), having better sleep (46%), and having increased mobility (41%).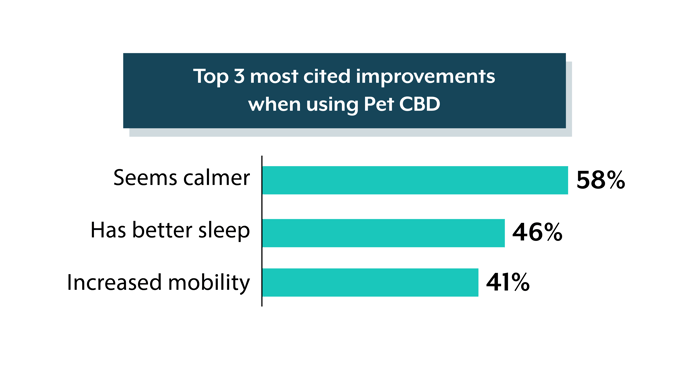 Source: Brightfield Group Pet CBD Consumer Insights, Q2 2021
With the number of brands currently entering the animal space with their own unique positioning, we'll continue to see new uses for CBD. These brands will be looking to support marketing, sales, and distribution decisions with consumer and market data from this growing industry.
Can Vets Recommend CBD for My Pet?
Like other CBD categories, the veterinary CBD market is greatly impacted by the U.S. Food and Drug Administration. The FDA has not approved CBD for any use in animals and has stated that CBD cannot be marketed as a dietary supplement or added to food and beverages in interstate commerce. For veterinarians, this legal gray area coupled with increased popularity creates a tough spot; Their pet patients are finding relief using a product they cannot prescribe — or even talk about.
Current Regulations for Vets and CBD
As it currently stands, the FDA has stated that three hemp-seed derived food ingredients (hulled hemp seed, hemp seed protein powder, and hemp seed oil) are generally recognized as safe (GRAS). But the FDA has said that it does not consider CBD to be GRAS. Whether for humans or animals, products containing CBD are not allowed to be sold under the Federal Food, Drug, and Cosmetic Act.
Veterinarians would risk defying the FDA and their State Board of Veterinary Medical Examiners if they discussed possible benefits of CBD with pet parents. Despite this hurdle, 74% of current pet CBD consumers have discussed Pet CBD with their veterinarian, and 80% received an enthusiastic response during the conversation with their vet according to our pet CBD consumer insights. So even though veterinarians cannot bring up the topic of pet CBD, they can enthusiastically express what CBD has done for other pets. Though not directly listing the benefits of pet CBD, vets can state what other pet parents do with CBD and how this has alleviated pet aliments.
However, the ability to smile, nod, and provide a positive anecdote does not solve the issue of prescribing CBD. According to our research, 31% of pet CBD buyers (a.k.a. the pet owners) no longer give prescription medication to their pet after beginning CBD treatment. Though this provides some confidence as to the effectiveness of CBD for pets, consumers going directly to brands leaves veterinarians unable to advise clients on the best way to use CBD for their specific pet. And without the FDA mandating that manufacturers of pet CBD products follow Current Good Manufacturing Practices (cGMP) for animal food, consumers are left to rely on brands to know what is in a product.
As research continues to show THC (tetrahydrocannabinol)'s toxicity in animals, pet parents must use their own judgment to decide if an animal CBD product will be good for their pet– not the opinion of veterinary professionals or the FDA.
But not all hope is lost; our research optimistically revealed 90% of pet owners who buy or are open to buying pet CBD agree that vets should be allowed to prescribe CBD. Consumers want to be able to go to their trusted veterinarian, but until the FDA provides guidance on these messy US CBD laws, both human and animal patients are finding a way to make it work.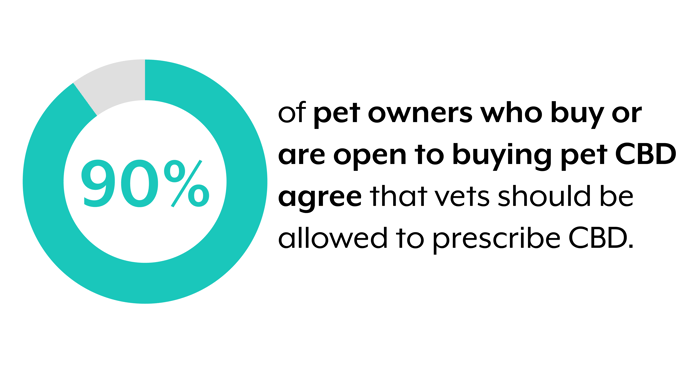 Source: Brightfield Group Pet CBD Consumer Insights, Q2 2021
Hemp Seed Oil vs. CBD Oil: What's the difference for my pet?
The hype around CBD for pets has given way to products like paw balms, chicken-flavored tinctures, and peanut butter bites for our furry best friends. However, like human CBD products, similar questions come to consumers' minds: What is in it? Is it safe? Is it going to make any difference?
Why Labeling Matters
A lack of labeling and testing regulations has created a legal gray area that allows vague marketing statements and unregulated products to slip into the market. Consequentially, consumers are still trying to figure out what hemp oil is, and brands are capturing puzzled consumers — intentionally or otherwise — with ambiguous labeling.
Products that say they contain "hemp" may not have any CBD at all. It could just be hemp seed oil.
This minuscule detail makes all the difference. CBD oil is derived from the flowers, leaves, and stalks of the hemp plant. It is a non-intoxicating cannabinoid that supports the endocannabinoid system, which regulates functions such as mood, appetite, and pain sensation.
On the other hand, hemp seed oil is extracted from the seeds of the hemp plant and does not contain CBD. It is valued for its nutritious benefits (it is high in omega-3 and omega-6) as well as its moisturizing and anti-inflammatory properties. Since it contains low amounts of CBD, consumers will not observe CBD's usual effects and, if misled, will be disappointed.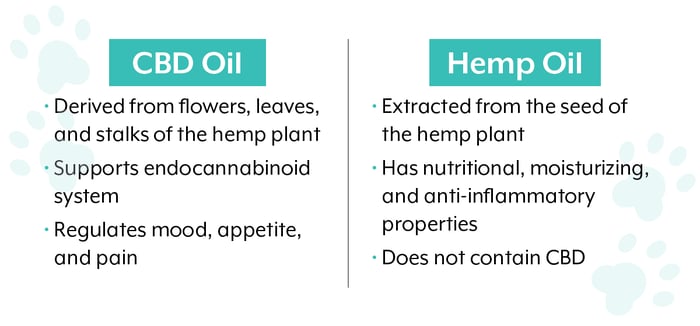 Source: Brightfield Group Pet CBD Consumer Insights, Q2 2021
Hemp seed oil may improve your dog's coat of fur, but it doesn't have the same anti-anxiety or pain-relieving potential as CBD.
Companies should not forget that vague descriptions will lead to unrealistic consumer expectations, and when the customers aren't satisfied, they'll move on to a different brand. Consumers need to know exactly what they are giving their pets in order for brands to gain trusting, satisfied, loyal customers. Clear ingredient labeling and accurate test results will benefit consumers, strengthen brands, and foster trust in the pet CBD market.

Last Updated: May 2021