Like the rest of the US CBD market, demand for pet CBD products has skyrocketed following the passage of the 2018 Farm Bill in December 2018. The US pet CBD market grew to over 10 times its 2018 size in 2019. Consumers spent $431 million on pet CBD in 2020, and we expect it to reach $560 million in sales by the end of 2021.
Extensive media coverage of CBD and grassroots marketing initiatives by pet CBD companies are boosting consumer demand for pet CBD products. Growth is being driven by pet owners looking for natural alternatives to their pets' medical ailments especially anxiety, pain, or other serious conditions that have not responded well to other treatments.
Pet CBD Usage, Products, and Pricing
CBD products have traditionally been positioned for dogs, but there are now a growing number of products that are marketed to a wider range of pets, including cats, rabbits, fish, birds, and horses. Pet owners also have a wide array of pet CBD products to choose from including tinctures, treats, capsules, topicals, mixing powders, and shampoos.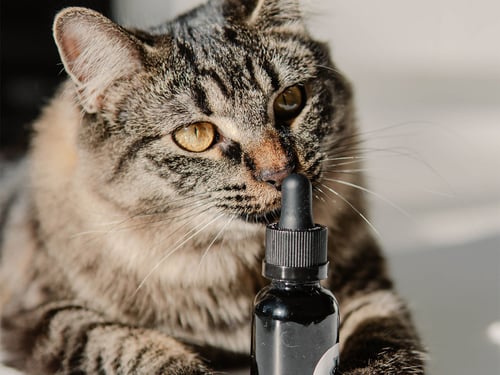 Prices range from about $20 for treat packets to $200 for high-dosage or high-volume tinctures. In terms of retail sales, tinctures and edibles are the leading pet CBD category thanks to broad distribution and high unit prices.
CBD pet products
Tinctures benefit from their versatility as they can be administered using a dropper or spray directly to the pet or added to food and treats.
Edibles (e.g., treats and chews) offer ease of use, more budget-friendly prices, and a familiar format. They also offer a low-risk option for mainstream consumers looking to try out pet CBD for the first time or those wanting to incorporate a daily supplement into their usual treat-giving routine.
Capsules are often used by mixing the contents with the pet's food or given inside a treat.
Topicals include balms and lotions which are used to calm irritated skin and paws or for general skin hydration and health.


Pet CBD Market Growth
Strong growth prospects for pet CBD products have led to explosive growth in the number of brands. Leading CBD companies such as cbdMD, Charlotte's Web, Veritas Farms, and Medterra have expanded beyond their human CBD offerings to enter the pet CBD space. In turn, competition from the new brands is leading to share dilution for market leaders such as Pet Releaf, Treatibles, and Canna-Pet, despite actual growth in revenues over the year.
Eventually, large pet food players such as Mars and Nestlé could enter the market. This may present a looming threat to existing market leaders thanks to their established supply chains, broad retail distribution, and strong brand awareness.
Projected Pet CBD Market Size
Confidence in pet CBD products is expected to grow as more clinical data on the health benefits becomes available. This will be further supported when a clear and explicit policy allows veterinarians to discuss and recommend CBD products. Pet CBD is expected to be a $1.1 billion market by the end of 2026, driven by more shared knowledge and discussions about CBD's potential benefits for pets, combined with ongoing product innovations from CBD companies.

Last Updated: May 2021