As CBD products have only recently entered mainstream retail channels following the 2018 Farm Bill, many Americans are new to using hemp-derived CBD or have not yet tried it. Almost 25% of U.S. CBD users have been using CBD for three months or less according to our consumer insights. Of those who have not tried it, many are unsure if CBD products will get them "high", are safe to use, and are effective. For those new to CBD, skincare and beauty products offers an accessible way to try CBD. To reach new users, many CBD skincare brands are marketing their products in a reassuring manner through consumer education.
Reassuring Consumers: Education
CBD brands are using blogs to reassure consumers that their products will not produce a "high". Companies inform consumers that their products either do not contain THC (tetrahydrocannabinol, the main psychoactive cannabinoid found in marijuana that produces the "high") or only up to the legal limit of 0.3 percent. Unlike short social media posts or packaging labels, blog posts on company websites allow brands to explain in greater detail the difference between CBD and THC and the distinction between marijuana and hemp (defined in the 2018 Farm Bill as the Cannabis sativa L. plant with a delta- 9 THC concentration of not more than 0.3 percent on a dry weight basis).
In its "Empower Your Wellness With CBD" blog post, Empower BodyCare states that users "will never feel 'high' from using our hemp CBD products" because the items contain no THC and that "unless a topical product is 'transdermal,' topical products do not enter the bloodstream, but instead, interact with receptors in skin cells." Sagely Naturals states that it remove all THC to a non-detectable amount (less than 0.0025%) per industry standards using an additional extraction process called liquid chromatography. The website for Sagely Naturals offers a helpful resource for individuals who want to learn more about CBD through its Frequently Asked Questions section:



Reassuring Consumers: Third-Party Lab Testing
Highlighting use of third-party CBD and THC tests can also help reassure consumers. Sagely Naturals quadruple tests its products with an accredited third-party laboratory, including after the CBD oil has been extracted from the hemp plant and after product formulation. At Empower BodyCare, every batch of its products is randomly sampled by a third-party lab and tested for cannabinoid potency, solvents, pesticides, heavy metals, and microbiological activity. Offering COAs (Certificates of Analysis) as Empower BodyCare and Sagely Naturals do on their websites provides transparency and serves to reassure skeptical consumers of the safety of their CBD products. When companies do not produce their own CBD, they should be extra careful about noting where it originated. Green Growth Brands (owner of Seventh Sense Botanical Therapy) sources its CBD from certified, state licensed hemp processors in the U.S., where each lot is tested by third-party facilities for mold, heavy metal, pesticides and THC level.


Reassuring Consumers: Association with Common Ingredients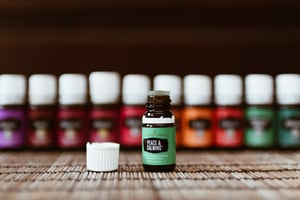 Consumers need reassurance that CBD products will be effective for them, while at the same time CBD companies are unable to make health claims about CBD due to the regulations of the FDA (U.S. Food and Drug Administration) and the FTC (Federal Trade Commission). One way brands get around this is including other beneficial ingredients like botanicals. Using this approach, companies can highlight the well-known attributes of the botanicals on their products' packaging and marketing initiatives while steering clear of claims that CBD can alleviate health conditions such as anxiety or pain.

Many skincare consumers are already familiar with the use of botanicals, essential oils, and aromatherapy for relaxation and soothing in a wellness regimen. Sagely Naturals talks about how it "uses potent botanicals like organic Turmeric, Ashwagandha, and Lavender that amplify the benefits of CBD." Its Calm & Centered CBD Cream is said to "facilitate a sense of wakeful calm" with essential oils of lavender, bergamot, and chamomile, well-known for relaxation benefits. Similarly, Empower's CBD Luxury Body Cream Lavender + Bergamot contains lavender and bergamot essential oils alongside organic aloe and organic oils to "provide aromatherapeutic benefits" and soothe discomfort and hydrate skin. Seventh Sense chooses to highlight chamomile's antioxidant-richness and its healing, anti-inflammatory properties in its CBD Body Lotion Chamomile Green Tea while stating that hemp-derived CBD "contributes to an overall sense of well-being". The body lotion provides a "subtly calming scent" and hydrates and nourishes with shea butter, coconut oil, and meadowfoam seed oil.
Lastly, mainstream retailers feel comfortable selling CBD skincare products since it is a topical rather than an ingestible. Makers of CBD skincare products have expanded distribution into multiple channels including pharmacy chains (CVS, Rite Aid, Walgreens), department stores (Dillard's, Lord & Taylor, Neiman Marcus, Nordstrom), beauty specialists (Credo, Sephora, Ulta Beauty), and into apparel stores (Abercrombie & Fitch, American Eagle, DSW, Urban Outfitters), and shopping malls (Seventh Sense Botanical Therapy). With increased consumer education, availability, and interest, CBD skincare products offer strong growth opportunities and an approachable entry point for consumers curious about CBD.
Last Updated: 2/18/2020