Our latest CBD consumer insights reveals topicals continue to grow in popularity as consumers find new use cases for cannabidiol. In 2020, CBD topical use was reported by over a third of CBD users for both skincare/beauty and therapeutic topicals. The growth of CBD topical products is largely due to their ease of use, availability, and the growing trend of self-care at home.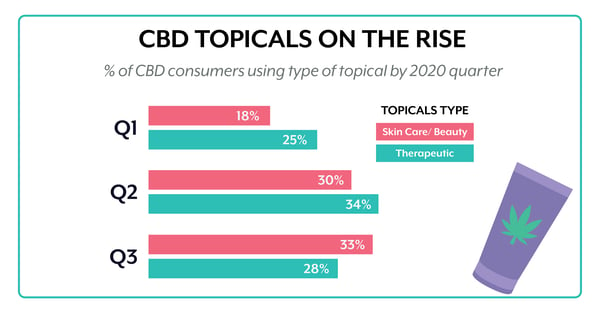 Easy to Find & Familiar to Use
Topicals are a quick and simple way to use CBD. Doses are less precise, there are no taste or oral ingestion concerns, and it's easy to lather a new product the same as your favorite lotion. From simple hand creams to luxury face serums and pain relief salves, topicals are not a foreign item for the average American consumer.


With the ability to target specific areas of the body, it can be easier for consumers to determine the efficacy of the product. Does it make my skin more radiant? Has it eased my pain? Topicals can provide a quicker answer to "does my CBD work?" when compared to ingestibles.


Additionally, CBD topicals are widely available in pharmacies across the US. Since they aren't ingested and can easily contain other functional ingredients to strengthen efficacy claims, CBD topicals have been a safe choice for chain pharmacies to begin stocking the cannabinoid. In a similar vein, online CBD shoppers can often find trial sized topicals that allow them to explore the product type without investing too much money.
Self-Care Moves in the Home
The most reported topical in Q2 2020 was therapeutic topicals with 34% reporting use in the past 6 months. However in Q3, topicals for beauty & skincare surpassed therapeutic topical use for the first time. From Q1 to Q3, CBD skincare/ beauty topicals use increased by 83%, where now 33% of all CBD consumers report use.


Additionally, new users (those using under 3 months) are more likely than the average users to have used a skincare/beauty topical. 44% of new users report using such a product, which is up over 400% since Q1!
This explosion in CBD for skincare and beauty can be attributed to the growing self-care movement. As spas and hair salons closed due to the pandemic, consumers took these routines into the home. The beauty industry in general experienced increased sales of skin, body, and haircare as these routines changed.
The additional stress of the pandemic also spurred many consumers to practice self-care routines for the first time, and topicals are an easy way to care for skin. New and existing users picked up CBD topicals to treat themselves to functional skincare and reduce stress through self-care during this pandemic.
Topicals are just another example of how CBD products are making their way into the lives of US consumers. By attracting new users and keeping existing customers delighted, these additional use cases will continue to drive CBD market growth.
Last updated: 11/18/2020