Millions of adults are suffering from "COVID-somnia" as they deal with pandemic-related stressors of fear about illness, job loss, and social isolation. Even prior to the coronavirus pandemic, an estimated 50 to 70 million US adults had a sleep disorder according to the American Sleep Association. Doctors are witnessing an increase in sleep disorders associated with COVID-19, driven by stress, loneliness, and a lack of routines. Adults are seeking relief from "COVID-somnia" by turning to prescription medicines, OTC medicines, as well as CBD. However, the latest CBD products for sleep have included a different cannabinoid - cannabinol, or CBN. Brands including CBDistillery and Green Roads are offering CBN for sleep-deprived consumers.
CBN Positioned for Sleep
CBN (cannabinol) is the first cannabinoid effectively positioned to address sleep issues. CBN is a minor cannabinoid resulting from the degradation of THC (tetrahydrocannabinol) when THC is exposed to air, light, or heat. A few studies about CBN and sleep showed promising results although it is unknown whether or not it produces sedative effects on its own or only in conjunction with THC or CBD.


The new CBN launches offer an opportunity for CBD companies to distinguish its sleep products from that of competitors and to capitalize on consumers' growing awareness of minor cannabinoids. According to Brightfield Group's consumer insights:
28% of US CBD consumers were aware of CBN in Q2, versus 11% in Q1.

Among consumers with insomnia, figures went from 14.0% to 28% from Q1 to Q2.


Brands Offering CBN Products
CBDistillery launched its first ever CBN product - CBN + CBD Sleep Tincture 1:3 - on August 31. A bottle of CBDistillery tincture contains 150mg of CBN and 450mg of CBD. CBDistillery highlights the wellness benefits of full-plant extraction and how when CBN and CBD are paired with other cannabinoids, terpenes, and flavonoids, that an enhanced 'entourage effect' occurs, which magnifies the health benefits of CBD. The company states that the product was formulated as a natural alternative to help improve sleep, relief, and relaxation, saying that CBN is thought to help promote restful sleep as the result of CBN's ability to interact with CB1 receptors within the endocannabinoid system, which influence sleep.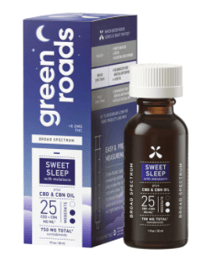 To meet consumer needs for improved sleep, Green Roads introduced a new line of sleep products to support healthful sleep on September 15. One of the items in the line - Green Roads Sweet Sleep Formula, a tincture with CBN oil, CBD oil, and melatonin – marks the first time that the company has added CBN to their products. By combining CBD with CBN and melatonin in its Sweet Sleep Formula, Green Roads aims to help consumers with sleep and stress relief as CBD and melatonin (a hormone that regulates the sleep-wake cycle) are already widely used to support stress management and sleep, respectively, while awareness of CBN's relationship with sleep continues to grow. The two other items in the line are Green Roads Sweet Sleep Nightly Doses (convenient single servings of the Sweet Sleep Formula in singles or a 12 pack) and Green Roads Sleepy Za (a new and improved version of Green Roads' classic gummy with a new formula, more melatonin, and a blackberry flavor).


More CBD companies are expected to launch products that contain both CBD and CBN as there is a large addressable market of consumers who have sleep disorders. CBD companies can capitalize on longer-term anti-pharmaceuticals sentiment and a movement towards natural health and wellness trends by pairing CBD with CBN and highlighting the combination as a natural alternative to prescription and over-the-counter sleeping pills. Expanded awareness of the entourage effect and greater consumer demand for CBD products with specific functional benefits is likely to boost the number of CBD brands adding CBN to their product lines.
Last Updated: 9/15/2020