Michigan started legal adult-use cannabis sales in December of 2019 at a select few dispensaries in Ann Arbor before expanding to additional retail outlets throughout the state. Using our Cannabis Innovation Insights Product Trends portal, I take a look at the brands, flavors, and product types available on the Michigan cannabis market.
Transplant Brands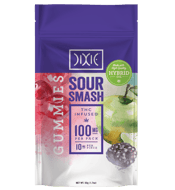 Because the market is so new, bigger brands with the resources to quickly enter a market have taken a majority of the share of shelf. Of the top 10 edibles products by share of shelf space, Dixie has 6 SKUs; the top two are assorted flavors of sour smash gummies and peppermint relaxing mints. Kiva Confections has the remaining 4 SKUs, with various chocolate bar flavors, including espresso dark chocolate, churro milk chocolate, and blackberry dark chocolate. Gron (started in Oregon) and Kushy Punch (started in California) also have edibles on the shelves in Michigan.
Flavors Paving the Way
In the candy category, which includes gummies and mints, the flavors with the biggest share of shelf in Michigan are raspberry (36%), mango (22%), and watermelon (15%). While raspberry and watermelon are highly distributed across other states, mango has a uniquely high in share of shelf in Michigan. Nationally, caramel is a popularly stocked candy flavor, but in Michigan, caramel candies only hold 3% of distribution. Understanding what flavors are hitting (and winning) the shelves nationally can help brands in emerging markets get an indication of what flavor to introduce next.
Edibles Available in Michigan
Chocolates, gummies, and mints are the only edibles currently available in Michigan; there aren't any popular drinks or baked goods products on the market yet. Drinks especially are difficult to get right; the cannabis extract has to be emulsified and infused correctly so that it doesn't just sit on the bottom or top of the liquid. Although baked goods are what comes to mind when they think of cannabis edibles, the technology for infusing cannabis into candy and chocolate has improved significantly; these products have outpaced baked goods due to their more convenient form factors, easier production, and longer shelf lives than products like cookies or brownies. New markets like Michigan may introduce baked goods and drinks at some point, but if consumers entering the market are happy and familiar with getting their THC from innovative candies, then the products may not be worth producing.
Midwest Innovation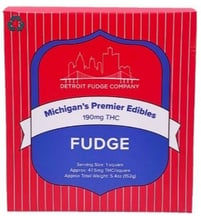 An example of an innovative candy on the Michigan market comes from Detroit Fudge Company; one of the fastest growing new product launches in Michigan edibles has been their fudge. This brand grew over 400% in distribution in 3 months. Detroit Fudge Company has the advantage of being a locally born brand, unlike brands like Dixie and Kiva which have been licensed in Michigan but were started in the West. Fudge is a popular Midwest treat, with locally made fudge being a staple of many family vacations around the state. Mackinac Island, Michigan even considers itself the fudge capitol of the world! Detroit Fudge is able to tap into this local trend more authentically than the bigger brands could, as the "locally sourced" component is an important consumer trend, especially with Millennials and Gen Z.
Last Updated: 5/22/2020