Note: This is an update to our 2018 forecast where we estimated the hemp CBD market to reach $22 billion by 2022. For further analysis on this, jump ahead to "CBD Worth 22 Billion by 2022? That's Crazy Right?", which is a note from Bethany Gomez — Brightfield Group's Managing Director.

Analyzing this market and watching it grow up has been absolutely fascinating over the last few years. In the past decade, I've covered a wide range of consumer markets, from foods and drinks to telecom, gaming, and even cannabis. I have never seen anything like the explosion that we've seen in CBD, even with the bizarre legal gray area where CBD operates.
A few years ago almost no one knew what hemp-derived CBD was. It was mainly sold by small brands online or through smoke shops as tinctures. All of a sudden, CBD is everywhere: as a staple ingredient in drinks, face creams, pet treats and is easily accessible to so many people suffering from medical conditions. CBD rides the waves of global food and health trends and natural health alternatives.
What is most notable is that this market has grown almost exclusively based on word-of-mouth. Digital marketing has been heavily restricted due to the legal gray area, but the Farm Bill officially de-scheduled hemp in 2018 and has paved the way for mass retailers, CPG, ingredients, and healthcare companies to enter the space. And that is changing the game entirely.
CBD is effective for various conditions, while remaining natural, non-psychoactive, and provides no known serious side effects. It can be grown domestically as a substitute for tobacco and provide a much-needed cash crop for American farmers. Globally, CBD markets are popping up, with growth seen in Canada and Europe. Canada saw over $3 billion in CBD revenue in 2020 from various products ranging from prerolls, oils, edibles, brinks, and vapes.
How Big is the Hemp CBD Market?
The Farm Bill allowed for a huge explosion in this market. From the start of its federal legalization in 2018 to the end of 2019, CBD generated over $4 billion in revenue. At the close of 2020, the hemp market brought in $4.7 billion in the U.S. alone. Even though the COVID-19 pandemic threw a curveball at the industry, many brands met the challenge and saw a rise in CBD sales online. E-commerce garnered the highest share of distribution during 2020 at 38%, followed by pharmacies, CBD specialty retailers, and natural food stores.
It is no surprise to see that CBD is expected to grow to $16 billion by 2025. Especially as we see people turning to various CBD products for stress management or to promote better sleep. The wellness industry is just now picking up on the useful nature of CBD and how well it dovetails into general wellness products that are sold over the counter.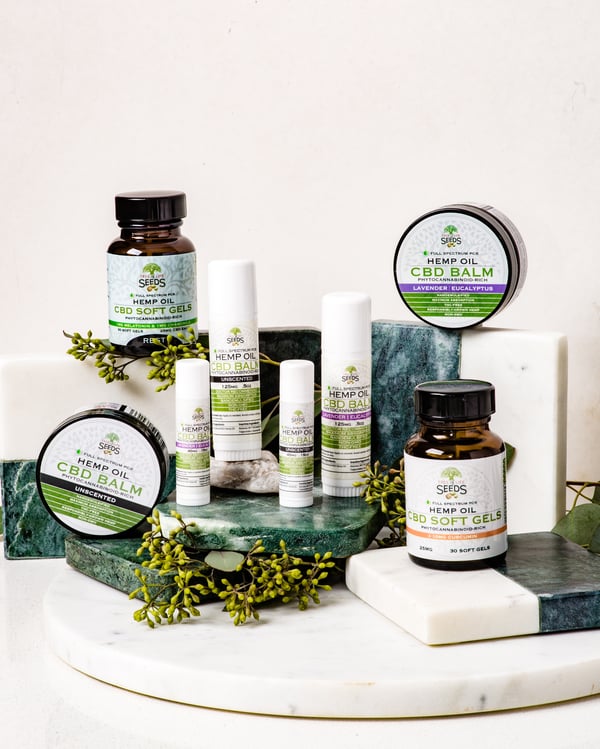 Many traditional wellness products may undergo a shift with CBD infusions.
‍
Standing By the Data
We have no rose-colored glasses in terms of the bizarre and challenging regulatory framework that surrounds this industry and it may always be two steps forward, one step back. It may come across more problematic regulations and bumps along the way, especially as delta-8 enters the scene. But there is too much momentum, too much demand, and too much potential for this industry not to continue expanding toward the forecasted $16 billion by 2025.
A Look Back: CBD worth $22 billion by 2022? That's crazy, right?
When we released our original market forecast of $22 billion by 2022 back in 2018, the hemp CBD industry was a different playing field. Shortly after our forecast went public, the following message from Managing Director Bethany Gomez was published to offer further clarification around the estimates of that time.
Analysts at Brightfield Group have built a reputation for using a thorough, thoughtful methodology and erring on the conservative side with our estimates. Many were surprised to see our team release numbers that, on their surface, appear to be very much out of step with those seen prior to the release of our 2018 CBD study.
We recognize that these estimates are shocking, and we stand by them. Hemp-derived CBD has been gaining huge momentum in the shadows of its oft-spoken about cousin, marijuana, allowing its growth to be largely overlooked - both by analysts in the nutraceuticals industry, medical industry, and cannabis industry. Because the product not only operates in a legal grey area today but also retails in a broad and extremely diverse range of channels and does not cleanly fit under any one category of product, understanding where and how much CBD is being sold is a monumental task.
‍
Setting about sizing this market led us to speak with hundreds of people, crunch tens of thousands of numbers and research a great deal behind our desks - leading us to understand that the hemp-derived CBD market is indeed growing at a breathtaking pace. It is popular among vendors from smoke shops to chiropractors and consumers from decorated veterans to soccer moms. Even catching the eye of celebrities like Jennifer Aniston, Gwyneth Paltrow, Olivia Wilde, and Kate Hudson, who have aimed to give consumers a glimpse into a glamorous and healthy lifestyle infused with CBD products.
But for those who still feel skeptical about our projections, here are our responses to some common questions:
Sheer Growth
‍The U.S. nutraceuticals industry is projected to reach roughly $100 billion by 2022. How can hemp CBD alone take up such a huge chunk of this market in such a short time?
To be clear, Brightfield Group does not expect hemp CBD to be an exclusive nutraceutical product in the future. It will continue to be popular among current cannabis users (bought in dispensaries, smoke shops), have potentially massive value in the pharmaceutical sector (e.g. Epidiolex/Sativex), and as an over-the-counter drug. The $22 billion market forecast should not be entirely attributed to hemp CBD's growth within the nutraceutical category.
‍
However, we do expect a great deal of growth to take place within this sector. Even today, before hemp CBD is fully legal, it has a tremendous number of anecdotally recognized properties and market inertia among nutraceutical customers. With the ability to operate completely above-board as a mainstream product, hemp CBD's nutraceutical potential will be significantly greater. CBD is also largely not factoring into nutraceutical market projections because its presence in natural food stores and alternative medicine channels has expanded so recently, and has been the proverbial "elephant in the room" possibly deterring analysts from factoring it into their calculations - but in the coming years, hemp CBD is expected to play a significant role in nutraceutical market sizes, potentially influencing this market's toplines greatly as well.
Legal and Political Concerns
Beyond growth potential, these numbers might seem out-of-touch because of the legal hurdles still acting as a barrier to the sales and consumption of hemp CBD, and skepticism about the significance and reach of the Hemp Farming Act (Farm Bill) of 2018.
Some might posit that even if the Farm Bill were to pass, states would not be required to create hemp programs or regulatory systems, leaving producers, retailers, and consumers in those states in the same conditions they're in today. We believe, however, that while states' rights to bar hemp are relevant, they do not present a real threat to the success of this industry. In fact, today there are only four U.S. states that do not allow CBD and federal legalization has not taken place yet. An additional two states - California and Ohio - have prohibited hemp sales specifically, but even considering these cases, it would not be reasonable to assume any significant number of states would be inclined to ban hemp sales were the Farm Bill to pass.
Furthermore, California's Department of Health would overturn its hemp ban were the FDA to give hemp products a green light, meaning this decision is not set in stone and is ultimately a move to protect consumers. A legitimate hemp industry will also have a vested interest in protecting consumers, thus health and safety concerns of this nature would be better addressed with the legalization of hemp at the national level, which would expedite and facilitate their resolution among federal agencies such as the FDA.
‍
Another concern about our projections riding on the passing of the Farm Bill is that — although the hemp element has strong bipartisan support — the bill itself may be derailed by political in-fighting about unrelated matters also included in the text. Our projections, however, assume that these disagreements will not stop hemp's ultimate legalization, instead only potentially threatening its passing as a component of the Farm Bill. Other legislation will be lined up behind the Farm Bill should SNAP (or anything else) cause it not to pass.‍
Regulatory Concerns‍
If the goal of the hemp industry is to be normalized and treated like any other consumer good (e.g. sparkling water, beer, massage oil, or pet food), it must be subject to the same rules and regulations that these other industries are. Being required to meet regulatory standards (including those imposed by the FDA) is a necessary and important part of the long-term sustainability of any consumer good industry. FDA involvement should not be seen as concerning or negative, but a necessary part of the growing process and a means of protecting consumers and thus the very survival of the industry over the longer term.
Though it may take the FDA some time to establish a system to regulate a product of this nature, there is no reason to believe FDA involvement will put an end to the hemp market, especially because the FDA's recent decision to approve hemp-derived seizure medication Epidiolex demonstrates that the agency is not leaning in the direction of unreasonably clamping down on hemp, nor pivoting after legalization takes place. In fact, this decision was a show of faith that the FDA recognizes that hemp plant-derived CBD products do indeed have legitimate medicinal value and it may ultimately help bolster and legitimize lab-tested, approved CBD products.
We believe the hemp CBD market is here to stay. Readers can rest assured that our experienced analysts and a vast pool of data support these market sizes and growth figures, despite the risks, barriers, and competitors facing hemp CBD products.
Last updated: April 2021