The hype around CBD (short for cannabidiol) has made its way to pet products. Paw balms, chicken flavored tinctures, and peanut butter bites are just a few options readily available for our furry best friends. However, like human CBD products, similar questions come to consumers' minds: What is in it? Is it safe? Is it going to make any difference?
Labeling Matters
A lack of labeling and testing regulations has created a legal gray area that allows vague marketing statements and unregulated products to slip into the market. Consequentially, consumers are still trying to figure out what hemp oil is, and brands are capturing puzzled consumers - intentionally or otherwise - with ambiguous labeling.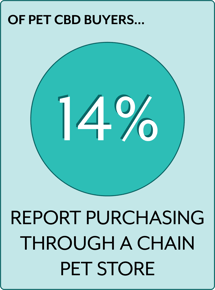 Our data explored where pet CBD users purchased their CBD – 14% purchased through a chain pet store like PetSmart and Petco. However, after checking these stores' websites, none of their hemp products contain CBD oil (also called broad spectrum or full spectrum hemp extract) – only hemp seed oil.


This minuscule detail makes all the difference. CBD oil is derived from the flowers, leaves and stalks of the hemp plant. It is a non-intoxicating cannabinoid that supports the endocannabinoid system, which regulates functions such as mood, appetite, and pain sensation. CBD oil can be consumed via oils, vapes, topicals, drinks, and edibles.


On the other hand, hemp seed oil is extracted from the seeds of the hemp plant and does not contain CBD. It is valued for its nutritious benefits, as it is high in omega-3 and omega-6, as well as its moisturizing and anti-inflammatory properties. It can be used as a cooking oil or an ingredient in skin and hair products. Since it contains low amounts of CBD, consumers will not observe CBD's usual effects and, if misled, will be disappointed.


Hemp seed oil may improve your dog's coat of fur, but it doesn't have the same anti-anxiety or pain-relieving potential as CBD. Our research shows 64% of pet CBD buyers use it for their pet to reduce overall levels of anxiety/stress, 40% use to relieve situational anxiety/stress, and 35% use for pain management. Consumers expect CBD oil's beneficial effects.


Companies should not forget that vague descriptions will lead to unrealistic consumer expectations, and when the customers aren't satisfied, they'll move onto a different brand. Consumers need to know exactly what they are giving their pets in order for brands to gain trusting, satisfied, loyal customers. Clear ingredients labeling and accurate test results will benefit consumers, strengthen brands, and foster trust in the pet CBD market.
Last Updated: 2/4/2020