The U.S. cannabis industry is maturing into a fully operational consumer market, including developing strong consumer brands. Brands matter now more than ever as the industry expands with state-by-state legalization – even in the face of difficult economic conditions and price compression.
So what's the secret sauce to branding in cannabis? Differentiation. As simple as it sounds, indistinguishable, unmemorable brands will not survive this phase of U.S. cannabis development. Successful cannabis marketing tells a consistent brand story, clearly demonstrates its product's value, and stays ahead of the current trends to gain a competitive advantage.
Clear Value of the Product
As price compression dropped the cost of eighths and ounces in several key markets at the end of 2022, "price" became the most common cannabis purchase influence in Brightfield's consumer insights study. 47% of U.S. cannabis consumers say that price is a key influence on their purchase decision, up 7 percentage points from mid-2021.
But the price isn't all that's being considered– THC percentage and "value for the money" rank second and third for consumer-reported purchase influences. Taste/flavor, smell/aroma, strain, and high-quality ingredients are also top purchase influences for 25% or more of U.S. cannabis consumers.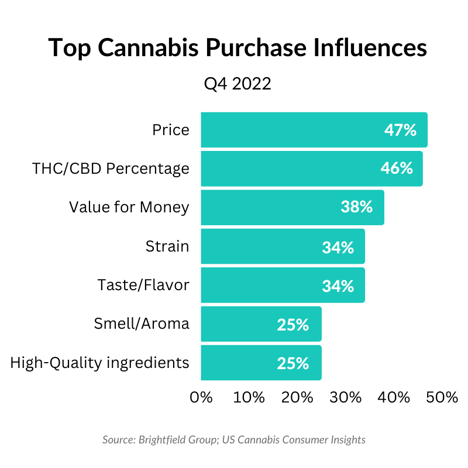 So with price influencing the purchasing of just under half of cannabis users, many other product attributes can stand out and sway decisions. A product's value doesn't have to come from its price tag. Consumers can be won over by proving clear value through high-quality ingredients, excellent aroma, or delicious taste, for example. And if brands can do this at a price consumers are happy to pay, even better.
Consistent, Concise Messaging
When the customer gets to the dispensary (or online menu) and has dozens of brands to choose from in each category, being memorable matters. To be so, brands must have a consistent, concise message throughout their marketing efforts that communicate the value they bring to purchasers.
In traditional advertising, brands strive to be known for a specific attribute or quality. Subway is known for being "fresh" eats, McDonald's is loved ("I'm lovin' it"), and with Allstate, you're in good hands. When these simple phrases are repeated, they serve as effective markers. Beyond a slogan, these qualities are baked into every part of each brand. People not only recognize the brand but also know what they are for.
Cannabis brands can take a page from this playbook. Right now, we see brands going after several effects at once. Nearly all edibles brands launch various flavors of sleep/relaxation and fun/energy gummies. Flower and pre-roll brands will offer strains of both relaxing and energizing qualities.
We also see brands using inspirational brand identity language in their marketing. Brands say they are "on a mission to change the world," "normalizing cannabis one plant at a time," and "breaking the stigma" rather than say what their product actually does.
Successful brands can tell you who they are and what they're for. What brand comes to mind as "the sleep gummy brand"? Or the brand for "high-quality pre-rolls"? One brand, many brands – any brands? As branding matures, companies will be able to go after these more nuanced brand stories rather than simply trying to have the most share in a given product category or state market.
How do cannabis purchasers describe your brand? Brightfield's brand tracking capabilities in our Product Brand Health study can tell you!
2023 Brand Differentiation Strategies
"Clean Weed"/Solventless product
A trend from the West coast: "clean weed" in California. When the 2019 Vape Crisis revealed unsafe solvents in illicit vape carts, concerned consumers began looking for concentrates made without solvents. But going one step further back - what is clean weed? Just like organic goods in CPG industries, some sources suggest cannabis consumers are starting to seek organic cannabis, especially in trendsetting California.
While there is no evidence for or against the claims that organic weed is somehow safer than cannabis grown with traditional pesticides, the marketing strategy of "organic" products has had staying power in traditional foods categories. Solventless cannabis extracts and now even edibles have emerged in mature markets and are even starting to accelerate in less mature markets. Time will tell if organic or "clean" cannabis flower will continue to make its way across America.
Eye-catching & sustainable packaging
From a consumer perspective, cannabis packaging isn't a major purchase influence. Over 2022, consistently less than 7% of cannabis users said the packaging influences their purchasing decisions. However, from a business perspective, packaging has risen to the forefront of product positioning. Regulations in new markets prevent cannabis from being sold "deli-style," where a shopper could smell cultivars and see samples of other products. With products required to be pre-packaged, the packaging becomes much more important.
Sustainability in packaging is a hot topic. The environmental toll of plastic jars for every eighth sold concerns consumers and brands. Innovative B2B companies offer recycled plastic, plant-based, and paper-based packaging as a solution. Design in packaging is also relevant. It must be eye-catching if it's the only thing a consumer can look at before buying. Mylar bags decorated in everything from trippy designs to wellness-inspired imagery can be found on shelves in states that allow products to be displayed.
Predictions for Further Differentiation
New Product Types for Emerging Markets
As each new market emerges, there will be holes to fill for every product category. The road to maturity requires diverse products available on shelf. In Brightfield's Retail Brand Health study, we see that the "variety of product types" is why 45% of loyal shoppers choose a dispensary. While confined to state borders legally, innovation leaders in new markets must look outside their legal state market to stay ahead of product trends.
Infused pre-rolls were a great example. They had existed in the illicit and legal California markets but didn't start to take off elsewhere until 2022. Infused pre-rolls popped up in Canada's adult-use market, medical markets in the U.S., and limited license states like Illinois. Now, we see another infused product offered in Ontario, Canada – infused milled flower. Could this be a hit in the U.S.? An innovative brand will have to find out.
Edibles Dosing Options
Edibles typically come in 5mg or 10mg doses, with packs standardized at 100mg total. While there has been some deviation with 2.5mg microdoses of 25mg "high-dose" gummies, consumers are generally still stuck in these 5-10mg increments. An easy point of dosing and price differentiation is unique dosing.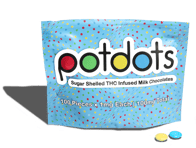 One brand doing so is PotDots in Michigan. Its 1mg M&M-inspired chocolates are unique and provide the ultimate dosage customization. Each M&M being exactly 1mg removes the guesswork of splitting up an edible that might not have its THC distributed equally throughout.
Breaking out of the 5mg/10mg norm might look like a 5-pack of 15 mg edibles totaling 75mg that costs less than the 100mg options next to it on shelf. It could look like a single 65mg cookie or a 7mg canned drink. The opportunity to craft tailored products at unique doses is currently untapped.
Building a strong brand is not easy, and doing so in the emerging cannabis category is even harder. But in maturing state markets, we see ecosystems of differentiated consumer brands with unique offerings serving a wide variety of cannabis fans. Even in places where regulations limit creativity, brands have been able to connect with customers and gain their loyalty.
Being a winning cannabis brand takes consistent messaging that clearly demonstrates product value and the desire to stay ahead of current trends. Brands doing so will be able to compete successfully and outpace the pack of U.S. cannabis companies vying for consumer dollars.

Published: 3/30/2023