Though the US CBD market has made significant progress since the Farm Bill passed, growth continues to be hindered by the lack of federal guidance regulating CBD as a dietary supplement and food additive. Even in the face of a challenging, competitive environment, the industry continues to expand with strong consumer spending and increasing retail distribution. The top 20 companies continue to have a large market share, though consolidation has slowed in 2022 with increasing economic concerns and continued brand launches. As of quarter 1 of 2022, the top 20 CBD companies make up over 18.4% of the total US CBD market.


Types of Top CBD Companies
The industry is now being strongly influenced by the following primary groups of competitors:
CBD-branded product companies that have been able to develop awareness and establish brand loyalty, especially by refining and improving their marketing strategies. Examples include Charlotte's Web, Medterra, and CV Sciences.

Vertically integrated CBD companies that manufacture, brand, and sell their own CBD products through proprietary retail outlets and franchises uniquely dedicated to their own portfolios. These companies have built-in, dedicated sales representatives and advantages when it comes to marketing and messaging due to owning brick-and-mortar locations. Examples include Your CBD Store (SunMed) and CBD American Shaman.

Canadian Licensed Producers (LPs)with sizable cannabis infrastructure, connections, legitimacy, and investor dollars attained via public exchanges in Canada have entered the US market via acquisitions and line extensions. Examples include Canopy Growth Corporation (Martha Stewart CBD, whisl, Quatreau), The Valens Company (Green Roads), Village Farms (Balanced Health Botanicals), and Cronos Group (Happy Dance, Lord Jones).
Supplement brands with natural food store and mass retail chain connections, nutraceutical marketing experience, capital to invest, and established customer bases that are particularly prone to purchasing CBD-infused wellness products. Examples include Garden of Life and Irwin Naturals.

Disruptors that are more recent entrants to the CBD market but have been making headway in gaining market share through either optimized digital marketing and e-commerce or by focusing on growing retail distribution with innovative products. Examples include Sky Wellness, Try The CBD, and Panacea Life Sciences.

Pharmaceutical companies: GW Pharmaceuticals (acquired by Jazz Pharmaceuticals in 2021) brought Epidiolex into the US market at the end of 2018. Its revenues have grown dramatically since that time. Epidiolex is expected to continue seeing sizable growth and additional pharmaceutical companies are expected to start entering the space in the long term.

Consumer packaged goods (CPG) behemoths such as Molson Coors and Unilever have been circling the industry since prior to the legalization of industrial hemp cultivation and have made limited forays into the market prior to an official regulatory framework.
Largest CBD Companies by Market Share
The top 5 CBD companies have remained largely the same since the first quarter of 2022 as the CBD market stabilizes. In 2022, online sales will nearly reach $2.0 billion, accounting for 39.2% of the total market, as Americans continue their general shift towards online shopping even as brick-and-mortar sales increase across numerous channels.
(Brand shares as of September 1, 2022):
1. Charlotte's Web
Charlotte's Web has effectively risen to the top of the ranks by leveraging robust marketing strategies deeply rooted in brand values their customers care about like trust and high-quality products. By understanding whom they are as a brand, resonating with the right consumers, and investing in large marketing campaigns, they continue to lead the pack. Charlotte's Web has also expanded its brand portfolio with CBDMedic, CBDClinic, and HarmonyHemp to reach a wider range of consumers.
2. Your CBD

Store

(SUNMED)
Your CBD Store (SUNMED) utilizes a franchise model, with SUNMED producing products exclusively for distribution through Your CBD Store retailers and the company's e-commerce website. This has proved to be successful as Your CBD Store retail brand is the largest CBD retail chain in the United States, with over 500 locations across 39 states. All are operated by affiliates and franchisees that only sell the company's product lines. The store locations are designed to offer one-on-one consultations to create tailored regimens for every lifestyle, as well as promote CBD education among customers.
3. Medterra
Medterra is a completely CBD-focused, THC-free brand with broad mainstream consumer appeal. Their focus on ensuring quality and consistency from seed to sale has led to rapid consumer interest. Additionally, they have leaned further into the medical positioning of CBD with their Medterra Clinical brand aimed at capturing more consumers at independent pharmacies and medical practices.

4. CBD American Shaman
By leveraging a wide and growing distribution network through their franchise, wholesale, and affiliate programs, they have been able to quickly climb the CBD company rankings. CBD American Shaman, a vertically-integrated operation, has a broad product line with over 70 SKUs, from tinctures to edibles for both humans and pets. Specialty CBD Retailers have seen increased growth as more consumers enter the market and want high-quality product education during their in-store experience.
5. cbdMD
As of March 2022, over 6,000 retail outlets carry cbdMD. The company has implemented a non-traditional marketing style. These marketing efforts include sponsorships of professional athletes, partnerships with celebrities and podcasts (such as Joe Rogan), as well as traditional print and digital media. The company has distribution in thousands of retail stores ranging from pro shops in partnership with Troon Golf to mainstream retailers such as GNC. cbdMD was the first CBD company allowed to advertise in Times Square. The company is the official founder of National CBD Day (August 8) and National Hemp Day (February 4).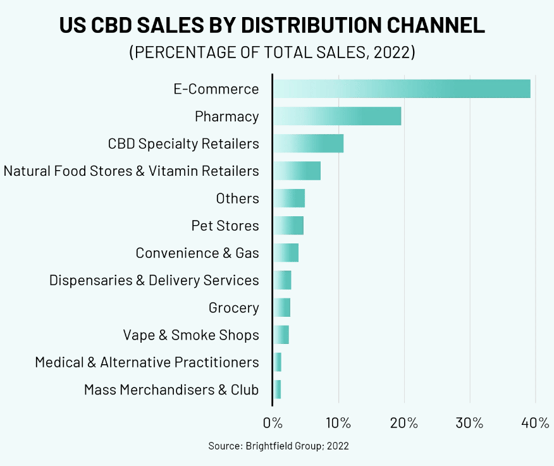 Top Online CBD Companies
Charlotte's Web
By building a trusted brand with a traditional, straightforward menu, Charlotte's Web appeals to new and hesitant consumers. As consumers begin their CBD research process online, they are likely to come across Charlotte's Web and their education on CBD products.
Medterra
Their simple branding and a heavy focus on search optimization have made Medterra a strong player in the online CBD space. They have been able to get in front of new entrants to the market, especially with low-price topicals. Medterra is a leading producer of CBD wellness products under five separate brands, each of which adheres to high testing and quality standards.
HeavenlyRx (PureKana)
PureKana, a subsidiary of Simply Better Brands (itself part of HeavenlyRx) and the company's only CBD brand, creates hemp-derived products that are designed to be both quality and affordable. The brand's goods are designed to be full-spectrum, non-GMO, organic, and are third-party certified to ensure that no harmful chemicals are accidentally included. PureKana has strong e-commerce performance with website and packaging design that match the brand's target demographic
cbdMD
cbdMD has distribution in thousands of retail stores, but its products are actually primarily sold through its e-commerce website. Their mass adoption across various channels, along with strategic marketing and PR efforts, has no doubt helped in their online sales. In mid-2021, the company acquired DirectCBDOnline.com, a website that provides CBD consumer education and product information. cbdMD also sells products to 30 international markets, including the UK, Central America, and Japan.
Kadenwood(Social CBD)
As of 2022, the company claims to have products present in over 22,000 retail locations and also sells goods via its own e-commerce platform. Vertically integrated operations allow the company to maintain low prices and ensure 0% THC in their goods.

Need to catch up? Get the 2022 Market Report here.
‍