Although the December 2018 passage of The Farm Bill legalized the cultivation and sale of industrial hemp at the federal level in the US, CBD brands continue to face restrictions on advertising of their products. Digital advertising of CBD brands on Facebook, Google, and Instagram remains limited as each of these companies provides strict parameters on what can and cannot be advertised online.
Despite these limitations on the use of digital advertising, many CBD brands put in creative effort to market their products through billboards, event marketing, pop-up stores, brand ambassadors, and radio ads. This article takes a closer look at some of the first successful CBD marketing campaigns and how brands have shifted their efforts in a COVID-19 era.
A look at some of the first successful CBD marketing campaigns
Brands including CBDistillery, Charlotte's Web, Evo Hemp, and Recess have found ways to gain favorable media attention and connect with consumers. How did they do it?
CBDistillery
The CBDistillery brand, owned by Balanced Health Botanicals, made a splash in July, 2019 with the launch of its Gimmick-FreeCBD campaign that featured a 7-billboard display in New York City's Times Square. CBDistillery continues to grow strongly through its mission to bring affordable and high-quality CBD to the masses and its direct-to-consumer approach.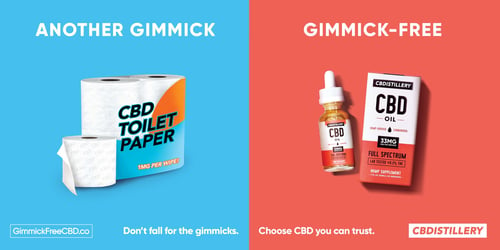 Source: CBDistillery
The campaign calls out gimmicks such as CBD-infused toilet paper, condoms, and laundry detergent as compared to CBDistillery's own gimmick-free products. (With over 3,000 CBD companies in the space, CBD businesses are pressured to stand out).
Through humor, CBDistillery asks consumers to look beyond marketing tactics that use the term CBD to sell products and to instead seek out trusted and established hemp-derived CBD brands – such as its own – that offer high quality and share third-party tested lab results. The cross-channel campaign also included social media, radio, emails, direct mail, and select advertisements as well as its own microsite at GimmickFreeCBD.co.
Charlotte's Web
Charlotte's Web pioneered hemp-derived CBD in the US and has become the number one CBD brand through word-of-mouth and social media as its core group of passionate advocates helped spread the story of Charlotte Figi and others who have benefited from CBD.
On October 2, 2019, Charlotte's Web unveiled its Trust The Earth campaign in Williamsburg, Brooklyn. Shepard Fairey's Studio Number One created a huge mural featuring a hand holding a hemp plant and the call-to-action "Trust the Earth" above "Hemp for Natural Health". The company's first national CBD advertising campaign combined out-of-home (OOH) ads with a microsite (trusttheearth.com), and digital content.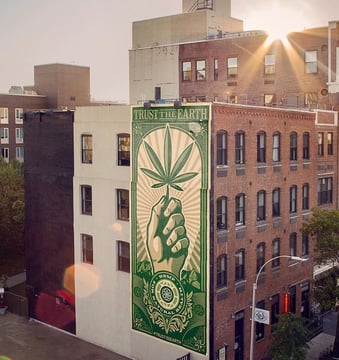 Source: Charlotte's Web
The accompanying videos for the Trust the Earth campaign ask viewers to trust in plants and nature in caring for ourselves and "that every American deserves access to the highest quality hemp extract available".
Evo Hemp
Evo Hemp, a hemp foods company that also makes CBD snack bars, lotions and tinctures, is using the power of cinema and videos to educate consumers about US-grown hemp and CBD.
The company's co-founders Ari Sherman and Jourdan Samuel are featured in filmmaker Josh Hyde's new documentary "American Hemp", released in August, 2019 on Amazon Prime and other major streaming outlets. Hyde shows the challenges faced by the hemp industry as he follows farmers, Sherman and Samuel, and state regulators through one year in the Colorado hemp industry. In the film, Evo Hemp partners with Alex White Plume of the Oglala Lakota Tribe to create the first Native American hemp products in the US.
In addition to participating in the documentary, Evo Hemp uses its YouTube channel and the Evo Hemp Academy section on its website to educate consumers about all aspects of hemp through videos on topics such as hemp growing, CBD, hemp smoothie recipes, and terpenes.
Recess
Recess, the maker of CBD and adaptogen-infused sparkling waters, reached New York City creatives and Instagrammers by opening up the Recess IRL (In Real Life) pop-up store in New York City's NoHo district in February, 2019. The pastel-painted, neon-lit store is aimed at helping visitors relax or be creative by encouraging posts on Instagram.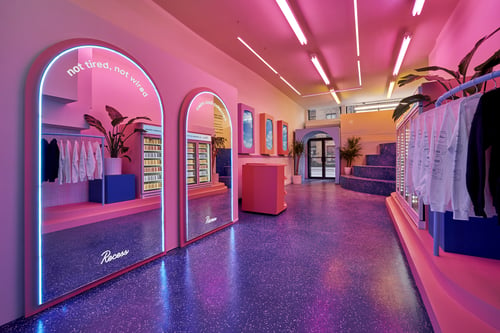 Source: Gotham Magazine
Recess Founder and CEO Benjamin Witte described to CNBC the design philosophy of the store as: "In this space I want you to feel like you are walking into Instagram … or walking into a billboard." The Recess IRL store provided busy New Yorkers with a space to take a recess and break away from day-to-day worries with a lounge area, a space for local comedy performances, floral design workshops, and happy hours. The Recess store provided an experiential way to spread the Recess message of staying "calm, cool, collected."
How CBD brands are leveraging digital marketing during COVID-19
Despite the lifting of shelter-in-place orders, a resurgence of COVID-19 combined with continuing worries of contracting the coronavirus has kept many consumers at home. While the coronavirus pandemic has reduced consumer store visits and limited live sports and other in-person events, CBD companies have risen to the challenge of marketing during a pandemic by leveraging digital advertising platforms like social media, podcasts, affiliate networks, and other partnerships.
Pre-COVID, we saw CBD companies had been using a wide variety of marketing vehicles including athlete ambassadors, influencers, event marketing, educational workshops, billboards, alongside digital ad campaigns. Following the outbreak, CBD companies were forced to shift to online marketing initiatives completely.
Companies such as cbdMD, Recess, CBDistillery, and Veritas Farms continue to use their marketing budgets on digital strategies to capture shopper attention - and for good reason. According to Brightfield's CBD Consumer Insights, online CBD purchasing grew 123% from Q1 to Q4 of 2020. Additionally, 52% of CBD consumers now report shopping for CBD online, making it the top purchase channel.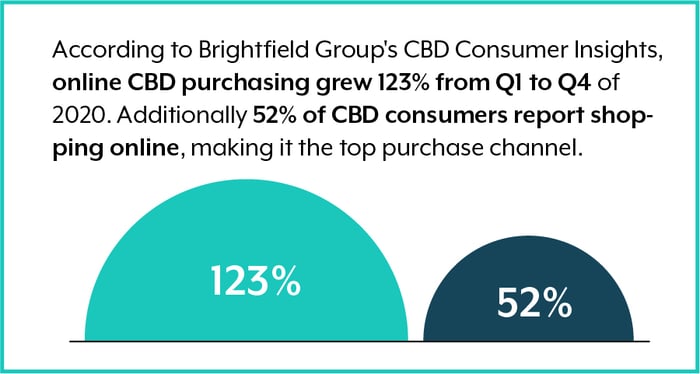 Podcasts
With fewer leisure options available during the coronavirus pandemic, podcasts have emerged as a popular way for consumers to entertain themselves and for CBD companies to reach CBD consumers. According to podcast measurement company, Podtrac, US weekly podcast download growth for the comedy and sports categories was up 45% and 35%, respectively, from August 19, 2019 to August 23, 2020. cbdMD has been a sponsor of leading podcasts – "The Joe Rogan Experience", Dax Shepard's "Armchair Expert", and "Your Mom's House with Tom Segura and Christina Pazsitzky" since October 2019.
In its earnings call on August 12, 2020, the company stated that the podcast vertical led to a 45% uptick in revenue in the quarter ended June 30, 2020 as data allowed them to identify the podcasts that drive web traffic and e-commerce conversion. For cbdMD, popular sports commentator and comedian Joe Rogan is able to reach men who are interested in sports and are likely to use topical CBD products for post-exercise relief.
Sponsoring podcasts where the host reads a commercial about a CBD brand along with a promotional code is not the only way to take advantage of podcasts. On June 10, Balanced Health Botanicals, owner of the CBDistillery brand, introduced its "CBD Movement Podcast" as the latest extension of its #CBDMovement, which aims to provide education about CBD and accessibility to fairly priced, high-quality CBD products.
The CBD Movement Podcast features in-house experts Emily Loss (Manager of Influencer Relations and Sponsored Athletes) and Majid Boroujerdi (Vice President of Brand and Consumer Insights) who interview scientists, cultivators, government officials, and CBD pioneers. This presents another way for CBDistillery to educate listeners and create brand loyalty.
The company also introduced a rebrand for CBDistillery in May 2020. They brought an updated design to the brand website and introduced new consumer-friendly packaging to provide better education about the benefits of CBD.
Instagram and influencer marketing
With in-person events on pause for the foreseeable future, Instagram allows CBD companies to provide fashion and flair and access to "live" events. Recess received extensive press coverage of its previously mentioned Recess IRL pop-up experience. Recess IRL brought creatives together for cocktails, mingling, and workshops in a pastel, Instagram-worthy space while allowing the company to gain brand awareness in spite of advertising restrictions on Facebook and Google.
Through the pandemic, Recess continues to use its Instagram page to promote the brand's narrative of offering an antidote to modern times with surrealist imagery where cans of Recess are personified using memes and cultural reference points.
The addition of three new flavors in May 2020 (Black Cherry, Blood Orange, and Coconut Lime) are providing more flavor personalities for the company's fans to interact with. Its recent launch of a Realitywear line of comfortable t-shirts and sweatshirts allows the company to offer both physical and digital experiences. They've injected fashion into the company's marketing which encourages their biggest fans to spread the "calm, cool, collected" message.
A case study: Veritas Farms
Prior to COVID-19, Veritas Farms had been using event marketing such as sponsoring Miami Art Week 2019 with live music, art, and their own life of CBD-infused cocktails to promote its brand among affluent, health-conscious consumers. The brand held more ad space with a billboard campaign in New York City's Times Square that ran from November 11, 2019 to January 5, 2020.
Following the outbreak of COVID-19, the company decided to leverage e-commerce and social media with an initiative called Yoga Flow Sessions on their Instagram Live, in partnerships with influencers. The Saturday Yoga Flow Sessions invited Miami yoga teacher India Turkell which allowed Veritas Farms to reach yoga devotees who were unable to attend in-person yoga studios. In addition, working with influencers Morgan Alexa (in a paid partnership) and Lizzy Dela (affiliate marketing) – who represent active glamour – allowed the company to leverage these women's' social media followers.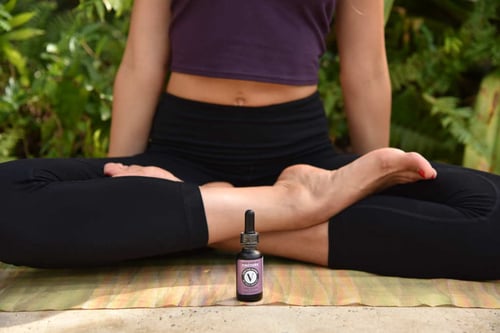 Veritas Farms Hemp Oil Tincture.
Source: CBD Network
According to its 10-Q filed on August 18, 2020, Veritas Farms was able to achieve online revenue growth of over 150% from January 2020 to April 2020. By leveraging multiple social channels, launching an affiliate program, and further upgrading website content, layout, and improving site speed Veritas Farms found success despite CBD ad restrictions and the initial challenges of the pandemic.
The takeaway
It is crucial for CBD companies to prioritize initiatives that reach consumers where they are spending their time. With almost 38% of CBD market sales forecasted to take place online in 2021, e-commerce is poised to continue being the largest channel for CBD purchases.
Whether it is partnering with podcast hosts and influencers, focusing on content marketing, providing a stream of live events on Instagram, or upgrading a website; Investing in digital marketing efforts can help companies increase their number of website visitors, conversion rates, and ultimately the brand loyalty of CBD consumers.