The US CBD market has made significant progress since the Farm Bill passed in 2018 and 2020 has brought unique challenges. Despite the social and economic impact of a global pandemic, the industry continues to show signs of strength with healthy consolidation, consumer spending, and investment in strategic marketing. Because the market has seen both sizable expansion and consolidation in 2020, the top 20 brands have technically lost share but still maintain the majority piece of a now much larger pie. As of July 28, 2020 the top 20 CBD companies make up over 17% of the total US CBD market.


Types of Top CBD Companies
The industry is now being strongly influenced by the following primary groups of competitors:
Powerful CBD-only companies, which have been able to further develop reputations and establish brand loyalty, refine and improve marketing strategies, and grow larger and more diverse customer bases despite barriers faced under past and current regulatory systems. Examples: Charlotte's Web, CV Sciences.


Cannabis companies, typically multi-state operators (MSOs), leveraging vast dispensary and retail distribution networks, supply chain infrastructure, brand recognition and capital to create or expand successful CBD lines. Examples: Curaleaf Hemp, Columbia Care.


Supplement brands with natural food store and mass retail chain connections, nutraceutical marketing experience, capital to invest, and established customer bases that are particularly prone to purchasing CBD-infused wellness products. Examples: Barlean's, Garden of Life, Irwin Naturals, Nature's Plus.


Disruptors: Those CBD brands little-known prior to 2019, even in CBD circles, who have made tremendous headway over the course of a few months, many being picked up by large retail chains and thrust into the spotlight. Examples: cbdMD, Medterra, Sagely Naturals.


Pharmaceutical companies: GW Pharmaceuticals brought Epidiolex onto the U.S. market at the end of 2018 and its revenues have grown dramatically since that time. Though considered separately from top CBD supplement companies for the purposes of this study, GW Pharmaceuticals carries considerable weight in the US CBD industry, and additional pharmaceutical companies and products are expected to join the market and play an even more important role in the future.


Though only just beginning to dip their toes into the U.S. market, a number of Canadian Licensed Producers (LPs) with tremendous cannabis infrastructure and connections, legitimacy and investor dollars attained via public exchanges in Canada, have expressed intentions to aggressively pursue the U.S. CBD market, namely via buy-outs and M&As. Examples: Aurora Cannabis (Reliva CBD), Canopy Growth Corporation (BioSteel, First & Free, This Works), Cronos Group (Lord Jones), Tilray (Manitoba Harvest, Pollen).


Consumer packaged goods (CPG) behemoths such as Coca-Cola, Anheuser-Busch InBev, and Unilever have been circling the industry since prior to the legalization of industrial hemp cultivation and are eager to establish a name for themselves early. These companies are ready to join the competition as soon as a pathway has been cleared by the FDA, especially when it comes to food additives and dietary supplements. In April 2020, Molson Coors Beverage Company announced the launch of a new joint venture with Canadian cannabis company HEXO to produce non-alcoholic CBD-infused beverages in Colorado.


‍
Biggest CBD Companies by Market Share
The top 5 CBD companies have continued to make names for themselves as the US CBD continues to grow. (Brand shares as of July 28, 2020):
Charlotte's Web
Charlotte's Web has effectively risen to the top of the ranks by leveraging robust marketing strategies and integrating them with a values base tied to their core consumers. By deeply understanding who they are as a brand, resonating with the right consumers, and investing in large marketing campaigns, they continue to lead the pack.
‍
Medterra
Medterra is a completely CBD-focused, THC-free brand with broad mainstream consumer appeal. It's considered a "disruptor" due to its rapid growth from 2018 and appearance on mass retail shelves alongside products from more established players. Their focus on ensuring quality and consistency from seed to sale has led to rapid consumer interest.
Green Roads
Green Roads has leveraged product diversity and quality to differentiate themselves in the market. By offering more unique, high-dose products, they can be seen as an innovator and those products better resonate with a variety of consumers. Similarly to Charlotte's Web, they have leveraged value-based marketing to fuel robust social strategies targeting their core consumers.

CBD American Shaman
By leveraging a a wide and growing distribution network through their franchise, wholesale and affiliate programs, they have been able to quickly climb the CBD company rankings. CBD American Shaman, a vertically-integrated operation, has a broad product line with over 70 SKUs from tinctures to edibles for both humans and pets.
CBDfx
CBDfx has created both visually appealing product packaging and product displays including end caps, counter-top displays and floor stands to get products in thousands of stores. They have also continued to innovate with product lines that branch out beyond traditional CBD vape consumers while maintaining current client base. Their broader and more successful presence in international markets is also a unique advantage.
Top Online CBD Companies
Charlotte's Web
By building a trusted brand with a traditional, straightforward menu, Charlotte's Web appeals to new and hesitant consumers. As consumers begin their CBD research process online, they are likely to come across Charlotte's Web and their education on CBD products.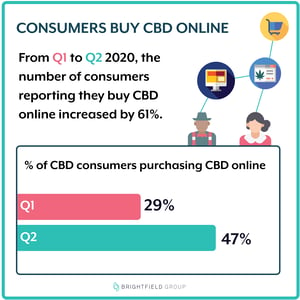 Balanced Health Botanicals (CBDistillery)
CBDistillery has created a robust online model with athletic sponsorships and influencer marketing, alongside accessible pricing. They have gained a strong presence online and in independent pharmacies. They are particularly effective in addressing smaller, overlooked markets with tailored local advertising.
Medterra
Their simple branding and heavy focus on search optimization has made Medterra a strong player in the online CBD space. They have been able to get in front of new entrants to the market, especially with low-price topicals.
cbdMD
As of February 2020, over 4,000 retail outlets carry cbdMD. Their mass adoption across various channels, along with strategic marketing and PR efforts, have no doubt helped in their online sales. cbdMD was the first CBD company allowed to advertise in Times Square in Dec 2018. The company is the official founder of National CBD Day (August 8) and National Hemp Day (February 4).
Lazarus Naturals
The company's vertical integration, producing CBD from hemp grown on its farms in Oregon, allows the company to control and monitor their products, giving them an edge to sustain their high standards. It also allows the company to offer high quality products at a good value. The company has one of the most generous assistance programs, offering lifetime 60% discounts to veterans, individuals on long-term disability, and low-income households. As these segments continue to explore CBD, Lazarus Naturals is well-positioned to gain their attention.
Need to catch up? Get the 2019 report here.
‍