Pet CBD is growing in popularity, and like other CBD (cannabidiol) categories, the market is greatly impacted by the U.S. Food and Drug Administration. The FDA has not approved CBD for any use in animals and has stated that CBD cannot be marketed as a dietary supplement or added to food and beverages in interstate commerce. For veterinarians, this legal gray area coupled with increased popularity creates a tough spot; their pet patients are finding relief using a product they cannot prescribe – or even talk about.
Regulations with Vets & CBD
As it currently stands, the FDA has stated that three hemp-seed derived food ingredients (hulled hemp seed, hemp seed protein powder, and hemp seed oil) are generally recognized as safe (GRAS). But the FDA has said that it does not consider CBD to be GRAS. Whether for humans or animals, products containing CBD are not allowed to be sold under the Federal Food, Drug, and Cosmetic Act. Veterinarians would risk defying the FDA and their State Board of Veterinary Medical Examiners if they discussed possible benefits of CBD with pet parents. Despite this hurdle, 74% of current pet CBD consumers have discussed Pet CBD with their veterinarian, and 80% received an enthusiastic response during the conversation with their vet – according to our pet CBD consumer insights. So even though veterinarians cannot bring up the topic of pet CBD, they can enthusiastically express what CBD has done for other pets. Though not directly listing the benefits of pet CBD, vets can state what other pet parents do with CBD and how this has alleviated pet aliments.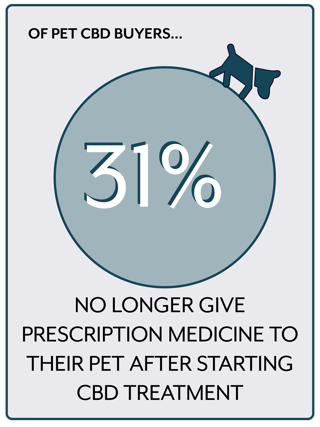 However, the ability to smile, nod, and provide a positive anecdote does not solve the issue of prescribing CBD. According to our research, 31% % of pet CBD buyers (a.k.a. the pet owners) no longer give prescription medication to their pet after beginning CBD treatment. Though this provides some confidence as to the effectiveness of pet CBD, consumers going directly to brands leaves veterinarians unable to advise clients on the best way to use CBD for their specific pet. And without the FDA mandating that manufacturers of pet CBD products follow Current Good Manufacturing Practices (cGMP) requirements for animal food, consumers are left to relying on branding to know what is in a product. As research continues to show THC (tetrahydrocannabinol)'s toxicity in animals, pet parents must use their own judgement to decide if an animal CBD product will be good for their pet– not the judgement of veterinary professionals or the FDA.
But not all hope is lost; our research optimistically revealed 89% of pet owners who buy or are open to buying pet CBD agree that vets should be allowed to prescribe CBD. Consumers want to be able to go to their trusted veterinarian, but until the FDA provides guidance on these messy US CBD laws, both human and animal patients are finding a way to make it work.
Last Updated: 2/6/2020