Wellness has become a hot topic in recent years, and social media has played a significant role in its popularity. With so many people using sites like Instagram and Facebook to share their health journeys and recommend products, brands can tap into social media consumer insights to uncover what people are excited about.
Brightfield Group's market research innovations allow us to dive deep into the most talked-about wellness products on social media. Today, we look at collagen, probiotics/prebiotics, and wine - three products. We'll explore what these products are, who they're for, and what the conversation is on social media. By the end, you'll have a better understanding of these trends and how brands can capitalize on them.
Collagen
What is collagen?
Collagen is a protein that helps give strength and elasticity to skin, bones, tendons and other tissues. It's found in the connective tissue of animals (and humans).
The benefits of collagen for wellness include:
Improved skin health

Reduced wrinkles

Joint health
Who uses collagen?
The average consumer who uses collagen products is a middle-aged, educated, and affluent woman looking to enhance her skin and hair. Collagen consumers heavily skew female and married with adult children. Many of these collagen buyers are either Gen X'ers or older millennials. They are typically concerned with functional health, digestive health, and holistic wellness.
While these consumers are not usually the first to try new diets or wellness trends, they tend to be fairly health-conscious and practical. Those who buy collagen are likely to fall in Brightfield's complex consumer group 'Better-Way Believers'. This segment tends to wait on the sidelines to see what's really working before jumping on board themselves. By innovating to create products this group is already familiar with, brands can appeal to this audience's existing expectations—and build brand loyalty.
Looking to tap into complex consumer groups? Brightfield's consumer insights portals are integrated with social listening to dig deeper than other data sources.
Collagen Social Media Buzz
Trending hashtags for collagen include several that you can use to find more information about the benefits of collagen. The most popular include #collagen, #beauty, #reviews, #vegan and #antiaging. Consumers are turning to these hashtags to learn more about various collagen products. They are sharing reviews and discussing different applications for the products.
There are many exciting brands engaging with buyers on social media.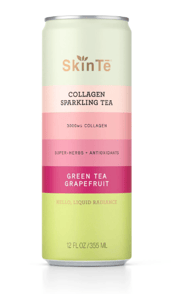 SkinTe is the first ever sparkling beverage infused with collagen, which improves skin elasticity and gives a boost to overall well being. Branding themselves as a fun and innovative way to consume collagen, the brand is using novelty to engage consumers on social media.
Evolution_18, a beauty brand founded by Bobbi Brown, offers customers bovine-based collagen powder as another option for skin and hair care. This brand has taken advantage of influencer buzz to reach new audiences on social media.
Prebiotics/Postbiotics
What are prebiotics/postbiotics?
Prebiotics and probiotics both fall under the umbrella term "probiotic" because they both contain beneficial bacteria that help improve digestive health. They're found in foods like legumes, whole grains and raw honey--and can also be taken as supplements.
Who's using prebiotics/postbiotics?
Women aged 35-54 are the primary users of prebiotics/postbiotics, with women aged 50 and above coming in second. Although women comprise the majority of prebiotics/postbiotics buyers, a strong segment of male consumers (36%) also comprises the total makeup of buyers.
Prebiotics/postbiotics buyers over-index for upper income levels and high levels of education. They also tend to be health conscious people who are highly concerned with digestive health, functional health and immunity. This demographic tends to not only use trendy products but also take supplements regularly (especially probiotic ones) as part of their daily routine.
Prebiotics/Postbiotics Social Media Buzz
Trending hashtags for prebiotics and probiotics include: #probiotics, #guthealth, #immunesystem, #healthyliving, #shopping and #wellness.
With many different prebiotic/postbiotic product types, brands may have trouble differentiating themselves in this product category. There are a few brands successfully creating a lane for themselves in this space.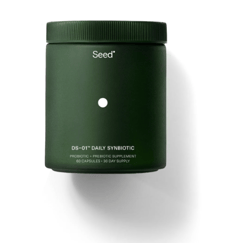 Seed is a science-forward probiotics brand that develops research-backed probiotics for outcomes across gastrointestinal, dermatological, oral, pediatric, and nutritional health. Their DS-01 Daily Synbiotic is a 2-in-1 probiotic and prebiotic formulated to support systemic health. By leaning into the science and creating content that speaks directly to consumers, they have built a robust social media presence.
Because these consumers are looking for convenient, easy to carry ways to consume probiotics, there are also several probiotics drink brands making a name for themselves in this space. Brands such as Humm Probiotic Seltzer, Culture Pop Grapefruit Soda and Poppi Prebiotic Soda are taking over a space previously occupied by larger more well-known brands. Using sleek packaging, exciting branding and social media content, these brands are using social media to directly engage with customers.
Wine
Wine and Wellness
While wine may not be a typical "health product" many people are now choosing to enjoy wines in ways that connect them more closely with their health and wellness goals. Wine brands are building new product lines for these consumers including organic wines, biodynamic wines and natural wines.
Made with minimal intervention and no added sulfites, these wines also tend to have a lower alcohol content than conventional wines. These wines are also better for the environment because there are fewer chemicals used during production and transportation of these products. We'll use the term 'natural wine' to refer to wines in this category.
Who is Drinking Natural Wine?
Consumers who are interested in natural wine tend to be older, and well-educated. They also tend to live in urban areas and have higher income levels than average Americans.
The lifestyle associated with natural wine is characterized by an appreciation for the environment and a desire for healthy living. These consumers are likely to fall into the functional health needs state, which means they are focused on wellness as a complete lifestyle. Brightfield Group's consumer insights platforms include need states like functional health to reveal unique CPG consumer insights.
Wine Social Media Buzz
Trending hashtags wine include: #wine, #lifestyle, #healthylifestyle, #natural, #healthylifestyle, #food, and #selflove
Wine brands are using social media to understand what consumers are thinking about the category, and uncover new trends that may not have been on their radar before.
One such brand making a splash on social media is Tablas Creek which uses Instagram to respond to comments and messages from their fans. Their friendly, conversational style of writing is the perfect vehicle for their brand's storytelling.

Walsh Family Wine is another wine brand using authenticity on social media to connect with consumers. Their digital presence uses behind-the-scenes moments at their tasting room and virtual wine tastings to engage their audience. By maintaining a fun and approachable tone, this brand has developed a local cult following on social media.
Looking Forward
Regardless of the specific wellness product, brands are leveraging social media to build brand awareness and loyalty as well as drive sales of existing products. Using Brightfield Group's consumer insights to create content that resonates with their audience, brands can take part in the social media conversation around collagen, prebiotics/postbiotics and wine.

Published: 4/11/2023