Last week, the original influencer herself, Martha Stewart, released a CBD line with Canopy Growth. With thousands of CBD brands competing for consumer attention online, Martha Stewart CBD stands out as a credible, newbie friendly entryway into the world of cannabinoids.
Finding the Right Message for an Underserved Audience
Martha Stewart's audience hasn't traditionally been targeted for CBD use. According to her magazine media kit, Stewart's audience's median age is 53, 90% female, and have an average income of $78,000. The kit's psychographic profile of Martha Stewart Living Fans would make any CBD company swoon; in a years' time, her fans spent $1.2 billion on health and beauty aids and another $2.5 billion on prescription drugs. These middle to upper-middle class women are seldom targeted. Many CBD brands focus their positioning on relief to target people looking to sooth pain, others rely on trendiness to capture young consumers, and don't forget natural positionings for eco-friendly, ingredient-conscious consumers.
These users aren't focused on treating a symptom, aren't looking for a trendy novelty, and value ease and taste over all else. That's exactly what they're getting with Stewart's CBD. On its site, Martha Stewart CBD puts its positioning succinctly themselves:


"CBD wellness has never been this inviting, and has certainly never tasted this great."
Using an Established Brand to Build Trust
Martha Stewart is making a promise to her audience that CBD will bring them wellness, make them "feel calm and rested," and improve their overall health. Since CBD's boom, brands have struggled to relay what they find to be the positive effects of CBD while also seeming credible. With Stewart, however, credibility is baked in.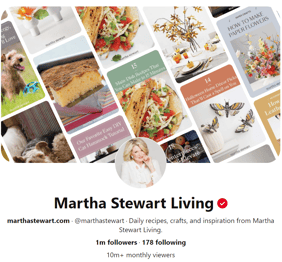 According to Martha Stewart Living's Media Kit, 98% of the magazine's subscribers consider it a trusted source for great ideas for recipes, entertaining, and décor. Women have been getting good advice from Martha Stewart since her 1982 book, Entertaining, became a bestseller and kicked off her career as a successful homemaking maven. To this day, marthastewart.com stays relevant with their Pinterest account with over 1 million subscribers and 10 million monthly views. Just try wedding planning without coming across some good tips from Martha; it's impossible!
Add all that to the fact that Stewart has already established a name for herself in cannabis cooking. She and Snoop Dog – the king of cannabis himself – host a TV Show together: Martha & Snoop's Potluck Party Challenge. The brand also made sure to tie up all this credibility into a video shared on Stewart's social media channels where she relays her history, relationship with Snoop, and talks about how hard she worked to craft the amazing flavors.
Feeling Welcome
With other phrases like "step into the world of CBD wellness" posted on product pages, Martha Stewart CBD was expertly designed with the new user in mind. Taking a look at Brightfield's CBD Consumer Insights portal, it's no wonder Canopy and Stewart launched the line with gummies and tinctures at the forefront. 48% of new CBD consumers (using 6 months or less) report tincture use and 41% report gummy use.


Additionally, phrases on their website like "wellness just became an easier choice, every day" show the brand is aiming to turn new CBD users into daily wellness users. Martha Stewart CBD is for maintaining wellness, like a high-end vitamin rather than a necessary medicine; products are for daily enjoyment not just an occasional indulgence.
Tasteful and Tasty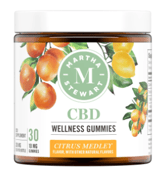 Though both the packaging and quality lend to the brand's welcoming persona, Martha Stewart CBD stands out for its attention to detail here. In terms of taste, the exquisite culinary sense Stewart is known for shines through all the products. Her gummies aren't just gelatinous, they resemble the French style of pâte de fruits. Flavors go beyond generic citrus or berry; Stewart wants your CBD to have notes of Meyer lemon, kumquat, blood orange, and huckleberry. And since the brand uses CBD isolate, these yummy flavors won't taste anything like hemp.


When looking at the brand's packaging, the products would blend in better at a William Sonoma than a health food store. The packaging isn't kitschy; it uses colorful, traditional illustrations of fruit and greenery. This CBD could be tastefully left out on a kitchen counter rather than hidden away in the medicine cabinet.
Growing the Market
For a market to keep growing, new consumers need to enter. Martha Stewart CBD is the perfect entry point for CBD-curious consumers who have held off on CBD due to lack of trust in the product. The use case it provides – that CBD is a tool for daily wellness – could also sway occasional users into developing routines around CBD. And if a hemp-y taste was ever an issue, unengaged CBD users could find satisfaction of the culinary wonder of Martha's expertise and CBD isolate.
Heavy hitters like Canopy and Martha will be part of what drives the CBD market to our projected $16.8 billion by 2025. And if you're a CBD brand trying to hone in on the right brand for your customers, don't worry. There are plenty of wellness users entering the market and those consumer segments may not even be your core consumers. Understanding the needs of consumers - like Martha Stewart CBD has - will ultimately decide how well CBD brands fare as the market continues evolving.
Title Photo Credit: Canopy Growth Corporation
Last Updated: 9/14/2020