We've all seen the typical pharmaceutical ad; a joyful series of images presented before a voice-over interjects: "side-effects may include..." The ensuing laundry list of possible complication puzzles, and even alarms, the casual viewer—leaving us to question the disparity between happy visuals and the drug's seemingly severe consequences.
These peculiar, awkward ads are the product of rigorous testing standards and stringent, highly specific pharmaceutical regulations imposed by the FDA. The same regulatory environment is currently not experienced by the CBD industry.
Since CBD's legalization in 2018, the FDA has tried to "work quickly to further clarify our regulatory approach for products containing cannabis and cannabis-derived compounds like CBD," with little substantive development. Thus far, the FDA has come down harshly on advertising the health benefits of CBD without corresponding FDA research and testing. In a November letter, the FDA warned 15 companies about their illegal marketing of CBD as a dietary supplement and as a safe additive for food producing animals (pigs, cows, chickens).
But outside of these specific, untested health claims, the absence of FDA guidance or specific regulations has put firms in a regulatory grey area. Clever companies are already finding ways to navigate this netherworld of regulation, finding successful ways to educate CBD consumers in spite of the FDA's lack of action.
Use Creative and Informative Product Packaging
Besides mere aesthetics, CBD companies are now prioritizing information in their package design. For example, on their labels, CBDistillery, provides clear step by step directions for consumption, a simple diagram of a CBD molecule, and graphics denoting which parts of the body (brain, shoulder, etc) the product may help. Products like Green Road's Relax Bears include tables of CBD strains and scales of product strength. Indeed, labels are becoming one of the primary mechanisms for informing consumers about CBD.
Launch Educational Websites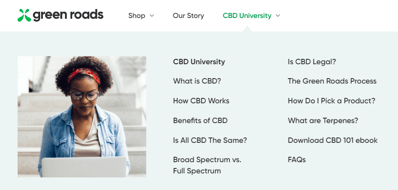 It's no surprise instructive websites follow informative packaging, and companies aren't shying away from being direct in their intent to educate. Green Roads CBD University provides a comprehensive source on all things CBD. Read detailed articles on "How CBD Works;" study a diagram on "broad" versus "full" spectrum CBD; or even download the "CBD 101" textbook. Other's companies—like Medterra and Charlotte's Web —are following suit with informative tabs on their websites. Many firms aim to legitimize their websites, the credibility of information, and likely boost SEO with references to well-known publications. CBDistillery and Charlotte's Web include the New York Times logo on their webpages.
On many sites, firms are candid about the FDA's requirement. Green Roads writes, "The U.S. Food and Drug Administration currently prohibits all manufacturers of CBD products from making any claims about their ability to treat specific health conditions." Of course, this doesn't prohibit visually stimulating pictures of consumers enjoying CBD or abstract statements about CBD improving wellness.
Emphasize Precise Dosage
As consumers become more familiar with CBD and more in tune with their body's response to the product, companies have capitalized on a customer's need for precise doses. Charlotte's Web includes a clear, bold, yellow dosage label across their products. CBD University goes even further by offering consumers instructions on how to measure their desired dose.
It appears these efforts are working. According to our consumer insights, in 2019, 22% of CBD consumers were "not sure" of their preferred CBD dosage. This number decreased in 2020, with only 16% reporting "not sure."
Highlight the Functionality of Other Ingredients
If the FDA's regulations (or lack thereof) inhibits a firm's ability to advertise CBD, why not tout the benefits of other components included in the product? Surely a company can't be punished for promoting the benefits of Turmeric? Or Ginger root? Look no further than Holistik Wellnesses' Lemon Balm CBD extract, which compels the consumer to "Breathe easy. Lemon balm extract contains rosmarinic acid, a potent antioxidant, and it's long been used to calm nerves and ease anxiety to keep you feeling like you." Nowhere is CBD included in the description, but a cursory glance by the consumer might create the impression that CBD—and not lemon balm—is responsible for the positive benefits.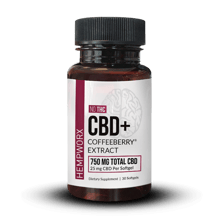 A similar strategy is exhibited by companies, like HempWorx, who inundate consumers with ingredients and information. Their coffee softgel product has:

"An organic and natural blast of energy with 25 mg of CBD and 100 mg of CoffeeBerry extract per softgel. Coffeeberry Energy is a patented extract that delivers caffeine and unique polyphenols of the whole coffee fruit, not just the beans "

With so many ingredients, each with its unique benefits, it's easy for companies to advertise their CBD products without directly advertising CBD. Many consumers may also prefer these fastidious descriptions.
Where do we go from here?
The lack of a clear regulatory system for CBD presents both opportunities and challenges. Companies that deftly navigate the system and inform their customers about the benefits of CBD will certainly be rewarded. But at the same time, companies shouldn't have to walk on regulatory eggshells when advertising the merits of their products—stressing the benefits of elderberry instead of CBD. And consumers should be able to glean their CBD knowledge from thorough FDA research, not a website or label. Expedited CBD testing and a more proactive approach to CBD regulation by the FDA would solve many of these problems. Once the FDA makes its decision on CBD, the regulatory landscape will look very different for CBD companies; until then, their creativity in educating consumers will have to do.
Last Updated: 7/16/2020