The US CBD industry is seeing a move towards lower prices and higher potency as the price of hemp continues to decline and companies seek to reach middle-income consumers. A number of major CBD companies have recently instituted price decreases, with some also increasing potency levels.


CBD Companies Slash Prices without Reducing Potency
Charlotte's Web reduced prices across its portfolio by 15 to 20 percent in March and April to reduce the price gap against competitors. The company also introduced smaller sizes such as a Hemp-Infused CBD Balm priced at $14.99 to attract consumer trial. In February, Green Roads World had relaunched its line of broad spectrum CBD oils with new formulas and lower prices, with a reduction between 19 to 29 percent. In April, Medical Marijuana Inc, owner of the Kannaway, Real Scientific Hemp Oil (RSHO), and Dixie Botanicals brands – increased the CBD content in their salves from 50mg to 500mg with no change in price. In May, Global Widget, the manufacturer of Hemp Bombs, Nature's Script, and Perfect Paws Hemp brands, added more CBD and lowered the price per milligram of CBD with its upgraded CBD oil product lines. The CBD oil tinctures from Hemp Bombs and Nature's Script brands now contain between 300mg to 5000mg CBD per bottle, an increase from the previous range of 125mg to 4000mg. A $19.99 bottle of Hemp Bombs CBD tincture containing 125mg now offers 300mg of CBD for the same price.


The latest company to announce a price decrease is Lazarus Naturals who on June 18 announced a price reduction of 20 to 40 percent on many of its CBD products. Lazarus Naturals increased the potency in its Standard Potency Full Spectrum CBD Tinctures by 33 percent and lowered the price. The CBD content of their 30 ml tincture CBD content rose from 450mg to 600mg while the price dropped from $25 to $20. In addition to these permanent price cuts, there has been an increase in CBD companies offering limited-time price promotions on their websites as Americans face financial pressures during the COVID-19 outbreak.


CBD Consumers are Spending Less While Taking More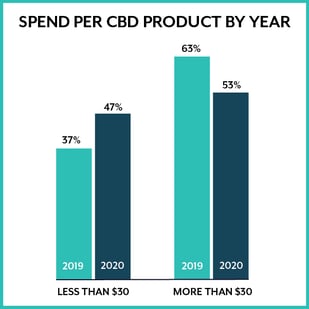 Higher doses of CBD are becoming more popular among users. New CBD users have been advised to start at a low dose and slowly increase it until one's goal is achieved. Consumers have been using CBD for a while and have become more comfortable with higher doses. Our 2020 CBD consumer data shows 73% of consumers have been using CBD for 6 months or more, up from 59% in 2019. At the same time, CBD users are spending less per product as CBD companies reduce prices and consumers take advantage of sales promotions. 2020 CBD consumer data shows 74% of consumers are spending under $50 per product, up from 60% in 2019. At the same time, the percentage of CBD users reporting their average spend per product is under $30 is 47% in 2020, up from 37% in 2019.


Greater Control of Margins with E-commerce and New Technology
CBD companies are willing to lower their margins to compete and gain new consumers. Selling direct to consumers via e-commerce allows companies to control their margins more than selling through retailers. Across the board, major companies are reducing prices as consumers better understand what they are consuming and are willing to put in the time to research product prices and attributes. CBD companies have been able to reduce prices and increase the potency level because their production costs have come down as they have learned to improve their cultivation and manufacturing processes. The cost of the raw material - hemp CBD biomass - has declined steeply as hemp production outpaced demand. According to data from Hemp Benchmarks, the aggregate assessed price for hemp CBD biomass declined by 79% between April 2019 and April 2020, from $38 per pound to $8.10 per pound.

The reduction of prices provides new CBD users easier entrance into the market as they can try CBD products for under $30. Existing CBD users can also experiment with different formats such as capsules and topicals as lower-priced trial sizes are introduced. In turn, these lower priced CBD products are likely to make it easier for consumers to view CBD products as an impulse purchase in outlets such as convenience stores and gas stations.
Last Updated: 6/25/2020