Consumers are increasingly on the hunt for products free of pesticides, herbicides, and other harsh chemicals. But can CBD be USDA Certified Organic? Yes, avid organic consumers can now buy certified organic CBD products.
USDA Organic certification provides hemp farms, processors, and CBD companies a way to stand out from the competition. It also offers the assurance of safety and high quality to both consumers and retailers. But the process of obtaining certification is not an easy one. Up until a couple of years ago, domestically produced certified USDA organic hemp was not widely available. In anticipation of the Farm Bill being signed into law in 2018, only a few industrial hemp farms, hemp processors, and CBD manufacturers began the process of applying for the certification.‍
How USDA Certified Organic hemp began
Following the passage of the 2014 Farm Bill, the USDA authorized organic certification for hemp cultivation in the US. However, interest in obtaining USDA Organic certification for industrial hemp was limited due to restrictive policies. CBDRx was one of the first hemp farms to receive USDA Organic Certification for its hemp crop in January 2016. Notably, hemp imported from other countries has always been certified by USDA Organic regulations.
In February 2016, the USDA stated that third-party auditors could no longer certify hemp operations. Seven hemp producers already received organic certification prior to these new guidelines. In August 2016, the USDA reversed course and issued a statement of principles allowing the certification of industrial hemp crops grown only through state pilot programs in accordance with Section 7606 of the Farm Bill.
However, this statement of principles did not expressly include the flower (which has the highest concentration of CBD) of the hemp plant in the definition of 'industrial hemp'.
Instead, the statement reads:
"The term 'industrial hemp' includes the plant Cannabis sativa L. and any part or derivative of such plant, including seeds of such plant, whether growing or not, that is used exclusively for industrial purposes (fiber and seed) with a tetrahydrocannabinol concentration of not more than 0.3 percent on a dry weight basis."
The passage of the 2018 Farm Bill in December 2018 legalized industrial hemp cultivation and declassified hemp as a Schedule I controlled substance. This encouraged more companies in the industrial hemp and CBD industries to pursue USDA Organic certification. In April 2019, Palmetto Harmony became the first CBD company to have their hemp flower and viable seeds certified as USDA Organic. This included hemp clones and hemp transplants, along with their flower extracted CBD product line.
Which brands have USDA Certified Organic CBD products?
In early 2021, there are still few CBD companies selling a full line of USDA Certified Organic CBD products. Because USDA Organic certifications are still difficult to obtain, most brands can only offer a selection of USDA organic products.
The Center for Food Safety released its 2020 "Hemp CBD Scorecard" which grades brands on four major categories. These categories are "(1) Hemp Farming and Organic Certification; (2) Processing; (3) Testing/Auditing; and (4) Transparency."
Here are a few brands that received an "A" and offer a full line of USDA Certified Organic CBD products:
Green Gorilla
Palmetto Harmony
Joy Organics
RE Botanicals
NuLeaf
As mentioned, not all brands offer a full line of certified organic products. The following brands offer select USDA organic CBD products:
Upstate Elevator Supply
Cornbread Hemp
Vitality CBD
Barlean's
How to obtain USDA organic certification for CBD
To obtain USDA Organic certification, CBD companies need to use specific extraction processes and USDA Organic Certified ingredients. This includes carrier oils and hemp that has already been USDA Organic Certified. Permitted extraction processes for use are CO2 extraction (an alcohol extraction method using USDA certified organic cane alcohol), and lipid extraction. CO2 extraction, utilized by Barlean's, uses carbon dioxide under high pressure and fluctuating temperatures to act as a solvent.
For reference, RE Botanicals uses an alcohol extraction method with USDA-certified organic cane alcohol. Palmetto Harmony uses lipid extraction (also called lipid infusion). This involves steeping the buds (dried hemp flowers) in organic MCT (coconut) oil before filtration.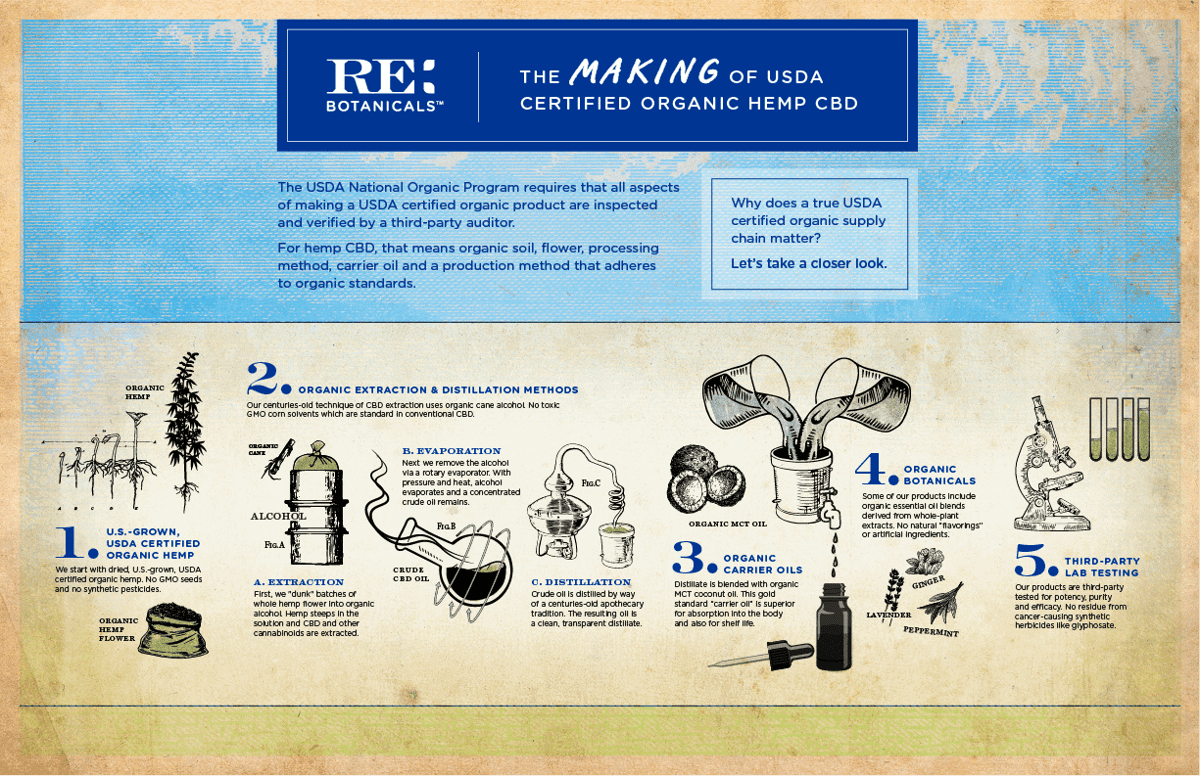 Image Source: Re: Botanicals
Benefits of USDA Organic Certification for CBD

USDA Organic certification means that no synthetic fertilizers, pesticides or herbicides have been used in the cultivation of hemp. It also ensures that farmers are using tillage and cultivation practices that maintain or improve the condition of the soil and minimize soil erosion. Obtaining USDA Organic certification can also help CBD brands enter retail channels by leveraging a positive environmental and sustainability story.

While not right for every brand, there are multiple benefits to obtaining USDA Organic certification. However, this process is most suitable for companies who are willing to invest the time, effort, and money required. The USDA Organic seal is one of the most recognized certifications among US consumers as it provides another level of assurance to shoppers who may be concerned about the safety of CBD products.

See the latest insights on CBD channels & consumer trends

Last updated: 1/3/2023