In late 2019, the Canadian cannabis market began to roll out new lines of Cannabis 2.0 products. Brands hoped to grow their customer base with new options like chocolates, drinks, gummies, and vapes. However, with a bumpy rollout and Covid-19 challenges, more consumers entered the market using flower than 2.0 products – especially budget flower.
Flower Power
Despite the new product options, more Canadian cannabis users reported using flower in Q2 2020 than in Q1. One of the steepest increases in flower use was among Newbies. In Q1 2020, 29% of Canadian Newbies reported using cannabis flower; in Q2 2020, this rose to 43% - an increase of nearly 50%! Other prominent personas also saw increased flower usage: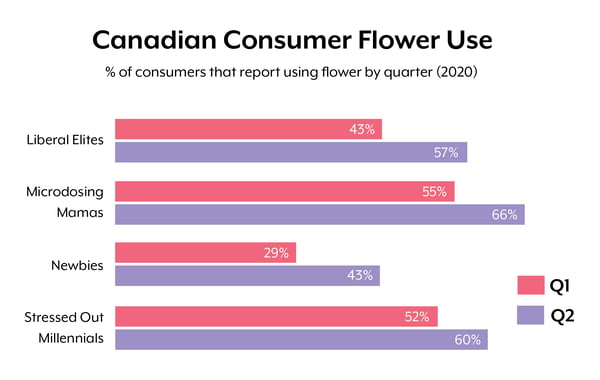 Falling cannabis prices on the recreational market likely attracted these consumers. While brands continued to ramp up 2.0 product rollouts in Q1 2020, the price of cannabis for recreational use dropped to its lowest price since the start of recreational legalization. According to Stats Canada data, in Q4 2019, licensed recreational cannabis was 20% more expensive than unlicensed, illicit cannabis. By Q1 2020, recreational cannabis dropped to only be 6% more expensive than illicit cannabis.
The Rise of Budget Brands
So why did flower suddenly become cheaper? Almost every major licensed producer has launched an affordable brand; in our Canada Brand Health portal, we track Good Supply, Trailblazer, Twd., Original Stash, Pure Sunfarms, Daily Special, The Batch, and Re-Up. Our data shows most of these brands increased their awareness and purchasing among Canadian consumers from Q1 to Q2. However, the proliferation of budget brands began with a surplus of raw cannabis in mid-2019.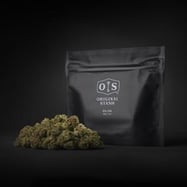 When Canada federally legalized cannabis and LPs got the green light to grow, they planted seeds as far and wide as they could. Massive grow operations produced more supply than there was demand, and by October 2019, there was 4X the amount of dried cannabis in inventory than there was sold. The same month, HEXO introduced their budget cannabis brand Original Stash offering 28 gram bags for $127.70 CAD, or $4.56 CAD per gram. Other brands followed as consumers began favoring lower priced cannabis options; for example, Aurora Cannabis strategically pivoted away from launching a premium brand and instead introduced Daily Special, which sells bulk cannabis for as low as $4.67 CAD per gram. Selling their cannabis for lower prices in bulk amounts allows LPs to offload some of the oversupply while appealing to budget conscious consumers, which became especially important as the impact of Covid-19 strained disposable incomes. Budget products in the US cannabis market also grew as result of the economic downturn.
The Future of Pricing
Looking at the latest financials published, we can already see the new emphasis on low-priced cannabis playing an important role. Zenabis' August 2020 financials reported a loss "despite increased sales volume, due to […] a greater proportion of lower priced, but less costly, bulk sales in the quarter." In its August earnings call, Canopy Growth reported its Twd. value brand accounted for a whopping 40% of flower sales for the quarter ending June 30, up from 26% the previous quarter.

Canadian consumers are becoming accustomed to lower priced cannabis products and this will impact both top and bottom lines more than anticipated pre-Covid. Edibles, drinks, and vapes offer interesting modes of intake as well as opportunities for differentiation, but if consumers know they can get the THC or CBD milligrams they desire for a lower cost through budget bud, 2.0 products and super-premium bud will need to campaign strongly and resonate very intentionally with their audiences if they are to successfully compete.
Last Updated: 9/21/20