As shelter-in-place orders and retail closures were put into place due to COVID-19, consumers looked online to fulfill their shopping needs. From groceries to board games, online shopping was up last quarter – including online CBD sales.


Brightfield Group monitors the dynamic US CBD market and the consumers that fuel it, and in a quarter over quarter analysis found that online CBD purchasing was up 61% from Q1 to Q2 2020. Since Q4 2019, the number of consumers buying their CBD online was rising, though only by a few percentage points each quarter (25% in Q3 2019, 29% in Q1 2020). COVID-19 accelerated this trend of online CBD buying, with 47% of CBD consumers purchasing CBD online in Q2 2020.
Top 5 Online CBD Brands
With consumers taking to ecommerce, CBD companies need robust direct-to-consumer (DTC) capabilities, strong digital marketing strategy, and contact points with consumers to provide CBD education.

As consumers moved purchasing online, the following companies were capturing the largest share of the CBD e-commerce market: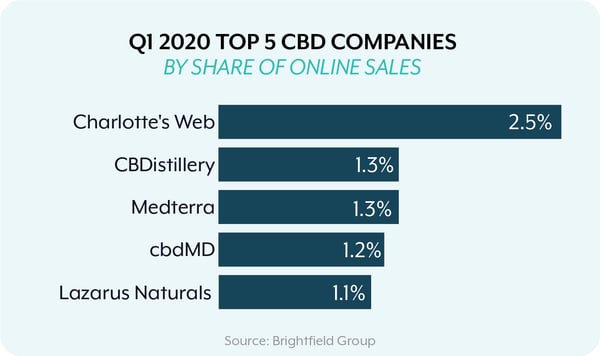 Delighting Consumers with Deals
As our CBD Research Manager, Virginia Lee, outlined in her blog post on CBD prices falling and potency rising, CBD brands cut prices in the beginning of 2020. Packaged as sales and promotions, CBD brands looked to reengage existing customers and charm new ones with competitive deals. By summer, it seemed these deals would become permanent price cuts.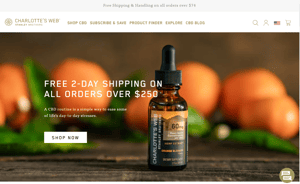 CBD brands are staying competitive in e-commerce by providing incentives for new and loyal customers. These promotions are especially impactful if they are relevant. For example, Charlotte's Web currently offers 2-day shipping for orders over $250, appealing to the heavy users who wants to ensure their order isn't caught up in any COVID-related shipping issues.
Online Shopping Leads Consumers to Try More Products
When looking at the different product types used by online CBD shoppers, they over-index in nearly every product type.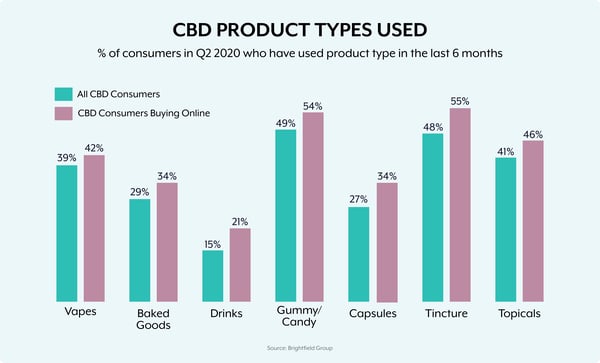 This indicates these consumers are buying and trying a more diverse array of products, which online shopping makes possible. The CBD topicals user who usually buys at Ulta may find themselves on Sagely Naturals' website adding capsules to their cart as well. The CBD vape user whose local smoke shop is closed could end up on CBDfx buying vape cartridges and gummies to try.
CBDfx and Medterra both ran promotions encouraging customers to try new product formats. CBDfx offered a discount according to how many items a customer purchased (which is quite common for DTC companies), while Medterra encouraged customers to try something new with "50% off a product you've never tried before."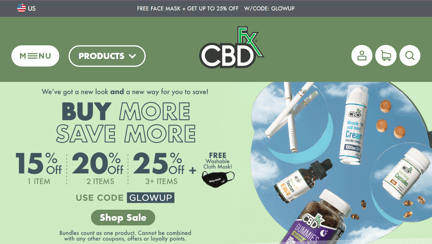 Pandemic or not, success in direct-to-consumer CBD sales allows companies greater control of their margins and customer experience with the brand and product. COVID-19 undoubtedly put pressure on CBD brands to step up their e-commerce efforts to stay afloat. As we navigate an accelerated state of e-commerce and media, time will tell if CBD consumers continue to move online or go back to their pre-pandemic purchasing habits.
Download our free 2020 US CBD Market Report
Last Updated: 8/4/2020