The protein supplement market size has continued to increase over the past few years. With this growth, it is becoming increasingly important for CPG brands to understand who their consumers are and what drives their purchasing decisions. Marketing protein supplements takes staying in tune with the latest protein powder trends. That's why we're excited to announce the launch of our new product, Protein Powder Deep Dives.
At Brightfield Group, we specialize in consumer insights research for emerging categories in wellness. For marketers and product developers in the U.S. protein supplement market, this comprehensive consumer insights resource will revolutionize your understanding of the protein powder consumer. With Protein Powder Deep Dives, you'll gain unparalleled insights into their preferences, behaviors, and lifestyles, empowering you to create more targeted and impactful strategies for your protein powder CPG brands.
So, what can you expect from Protein Powder Deep Dives? Here are some general takeaways on what information we have on protein powder consumers:
Demographics: Protein powder is popular among a diverse range of consumers. While it was once associated primarily with bodybuilders and athletes, protein powder is now used by people of all ages and fitness levels.

Priorities: Health and

wellness

are top priorities for protein powder consumers. Many use protein powder as a way to support their overall health and fitness goals, and they value products that are natural, organic, and free from artificial ingredients.

Brands: Brand loyalty is strong in the protein powder market. Consumers tend to stick with brands they trust and are willing to pay more for products that meet their specific needs and preferences.
Ready for a comprehensive view of the protein powder consumer? Let's dive in.

Protein on the Rise
Protein powder market trends continue to change year over year. The protein consumers of 2021 and not the same as those enjoying the product today, so marketing and innovation strategies should be updated too.
According to Brightfield Group's consumer insights panel data, American protein product use is on the rise. Powder and bars are two of the most popular options on the market, providing simplicity, familiarity, and convenience to the category. Other protein products on the market include protein cookies, ready to drink protein shakes and even protein junk foods like protein cheese puffs or protein cereal.
Despite a 35% decrease in purchases of protein cookies, the number of consumers who purchased protein powder increased by 20% from 2022 to 2023. Protein bars purchasing maintained, while protein pancake mix and oatmeal saw slight increases.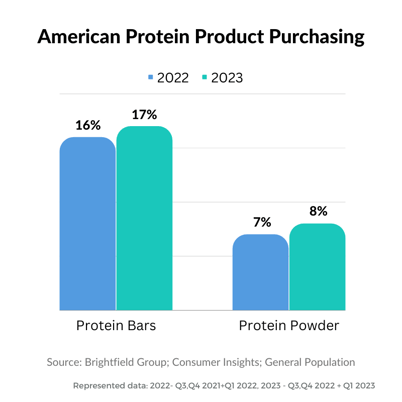 A significant portion of this growth can be attributed to the rise of fitness culture and wellness trends. This increased in demand even during economic downturn makes it clear that consumers see these products as essential items on their shopping lists.
Who is the Protein Powder User?
When exploring what type of people use protein powder, we can see it is no longer just for bodybuilders and athletes. Brightfield Group research shows these consumers are a diverse group, including both men and women, across a range of ages, income, and education levels.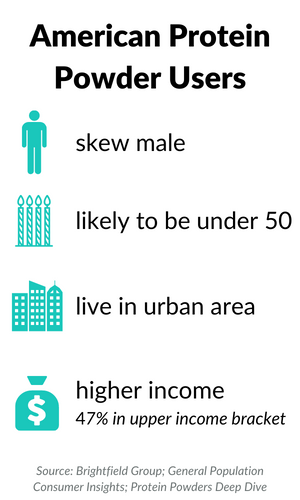 Who uses protein powder: Protein powder consumers over the last year lean slightly male and are more likely to live in urban areas. These consumers tend to have a higher income than the general population and also tend to be more educated. Brightfield Group consumer insights reveal that a majority of these consumers are adults under 50 and are more likely to be married than the rest of the population.
Attitudes of protein powder users: People who use protein powders are more likely to think about their health and focus on whole-body wellness. While consumption is not limited to those using for athletic performance, protein powder consumers tend to be more active and interested in fitness.
Protein products are often marketed as a convenient method of focusing on whole body wellness, improving fitness, controlling weight, and developing muscle. As such, we see consumers interested in these wellness activities over-index for protein powder purchasing.
More Demographic Insights in the Protein Product Preferences Report
Consumer Considerations
While protein powder is a key component of their lifestyle, protein powder consumers also care about other aspects of their health and wellness. They have a strong interest in exercise, with a majority of consumers engaging in physical activity at least three times per week. When it comes to diet, they don't strictly follow high protein diets, but also over-index for paleo and plant-based diets.
When shopping for products, protein powder consumers are more likely to look for all-natural and organic options, with a focus on avoiding artificial flavors and preservatives. Additionally, consumers who use protein powder are interested in important health claims such as relaxation, energy boosting, and increased cognitive brain health.
Americans who use protein powder are also more interested in stress reducing tactics such as yoga and exercise, as well as using functional foods, CBD, and vitamins and supplements. These consumers are looking to functional foods and beverages like protein powder to gain athletic performance, focus, and general well-being.
Choosing a Protein Powder
When it comes to using protein powder, consumers have clear preferences. Our research shows that the most popular protein powder type is whey protein with a majority of consumers opting for this traditional ingredient. When it comes to plant-based protein powders, consumers have distinct preferences for oat, soy, and pea protein powders, as well as emerging options like rice and hemp protein. These preferences are leading to a growing plant-based protein supplements market.
For those who prefer whey protein powder, even the type of whey can matter. To dig deep into these consumers, Brightfield Group asked whether whey consumers were using concentrate or isolate whey protein. Each type is about equally as popular, but consumers have their reasons for choosing one over the other.
Protein powder consumers use their protein powder in a variety of ways. Some of the most cited ways to use include in smoothies, as a meal replacement, or as a post-workout supplement. Most consumers tend to mix their protein powder into a liquid, but we see users mixing protein powder into a variety of foods from breakfasts to desserts. Following the ready to drink beverage trend, we also see nearly a third of consumers go for ready to drink protein shakes.
In terms of flavor choices, consumers tend to lean more traditional with chocolate and vanilla leading the pack. However, there are some more interesting flavors consumes opt for, like coffee and cookies & cream. In addition to flavor, other important factors in the purchasing decision for protein powder consumers include price, brand reputation, and ingredient quality.
Paths to Protein Powder Purchasing
Protein powder consumers are most likely to find new powders via online reviews. Brands in the category should have a strong social listening plan to understand how it is being talked about online. Influencer marketing is essential to the protein powder space, as influencers are the modern day taste makers that's review could make or break a brand. With "word of mouth" being the second-most common way of finding new protein powders, ensuring
Interestingly, many consumers are also learning about new protein powders from their health care practitioners. At the end of the day, protein is a vital macronutrient that we all need to stay healthy. With wellness on the mind of many Americans, talking to a doctor about mutrient deficiencies seems to be leading some people to the category.
Consumers are also particular about where they purchase their protein powder. Mass merchandisers like Target and Walmart and Amazon.com are very popular channels for protein powder consumers. While speciality channels are still relevant for some of these consumers, most are picking up their powders at the same place they're buying other common household goods.

More to Explore in the Protein Powder Deep Dive
By understanding the latest market trends in America for protein powder and protein supplements, CPG brands can develop innovative strategies and product development plans to capitalize on the growing demand for protein supplements. The insights shared in this article are just the start of our deep knowledge into:
Why do people purchase protein powders?
What are the most important purchase factors?
How can brands improve protein products for consumers?
Why are consumers opting to STOP buying protein powders?
and so much more!
Reach out to Brightfield Group today to learn more about how our research can help you stay ahead of the competition in the protein supplement market.
Published: 5/19/2023